A country's bright future? Not with unhealthy children.
Filipino children are among the most malnourished in Southeast Asia. The World Health Organization defines malnutrition as "deficiencies, excesses, or imbalances in a person's intake of energy and or nutrients" and covers two broad forms: undernutrition including micronutrient deficiency or insufficiency and overweight and obesity including diet related non-communicable diseases.
Undernutrition as a form of malnutrition results in stunting (being small or low height for one's age), wasting (low weight for height) and underweight (low weight for age). Stunting is a leading indicator of child nutrition and implies a failure to achieve the height indicative of a healthy child.
Why is this important?
Studies show that if a child fails to reach the desired height and brain growth in the first 1,000 days of life (birth to 2 years old), this condition is already irreversible and irrecoverable. Undernutrition is also linked to 45% of all under-five mortality.
Stunting and other indicators of undernutrition are also found to have links to sub-optimal brain development that may have long-term effects on one's academic performance and future economic productivity as an adult. Undernutrition during the development years have also been found to contribute to increased vulnerability to acquiring chronic diseases.
Bright future? Not with unhealthy children
It seems the Philippines is raising unhealthy children, and we have been doing this for the last 30 years.
According to a World Bank Report, " in nearly 30 years, there have been almost no improvements in the prevalence of undernutrition in the Philippines." The country is also among 10 countries in the world with the highest number of stunted children. The report also identified the regions in the country with the highest rate of stunting namely BARMM (45.2%), MIMAROPA (40.9%), Bicol (40.2%).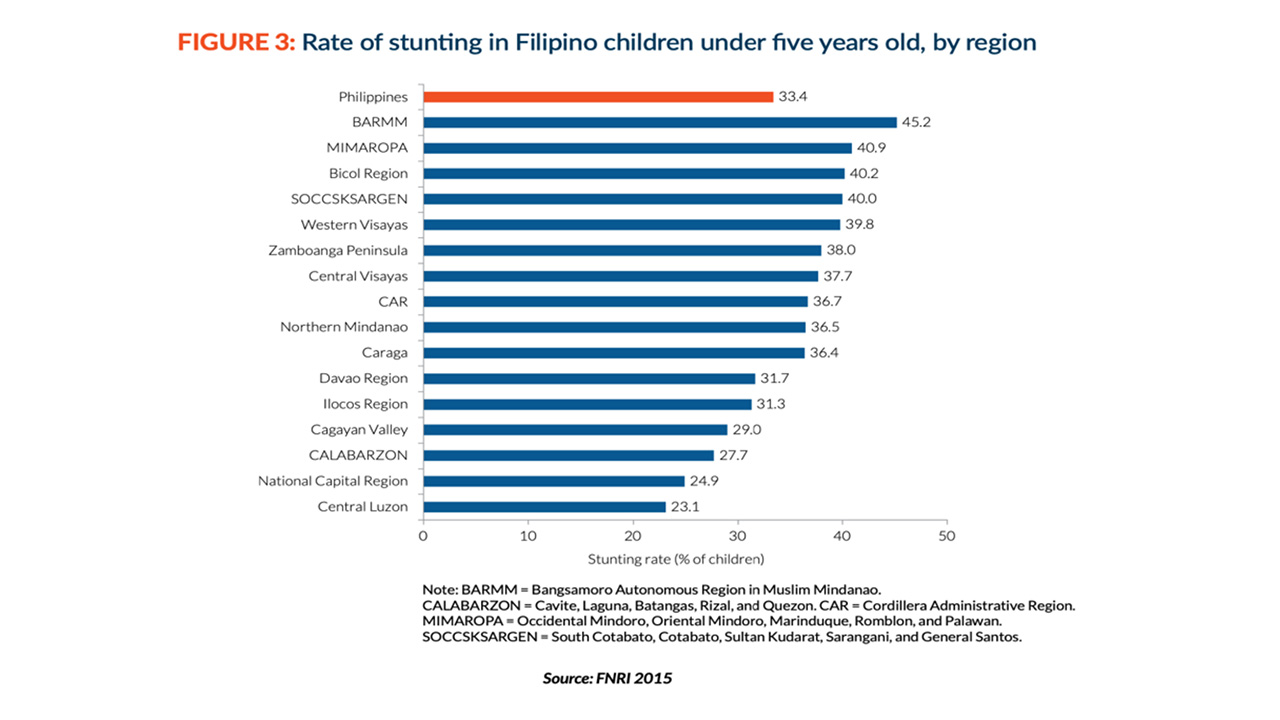 From the Regional Report on Nutrition Security of the Association of South East Asian Nations or ASEAN, an average of 30% of all children under 5 years in the SEA are stunted. This translates to more than 17.9 million children and 18 percent or more than 3.3 million, are Filipino children.
An alarming number of children and pregnant mothers in the Philippines also suffer from anemia. The 2019 data in the World Bank report shows that 1 in 5 pregnant women is anemic. Anemia during pregnancy has been linked to increase risk of pre-term labor, low birth weight for the baby and even neonatal death. The report also shows the extent of anemia among very young children with 38% among 6-11months and 26% among 12-24 month. Malnutrition is a key indicator of a child's survival during these developmental years. According to UNICEF, there are 95 children in the Philippines who die every day due to malnutrition.
Malnutrition in time of COVID-19
In an online forum titled Nasaan ang Solusyon: Reducing Malnutrition in the Philippines jointly organized by the Philippine Center for Population and Development (PCPD), World Food Program (WFP) Philippines Office and Zuellig Family Foundation, nutrition experts and advocates expressed that malnutrition is a silent pandemic that remains unproperly checked and underestimated. There is also a lack of better understanding and knowledge about nutrition and malnutrition beyond the public's knowledge that nutrition is mostly about food and balanced, healthy diet.
Medical doctor and nutritional anthropologist Dr. Cecilia Acuin says that "our nutrition information are in silos. We have data from FNRI (Food and Nutrition Research Institute), from National Nutrition Council, the Department of Health but these need to be consolidated to get a better sense of the problem and the extent of malnutrition." This consolidation is also particularly important during this pandemic that has caused disruptions in the delivery of basic services.
In health for example, a nationwide survey conducted by World Bank on the impact of COVID 19 to low and middle income households shows a sharp decrease in health center visits of children 5 and under from 73% before COVID 19 to 41% during the pandemic lockdowns. While the Barangay Health Workers (BHWs) conduct house to house visits, the check-up and health monitoring will be limited unlike in the health centers.
Are we losing this fight to address malnutrition?
Acuin says, "We know and have studied the What in malnutrition but we have a problem on the How." She says that government is not meeting the recommended investment to address malnutrition. It is also not properly cascaded at the local government level and compliance is not strictly monitored.
World Bank estimates that the Philippines has the highest potential return on investment for every dollar spent on addressing malnutrition compared to other countries. That for every dollar spent on a high-impact nutritional package for every Filipino child yields a $44 return on investment through better future income, less health related spending due to morbidity among other benefits.
The Philippine Statistics Authority projects our country's 0-4 years old population at 11.4 million. An investment of a dollar per Filipino child to ensure their survival and better quality of life translates to just P574 million. That's a mere fraction of the billions spent on infrastructure and other cosmetic constructions like the Manila bay clean-up drive.
It's time the government invests in our children, in our women and men, and in building human capital. Without this, this country has nowhere to go. – Rappler.com
Chi Laigo Vallido is co-founder of Women Writing Women Philippines and is a consultant at the Philippine Center for Population and Development.