Harris, 56, has shattered many a glass ceiling, and is sworn in as the first female, the first Black, and the first South Asian vice president of the United States
Kamala Harris has been sworn in as the first female, the first Black, and the first South Asian vice president of the United States of America on Wednesday, January 20 (Thursday, January 21, Manila time).
Harris, 56, took an oath before US Supreme Court Justice Sonia Sotomayor, the court's first Latina member.
"I, Kamala Devi Harris, do solemnly wear that I will support and defend the Constitution of the United States against all enemies, foreign and domestic; that I will bear true faith and allegiance to the same; that I take this obligation freely without any mental reservation or purpose of evasion; that I will well and faithfully discharge the duties of the office on which I am about to enter: So help me God," Harris said in her oath.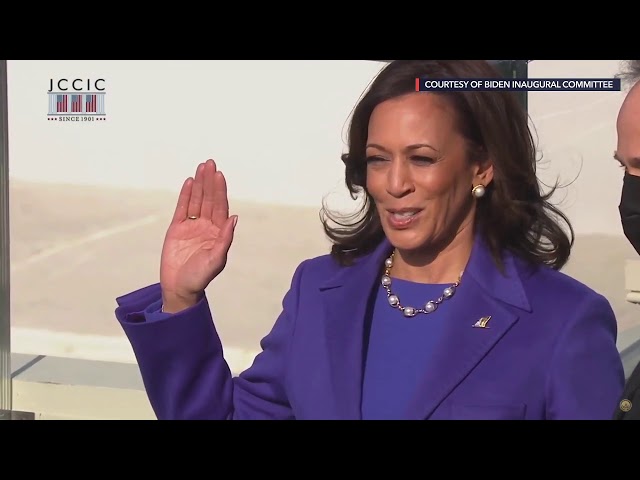 Shattering the glass ceiling
A U.S. senator from California the past 4 years, Harris has shattered many a glass ceiling. She served as San Francisco's first female district attorney and was California's first woman of color to be elected attorney general.
Harris has resigned her Senate seat, but she still will play a prominent role in the chamber. The U.S. vice president serves as Senate president, casting any tie-breaking votes in the 100-member chamber. With it split evenly between Democrats and Republicans, Harris gives her party control of the Senate.
Her background in criminal justice could help the new Biden administration tackle the issues of racial equality and policing after the country was swept by protests last year. She is expected to be a top adviser on judicial nominations.
Harris is the daughter of immigrants, with her mother coming to the United States from India and her father from Jamaica.
She had her sights set on becoming the first woman U.S. president when she competed against Biden and others for their party's 2020 nomination. Harris dropped out of the race after a campaign hurt by her wavering views on healthcare and indecision about embracing her past as a prosecutor.
Biden looked beyond some of the harsh words she had for him in that campaign to name Harris as his running mate last August. She has proven to be a valuable and polished stand-in, appealing especially to women, liberals and voters of color.
Harris developed a deep fundraising network during her Senate and White House bids. She was instrumental to Biden's raking in record sums of money in the closing months of the campaign against Republican incumbent Donald Trump. Her selection sparked a burst of excitement in the Democratic voter base and among the party's donors. – with reports from Reuters/Rappler.com