The Philippine Chamber of Commerce and Industry Tacloban-Leyte says 'the exorbitant hike in arrastre rates is anti-people as it will cause a price increase of commodities' in Eastern Visayas
A business group has called for a rollback of what it called the "anti-people" port tariff hike in Tacloban that would cause a spike in the prices of commodities and ultimately hurt Eastern Visayas consumers.
The Philippine Chamber of Commerce and Industry (PCCI) Tacloban-Leyte made the statement as it lamented the 300% to 400% increase in domestic and foreign cargo-handling rates in the port.
Domestic and foreign cargo-handling rates were increased from P118.05 and P108.35, respectively, to P543.00 under the new tariff scheme.

"The exorbitant hike in arrastre rates is anti-people as it will cause price increase of commodities in the region, thus hurting the local economy and ultimately, the consuming public, not to mention that we are still reeling from the effects of the COVID-19 pandemic," PCCI Tacloban-Leyte said.
The group urged the Philippine Ports Authority (PPA) to immediately roll back the tariff rates.
The group made the call after the PPA classified Tacloban Port in Leyte as a tier 3 port, from tier 5. 

The uniform tariff rates for tier 3 ports – covering general cargo, consumer goods, bulk and containerized cargoes, and roll-on/roll-off terminal, porterage, and line handling fees – are prescribed under PPA Administrative Order No. 10-2019.
Tacloban City, the regional capital of Eastern Visayas, serves as a transshipment hub of commodities in the region.
According to PCCI Tacloban-Leyte president Eugene Tan, end consumers of general cargo commodities will be directly affected as there will be a substantial price increase for commodities like cement, feeds, and fertilizers.
"Contractors with ongoing contract will feel the brunt of the increase in cement prices while bakers and pastry shops will be the first to experience the tariff increase on flour. The agriculture sector will also bear the high tariff cost of feeds and fertilizers," Tan said in a position paper submitted to the PPA.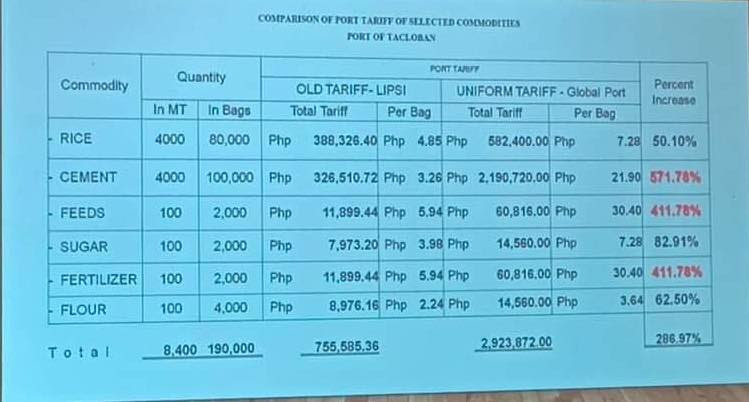 Rappler has sought comment from PPA Eastern Leyte/Samar, but it has yet to respond as of posting.
On Tuesday, November 23, representatives from the PPA and Globalport Terminals – the company managing the port and is in charge of collecting the tariff – had said that the local PCCI should submit a position paper to the PPA so that concerns raised could be taken up and discussed in its next board meeting
Tacloban City Vice Mayor Jerry Yaokasin earlier urged PPA Eastern Leyte/Samar to address concerns about the new tariff rates.
"The affected entrepreneurs find the considerable increase burdensome," he said. – Rappler.com

Brynch Bonachita is a Visayas-based journalist and an awardee of the Aries Rufo Journalism Fellowship.