Isabel Sandoval is making a breakthrough as a transgender woman of color and immigrant filmmaker in Hollywood
Like her Olivia character in the acclaimed Lingua Franca, Isabel Sandoval is quiet and low-key in person.
The Cebu native, recently cited as one of the 20 most influential female directors today by Slashfilm (also known as /Film), is in great company in the list which includes Chloe Zhao, Agnes Varda, Jane Campion, Mira Nair, and Sofia Coppola.
I met Isabel in person for the first time just a few minutes before her short film, Shangri-La, premiered at the Sala Perla in the recent Venice Film Festival. Shangri-La, Isabel's fifth film, was screened as part of the 78th Venice Film Festival's Giornate degli Autori program.
Venice is a memorable fest for Isabel, who, with Lingua Franca, shattered a ceiling as the first trans woman of color to direct and act in a competition entry in that film festival, which is the oldest and one of the most prestigious in the world.
Commissioned by Miu Miu in line with its Women's Tales series, in which the fashion label invites groundbreaking female directors to create short films, Shangri-La is a sensuous drama set in Great Depression California, about a second generation Filipino farmhand (Isabel) engaging in a roleplay reverie with her white lover (Matthew Fifer) at a time when interracial relationships were forbidden.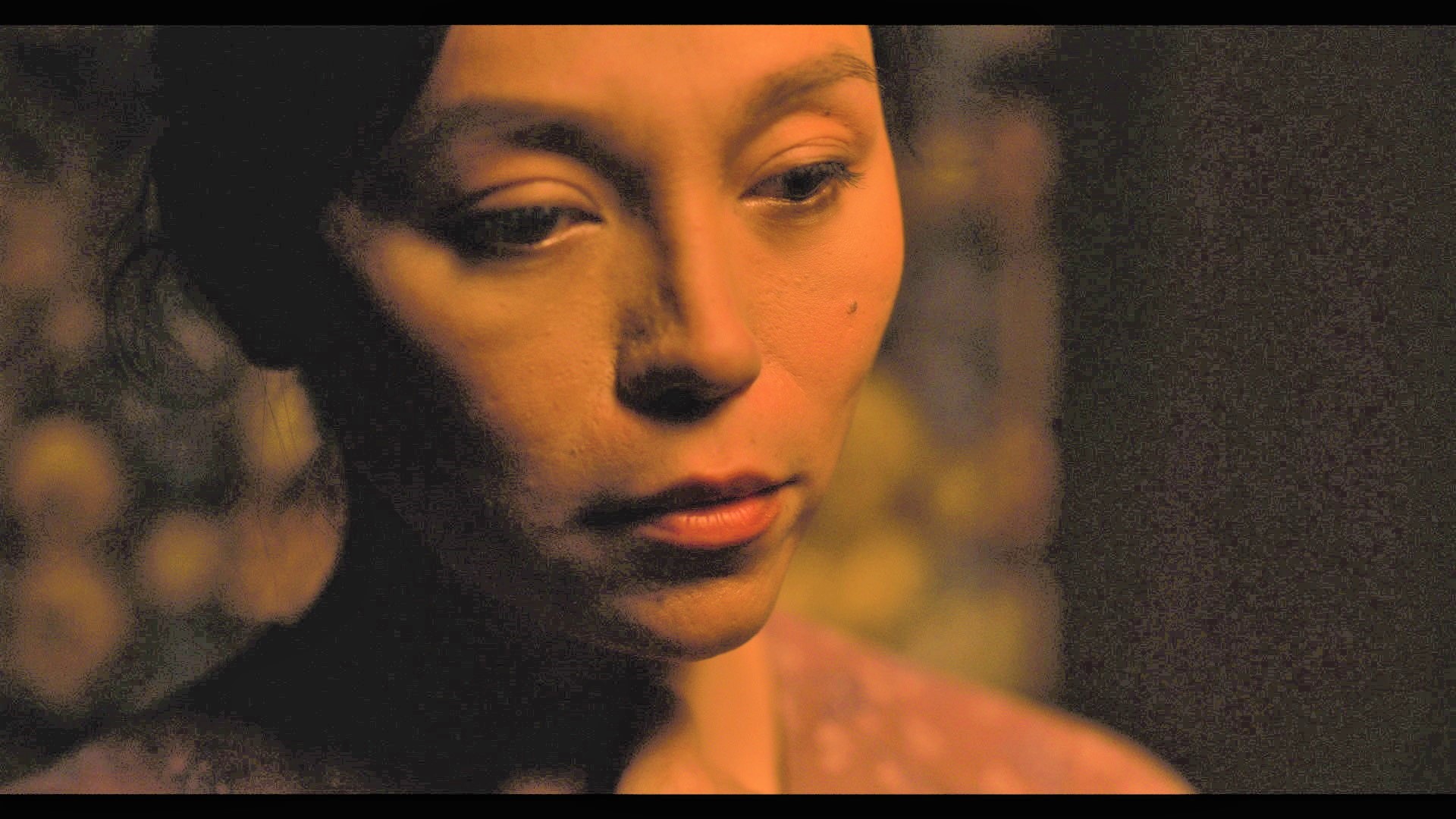 The day after the premiere, Isabel and Kaouther Ben Hania, whose I and the Stupid Boy was the other film commissioned by Miu Miu this year, spoke about their work in a panel moderated by Penny Martin, editor-in-chief of The Gentlewoman magazine, at the Hotel Excelsior.
While seeming low-key, Isabel – a summa cum laude graduate of Cebu's University of San Carlos – was confident and eloquent at the discussion attended by credentialed media of the festival on the Lido. In addition to chatting about Shangri-La, Isabel revealed her next projects.
"I feel like the evolving aesthetic marries political impulse with a tone that is lyrical and sensuous," began Isabel when asked what's next after Shangri-La and Lingua Franca. She will direct her next drama feature, Tropical Gothic.
"That is a creative direction that I want to push further with Tropical Gothic. And Tropical Gothic is also a subversion of the male gaze. It was really inspired by watching for the first time Hitchcock's Vertigo, which I think is the quintessential work of male gaze."
"I am trying to subvert that with Tropical Gothic. The film is set in 16th century Philippines. It's about this native princess who pretends to be obsessed by the spirit of her Spanish master's dead wife in order to psychologically manipulate him to give back her property and farmland."
Isabel, whose films make socio-political statements – even the fanciful, rapturous Shangri-La delivers a point – discussed the milieu that she likes to set her women protagonists in.
"My approach is that characters don't exist in a vacuum," shared Isabel, whose 2011 debut feature, Señorita, chronicled a trans woman working on a political campaign while taking care of a young boy. The filmmaker followed up Señorita with Apparition, which focused on nuns in a remote convent during the Marcos years.
"My characters exist in a very particular socio-political view and that's both a layer and texture to their world."
"And it allows us to really latch onto them as flesh and blood characters. They are not just purely fiction. But again, Jean Cocteau once said, a filmmaker needs to see a film over and over again to revisit similar themes, issues and conflicts."
"And in my work, I continually gravitate to stories of women harboring secrets. Perhaps it's because I'm a Pisces."
"But also women who are forced to confront intensely private choices in the socio-political arena and that's been consistent since my first feature, Señorita. Even through Tropical Gothic, and I think it's really just a process for me over the course of my filmmaking career. I did not go to film school."
"So I don't have a traditional film background but just to perfect those things until I get to an articulation of my thematic and aesthetic concerns, to create a masterpiece."
The auteur (she usually writes, directs, produces and acts in her work), who signed with CAA early this year, announced her other projects in the works, including Vespertine for FX.
"This past year, I found myself pitching and developing a few TV projects, including a mystery series for FX as well as a drama about the New York City nightlife scene in the '90s," she said. "It's also looking like I'll be developing a series set in London, which I'm excited about."
On creating cinema for Miu Miu which stipulates that the commissioned films in its series use the brand's clothing but otherwise gives carte blanche to the filmmakers, Isabel explained, "There were challenges for me because it was done in the middle of the pandemic."
"So I had to come up with a concept and also shoot a film. But most important, it was the first time I was working with fashion in a short film."
"I think I am fastest and most creative when I am working with screenwriters and also, you could come up with any story that you wanted. So that represented a moment for me to really rethink about my art moving forward, where they have always been tinged with socio-political issues."
"But this was the moment where I thought, what does art mean to me, what does cinema mean to me, especially today in the world that we are living in? I wanted to experience something sublime, inspiring and uplifting."
"And for me, that meant to stop looking at political issues on the surface. It was an opportunity for me to really tap into a new voice to a woman's most intimate personal feelings and thoughts. That's what came about with Shangri-La."
"It was my first time on a soundstage. I had never really worked on a soundstage before. It was really freeing to my imagination. I feel like I was able to create really raunchy and just exquisite universes within Shangri-La."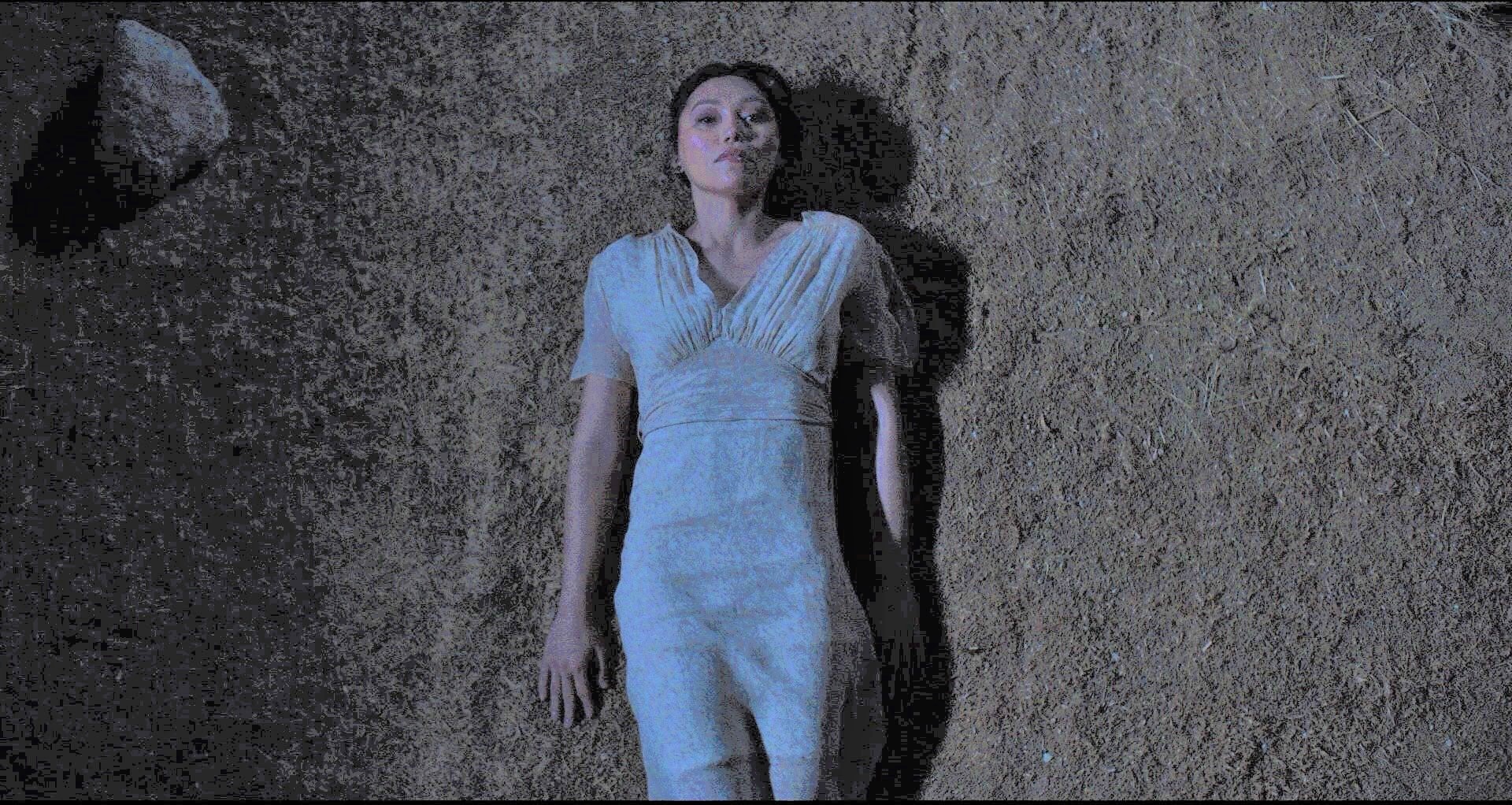 She added about Shangri-La, which is the 21st in the Women's Tales series, lauded for celebrating female filmmakers, "What I wanted to do with Shangri-La was to explore something in cinema that hasn't been given a lot of time and space before – the feeling, the true tearing of, in many ways, the woman's mind, the woman's most personal and intimate feelings and thoughts and fashion, which Miu Miu allowed me to bring to life."
In the time-traveling reverie, Isabel's character sees herself not only as a farmhand but also as a warrior, princess, and goddess.
"Different people are seen differently – the princess, the goddess, and by having all these conversations be of one in the same woman, I like to think that I am portraying the immense possibility of what it is to be a woman."
"And it's not just one thing between mothers and students and teachers and artists – that's what I wanted to do both as a human being and as a filmmaker – I feel like to show one aspect of myself."
"With Shangri-La, I am exploring sensuality, beauty, and glamor in filmmaking that I have never tapped into before. A lot of films about women these days use the narrative about women being victims and being marginalized."
"There is nothing more powerful than showing a woman at her freest, most authentic and uninhibited. That is what I tried to do with Shangri-La."
The result is a portrait of a woman, euphoric in love, sensuously role playing and confessing intimate thoughts to her lover, a la church confessional, which is transformative and allows her to transcend racist restrictions.
Miu Miu, in a statement, explained about the title: "Shangri-La summons the idea of earthly paradise, isolated from the world. For some immigrants, America was a promised Shangri-La, whose reality in the 19th and early 20th century, turned out to be a different story."
Isabel is a gifted actress who reminds me of Nora Aunor, one of the finest actresses of Philippine cinema. In her film roles, Isabel is understated yet effective, nuanced, and quietly eloquent with her eyes.
"For me, what I started with in Lingua Franca were close ups of a woman's face and how that can be so revealing about the character," she explained her process, especially on Shangri-La.
"So the problem I gave myself was how can I start with this space that is really tight and confined but have that be a portal to the possibilities of the endless universe of a woman's mind and soul, be in the Philippines and start with a confessional?"
"And that's how I put all that together. In terms of my main actor, Matt Fife is also a filmmaker. We actually met at the Tribeca Film Festival All Access. I had Lingua Franca in there in post-production."
"Matt's own film, Cicada, which played at queer film festivals as well, was also awarded post-production funds. We became best friends. We always wanted to collaborate on something together and Shangri-La was the perfect opportunity to do that."
Isabel clarified a scene in Shangri-La. "That ritual in the film – some people think that she was pleasuring herself. But it's actually a dilation which post-operation trans women do."
"I made the film the way I did because I wanted the mainstream wider audience to step up to me as a filmmaker and as a storyteller."
"It's the first time that I was not trying to explain everything that was going on. I feel like once you set those expectations and demands on an audience, they would respect me more as an artist and they would step up to me more as a storyteller."
Toward the end, Shangri-La – which is available on YouTube – bursts with ecstasy, literally and figuratively denoted by fireworks.
"In the second half of Shangri-La, it's all her internal monologue and stream-of-consciousness," Isabel said. "Those tableaus are purely her subjectivity. It's no coincidence that they're the most exuberant, rapturous and spellbinding passages in the film."
On which director she'd like to see make the next film in the Women's Tales series, Isabel quickly replied, "Janicza Bravo, who, with Zola, proves that she's a striking new voice in contemporary cinema. I personally would love to see her take on Miu Miu Women's Tales."
After graduating from college in Cebu, Isabel, at 23, moved to New York where she got her MBA from NYU's Stern School of Business.
"I made my first two features back in the Philippines although I was already living in the US," Isabel recounted. "When I made my first feature, that was when I started my transition. And I was writing Lingua Franca."
"I think by the time I wrote Lingua Franca, the US started feeling more like home to me personally. Ten years ago, the Philippine courts handed down a ruling prohibiting trans women, updating their gender marker. Let's call it what it is – legislated bigotry."
"That's when the US felt more like home than the country I was born and grew up in. Under Obama at least, it felt more welcoming as the space for queer people."
"It became more organic to imagine stories that situate the lives and experiences of fictional characters in the films and that finally felt like home to me, the US. When Lingua Franca finally came out, it was so personal that I wasn't sure if anyone would even connect or if it would resonate with anyone."
"Now, having heard from audiences that what made Lingua Franca so distinctive was that this was the first time that this kind of story was told not from the perspective of a disgendered male filmmaker's vantage point. But that I was telling the story from my perspective."
"And it was not trying to pander. It was not Transgender For Dummies or Transgender 101. There were certain scenes that you might not fully comprehend if you weren't trans but I don't want to spoon feed audiences."
On her journey with Lingua Franca, which narrates the plight of an undocumented Pinay trans who works as a caregiver for an old woman and falls in love with her grandson, the soft-spoken filmmaker answered, "When I did Lingua Franca, I made it outside of Hollywood, of course. But what I was really insistent and adamant about was doing research."
"And that, initially, I wanted to bring the budget up from $1.5 million to $2 million. But then I said I want to bring the budget back down so they can strike a certain balance, which is that the people involved are paid fairly for their work."
"And even though we had main actors like Lynn Cohen, who was in The Hunger Games and Sex in the City, and Eamon Farren, of course, was in The Witcher, they signed onto the project not for the fee but because of the quality of the material."
"So I wanted a bunch of them not only to hire these people but to know that this is important for me to be able to attain my creative integrity and vision over the film. And that is what I am trying to do now."
"Now that I have a foot in a door of Hollywood, I want to be strategic about the projects that I am involved in as much as possible and at one point do a project for pay."
"But I want to do projects that first resonate with me on a personal level and I feel like my art truly has something to it. And two, that I am able to maintain a certain creative autonomy and freedom to pursue my vision."
Isabel currently lives in North Carolina, where she moved to from New York, and where she met her fiancé, Sean Hunt. The day after the Miu Miu panel, we had dinner – relaxing, for a change, and away from the festival and the crowds – and got to know Isabel and Sean more.
With Lingua Franca, and now, Shangri-La, Isabel is a pioneering, unique voice in American cinema with virtually unlimited potential to grow and expand her vision.
She pointed out, "As a transgender woman of color and immigrant filmmaker in Hollywood, the fact that with Lingua Franca, I managed to not only make a film but do so on my own terms and my creative vision intact and have that film breakthrough, goes to show that my approach when it comes to my films and career – one that doesn't compromise or pander – works for me."
"And why would I mess with that? All I need to do is to be true to myself because regardless of the work that I come up with, if I am honest about myself and my experience, all these facets and aspects about myself will emerge naturally. It will come out in my work and that is the thing I accomplished with Shangri-La." – Rappler.com