'Scenes from Inside' is a record of Barbie's pandemic life and a product of her collaboration with her husband and close friends and family
It's been a minute since Barbie Almalbis last gave the world a full-length album, but the singer-songwriter is back in full form with her latest record, Scenes from Inside.
The album follows 2014's My New Heart and was released on Friday, July 16. It carries nine tracks that are unmistakably Barbie – with jangly guitars, shimmering percussions, and that homegrown pop rock touch that her listeners have loved since her days with Hungry Young Poets.
As the title suggests, Scenes from Inside gives listeners a glimpse inside Barbie's life as of late – a time in which, as she puts it, "everything happened inside." The songs' subjects are varied, though all of them have a ring of introspection and hope.
There's the carrier single "Kumpas" that was inspired by the bible verse Matthew 6:33 and speaks of trusting God even in challenging times. There's "Comment," which captures both the loneliness and excitement of connecting with someone on social media. There's also Barbie's cover of OPM classic "Umagang Kay Ganda," which she released in 2020.
In an interview with Rappler, Barbie shared that the album came after a time of creative drought.
"Parang nahirapan ako mag-write (I had a hard time writing) for a while…. I mean writing songs, practicing guitars, it's like a daily thing for me. I just couldn't come up with stuff that I was excited about," she said.
She shared that her phone is filled with bits and pieces of songs – a verse here, a chorus there. She was so unattached to her songs that when a phone update deleted two years worth of songs, she didn't feel sad.
She managed to break out of her creative rut a few years later, with the help of her husband, visual artist Martin Honasan.
"Lagi kaming nagdi-discuss (We always discuss) about art, about creativity, how it relates to our faith, and everything…. He also knows my writing process, kasi na-o-observe niya 'ko 'pag nagsusulat ako (because he observes me when I'm writing). 'Di ko alam, nanonood pala siya, nakikinig pala siya (I didn't realize he's watching, listening) when I'm trying to write in my corner or something. So then he said, "Why don't we sit down and I'll help you write, collaborate nga tayo, ganun (let's collaborate)?" she shared.
Just like that, husband and wife became musical collaborators, and Martin, who had no prior songwriting experience, ended up co-writing four songs on the album: "Kumpas," "Iyong-Iyo," "Comment," and "Silaw."
Collaboration
In fact, the album is Barbie's most collaborative one yet, with other songs co-written by her aunt Alya Honasan, friend Michelle Rivera, and others.
It's something different for Barbie, who used to be very independent when it came to songwriting.
"The thing is, I probably would never have known how to collaborate years ago…. You know, in terms of writing, even with my former bands, I would write on my own and I would bring the songs to them…. We would arrange the songs together as a band, always as a band. But the writing process was always a solo thing for me," she shared.
She learned how to collaborate musically with her worship band, Victory Worship.
"For three years, we had like this three-day songwriting workshop where we learned how to write with other people…. In those 5 years that I didn't write after My New Heart, I was writing in groups, I was writing with Victory Worship," she shared.
She shared that with the group, there would be as much as five members working on the same song, so it was a completely different process for her.
"'Di ba 'pag mag-isa ka lang, kumbaga ikaw lang 'yung ano (When you're alone), all your decisions go on the page. When you write together, there's that 'yes and—' thing, right? When somebody gives an idea, you have to accept it, and you can't reject it right away," she shared.
"Sometimes you come up with great songs, sometimes you don't, but it's okay, so long as you're able to write together," she said.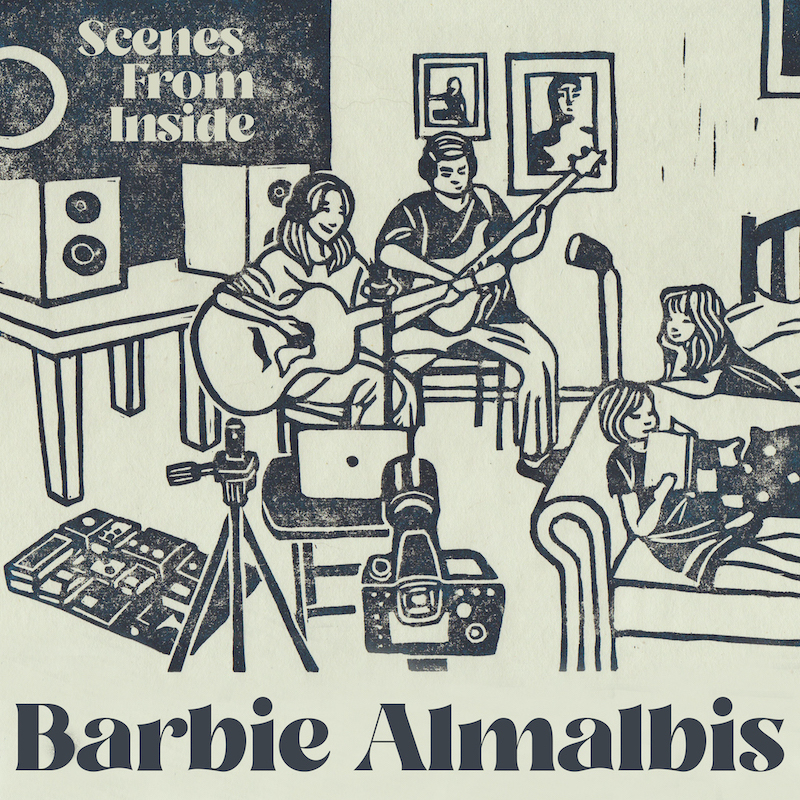 Work on Scenes from Inside began with the song "Silaw," which she started writing some three or four years ago. This time around, she decided to release songs as singles, instead of recording the entire album in one go.
When it came to curating songs for the album, Barbie shared that she simply wrote from her experiences.
"I've never been a planner in that sense that I have a theme…. For me, I would always just write from my experiences. So whatever comes out, whatever it is that ''m thinking, whatever it is that I'm facing, that's what ends up in the songs. It's always been like that…snippets of life of that season," she said.
"Somehow, especially the last year, may common theme naman mga pinagdadaanan nating lahat (there's a common theme with what we go through)…. Similar learnings, similar hopes, and struggles," she added.
Of the album's nine tracks, Barbie singled out "Kumpas" as one of the most challenging and meaningful songs. She explained that the song was written in the 9/8 time signature, which she's never done before.
"It was Martin's suggestion, sabi niya (he said) 'You think you can write in 9/8?' No, I've never done it, let's try," she shared.
"When we start putting the words, 'yung naging theme ng song (what emerged as the song's theme) as we were writing it revolved around Matthew 6:33…. 'Seek first the kingdom of God and his righteousness and all these things shall be added unto you,'" she explained.
"That song is about that, about reminding myself, actually, and hopefully others also, that we can always run to him. He is faithful and he really moves into our lives," she shared.
Virtual album launch
Barbie is celebrating her album's release with an online gig to be streamed on her official Facebook page on Friday at 7 pm.
The gig will be the first time in a long time that Barbie and her band will be playing a long set together. As someone who's done her fair share of online gigs over the past year, Barbie said that she is excited for her album launch.
"I mean, definitely, there's nothing like being out there seeing people, to physically be there. But there's also something unique about online gigs," she said.
"In a performance, you'd be on the stage, and then you'd have a microphone. But then you're the only one that has a microphone, so you don't really know what people are thinking. Whenever I play, that's nice, I see people smile or they interact with you in that way or silently," she said.
With online gigs, she explained, the audience gets a voice too, and they can communicate with her in a more specific way.
"Pero ngayon, first time ko lang 'to na-experience na tutugtog ka pa lang first song mo, biglang may mag-co-comment na mag-re-request na sila ng ganito (Now, it's my first time to experience that even if I'm just about to play my first song, someone will comment requesting this or that)," she said.
"I ended up putting new stuff in our playlist that I never played live because I thought people didn't wanna hear them. But then, meron pala (there are people who do). I really appreciate that, being able to interact in a new way," she said.
Listen to Scenes from Inside here:
– Rappler.com