If we were to think of it in K-pop terms, John would be the leader, Paul the visual, George the maknae, and Ringo would be…well, Ringo
It goes without saying that The Beatles are still a cultural phenomenon. Even decades after they broke up, their songs are still being performed everywhere, from weddings, to karaoke bars, to reality shows, to stadium concerts.
It was a Beatles song that Billie Eilish performed at the 2020 Oscars, a bunch of Beatles songs that tell the story of the 2019 film Yesterday. The Beatles or their music have been referenced by everyone from the Wu-Tang Clan to Mac Miller, to David Bowie, and countless pop stars, rappers, and rockers have named the band as an influence.
Whether consciously or not, anyone of any age – even those born in the new millennium – probably know The Beatles to some degree. But if you're from the younger generation, still don't have a solid grasp of the Fab Four, and want to know more (and really, you should), here's a guide to get you started:
First things first – who were The Beatles?
You'll only have to remember four names: John Lennon, Paul McCartney, George Harrison, and Ringo Starr – all hailing from Liverpool, England.
If we were to think of it in K-pop terms, John would be the leader, Paul the visual, George the maknae, and Ringo would be…well, Ringo.
John and Paul shared vocalist duties, and were also the main songwriters (forming the legendary Lennon-McCartnery partnership), though George and Ringo would later contribute their own tracks. John played rhythm guitar, Paul played the bass, George played lead guitar, and Ringo played the drums.
The Beatles has its beginnings when John, then 16, started a band called The Quarrymen with his schoolmates in 1957. Paul, then 15, joined the group as a rhythm guitarist, and in 1958 invited George to audition – which he had to do twice because John initially thought he was too young.
Ringo joined the band in 1962, replacing the original drummer Pete Best.
Albums
The Beatles were nothing if not prolific – 13 studio albums make up the band's "core catalogue" – all released in the decade they played together as a band.
Their debut album Please Please Me was released in 1963, and contained some of their most danceable tracks – "Love Me Do," "Twist and Shout," and "Do You Want to Know a Secret?" These are also probably their most dated tracks – the kind of songs you imagine your grandparents dancing to when they were teenagers.
Their early albums were squarely pop releases – fairly simple tunes about young love that were sure to be commercial hits. But the more albums they made, the more they explored creatively.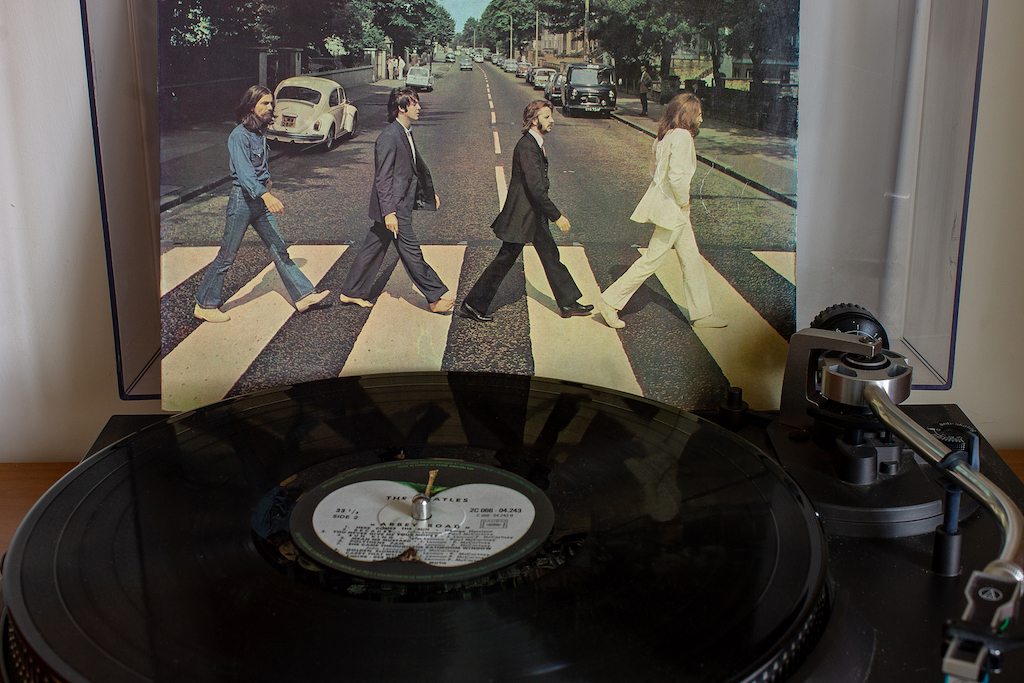 By the time they released their seventh studio album Revolver in 1966, they had entered a psychedelic phase, experimenting with classical Indian instruments – something they continue to do through albums like Sgt. Pepper's Lonely Hearts Club Band, and The White Album.
Of all their albums, which one is the best? This is a contentious question – everyone has their favorite Beatles album ever. According to Billboard, however, Abbey Road is widely considered to be their best. The album – their eleventh studio album released in 1969 – contains some of their best-known hits, such as "Come Together," "Here Comes the Sun," and "Something."
Beatlemania and world tours
Before there were K-pop stans, there were Beatles fans, with a dedication to their idols that might rival that of today's ARMYs and BLINKs.
Even when the band was brand new and playing regular gigs at The Cavern Club (the Liverpool club where they got discovered), they had apparently already attracted a frenzied crowd, whose cheers would become a precursor to the frantic screams that would fill concert venues when the band went on tour.
The band's first United States visit and guesting on The Ed Sullivan Show only stoked the flames of Beatlemania around the world, and soon they were touring everywhere from Sydney to Japan, and even the Philippines – which turned out to be a particularly controversial stop.
Unfortunately, The Beatles visited the Philippines during the Martial Law era. Not only were they manhandled and bullied at the airport from the moment they arrived, but they also unintentionally missed an invitation from then first lady and dictator's wife Imelda Marcos – which caused them to be hounded by rioters.
They were still able to play two shows at the Rizal Memorial Stadium, but continued to be screamed at by angry mobs on their way to the airport. Unsurprisingly, after they left, they vowed to never return to the Philippines again.
Break-up
After nearly a decade of playing together and taking over the world, The Beatles' members had all grown up – in mostly separate ways. George was deep into exploring Indian music and spirituality and had grown tired of celebrity, while John had become more and more experimental, and was spending more time with his partner, Japanese artist Yoko Ono.
As John and Paul's styles grew different, the Lennon-McCartney partnership became increasingly strained. And while there are people who would sooner blame Yoko for getting in the way of that, Paul recently made it clear: John was responsible for the break-up.
They played their last live gig together on January 30, 1969 – an unannounced concert played from the rooftop of their office in London.
In May 1970, The Beatles released their final studio album Let It Be, one month after Paul had announced that he was leaving the band.
What happened after?
The Beatles may have ended, but the members did not stop making music.
Paul went on to form the band Wings with his wife Linda, and the band is known for songs like "Silly Love Songs," "Band on the Run" and the James Bond theme "Live and Let Die."
Along with Ringo, Paul, now 79, is the only other surviving member of The Beatles. In recent years, he's collaborated with Kanye West and Rihanna on the song "FourFiveSeconds," had a cameo on the 2017 film Pirates of the Carribean: Dead Men Tell No Tales, appeared on Carpool Karaoke, and was set to headline the 2020 Glastonbury festival until it was canceled due to the pandemic.
After the break-up, Ringo went on to play drums for John and George's solo projects. He also went on to release the songs "Photograph," which he co-wrote with George, and "Oh My My," which were commercial successes.
He formed the supergroup Ringo Starr & His All-Starr Band in 1989, with a line-up that has changed over the years. The group is now on its 14th iteration, and are still planning to tour. He also recently released the music video for his cover of "Rock Around the Clock," part of his new EP, Change the World.
George, known as the quiet Beatle, came out and released a triple album post-Beatles. All Things Must Pass carried many of the songs that were passed over when he was with the band, and is considered by many fans to be a masterpiece.
In 1971, George organized a benefit concert The Concert for Bangladesh, at the request of his mentor, Indian composer Ravi Shankar. A triple album based on the concert was later released, and it went on to win the Grammy Award for Album of the Year. In his later years, he took his gardening very seriously. He died of cancer in November 2001 at age 58, surrounded by his wife Olivia, their son (and his carbon copy) Dhani, and Ravi Shankar.
John released his debut solo album John Lennon/Plastic Ono Band in 1970, and followed it up with Imagine in 1971 – the album containing the anthemic title track sung by everyone from Joan Baez to Lady Gaga, to (regrettably) Gal Gadot. He along with Yoko also released the track "Happy Xmas (War Is Over)."
He died on December 8, 1980 in New York City, after being shot by a disgruntled Beatles fan who had been upset by John's lifestyle. He was 40 years old. The site where his ashes were scattered in Central Park is now the Strawberry Fields memorial. His two sons, Julian and Sean, also went on to become musicians.
Want to learn more?
If you want to continue your Beatles education, the best thing to do might be to simply listen to their music. Here's a playlist of their greatest hits (plus a few other underrated recommendations):
Aside from that, there are countless films, documentaries, and videos you can watch. Here are a few:
Help! – One of several films made at the height of Beatlemania, this movie features all four members playing themselves as they are chased down by members of a fictional cult for a ring that wound up on Ringo's finger.
Nowhere Boy – This biopic that tells the story of John's early years shows his relationship with his mother and his aunt, and how he started the band that would eventually become The Beatles. It stars Aaron Johnson as John, Thomas Brodie-Sangster as Paul, and Sam Bell as George.
Across the Universe – A jukebox musical based on Beatles songs, starring Jim Sturgess and Evan Rachel Wood. If you like love stories and trippy aesthetics, you'll enjoy this film.
The Beatles: Eight Days a Week – The Touring Years – This documentary covers the years 1962 to 1966, and takes a look at the band's live performances, from their gigs at the Cavern Club to their US shows. As you can imagine, it's got lots of yummy live concert and behind-the-scenes footage. – Rappler.com