The one and a half-hour set leaves Harry's fans on a high
MANILA, Philippines – After going malling in Makati, Harry Styles has come and gone, performing his show Love on Tour to a packed stadium at the Philippine Arena on Tuesday, March 14.
His first show in the country in five years left much of his sequined, feather-boaed fans floating on a cloud – not at all different from that elated feeling you get after a good first date, which is something most of the people in the audience have daydreamed about at some point in their lives. He is after all, Harry Styles.
This is in no way to reduce Harry to his heartthrob status. He is, after all, a respected musician in his own right, and let's not forget that recent Album of the Year win at the 2023 Grammy Awards.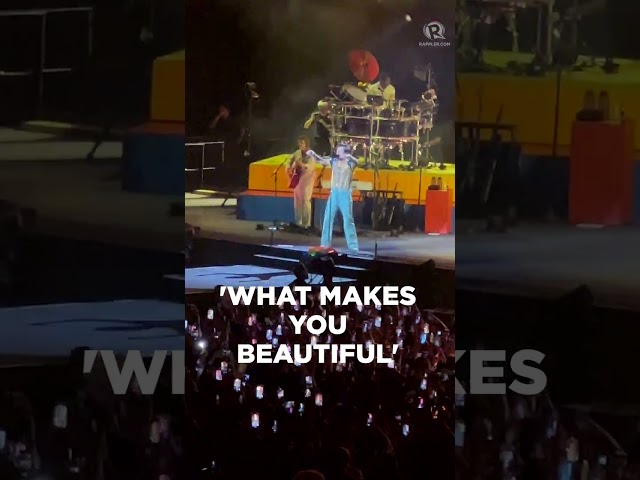 Since striking out on his own in 2016, Harry has released several songs that hint at his brilliance as a musician, from the rock power ballad "Sign of The Times" to the ultra-catchy "Watermelon Sugar"– all culminating in the pop music masterpiece that is his 2022 album Harry's House.
Harry's House is at the center of Love on Tour, with the set list made up mostly of songs from that album, starting with what else but the album's opening track, "Music for a Sushi Restaurant."
With its trippy midi opening notes building up to a rich arrangement – including trumpets! – it is definitely a song to start things, especially with lyrics that go "Could we live with just a taste?" – to which of course the answer is, no – not when it comes to Harry Styles.
Thankfully, Harry gave the audience more than just a taste. Despite the show being only one and a half hours long – that's shorter than the wait time to get out of the parking lot to go home, thanks Philippine Arena – people in the crowd got their fill of Harry, who bounced and jumped and danced all over the stage with boundless energy and charisma.
After his first few songs, Harry introduced himself and laid out the goal for the night – not only for him, but for the audience: "Our job tonight is gonna be to try to entertain you. I give you my word that we will do our absolute very best. Your job this evening is to have as much fun as you possibly can. If you wanna sing, if you wanna dance please feel free. Please feel free to be whoever it is you've always wanted to be in this room tonight."
He proceeded to run through his set list, which included almost the entire Harry's House tracklist (minus a few songs), as well as a few from his sophomore album Fine Line, his solo debut album, and a singular throwback to One Direction.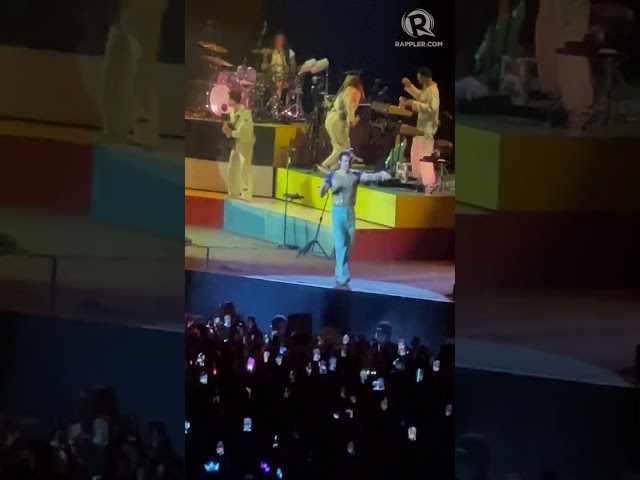 There were a lot of beautiful live music moments: "Matilda" tenderly sung from the edge of the stage's catwalk, a veritable dance-party on "Late Night Talking," the stadium turning into a galaxy as everyone swayed their lightsticks for "Sign of the Times," a sexy, slinky performance of "Woman," boundless joy on "Treat People With Kindness" as he waved a fan's rainbow flag on the stage.
Harry Styles woos the crowd with 'Matilda.' #HarryStylesinPH #LoveOnTourPH | via @philipptionary pic.twitter.com/LCM8R459cV

— Rappler (@rapplerdotcom) March 14, 2023
Harry and the Manila crowd sing 'Sign of the Times!' #HarryStylesinPH #LoveOnTourPH | via @philipptionary pic.twitter.com/LpjRw5yiS3

— Rappler (@rapplerdotcom) March 14, 2023
While Harry's penchant for '70s glitter rock could be felt in everything from his rhinestoned top to his Mick Jagger-esque dance moves, he is still very much a modern-day pop star, born of a boy band and coming of age as an artist in an era of social media-fed obsessions and next-level fanaticism.
This was most evident in the way Harry paid careful attention to the crowd. It's almost like he's flipping a giant finger to the one-sidedness of modern celebrity culture while also perfectly playing into it, creating moments that feel authentic but also have the potential to go internet-viral.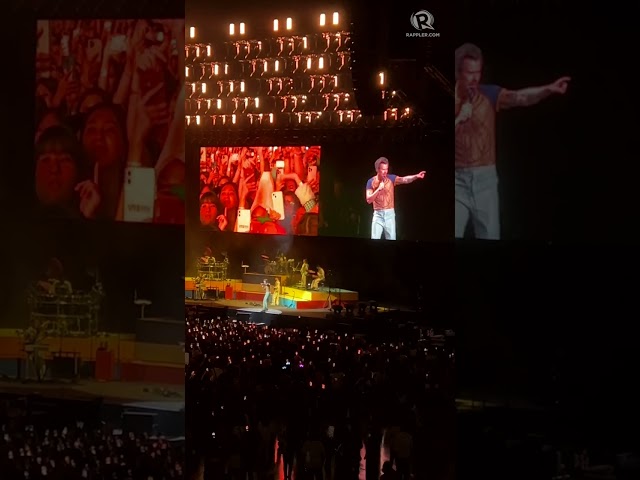 The VIPs in the standing area got the most bang for their buck (and it was a lot of bucks – those tickets did not come cheap). Harry read their signs, noticed their outfits (leading up to a performance of his banana song at the encore), waved back at them, blew them kisses.
He recognized his superfan Nicole, who had been following him on tour and who he singled out at his Bangkok show as being the loudest person in the room. He even duetted to "Sign of the Times" with an audience member, Jeff, to help him propose to his girlfriend, Michelle.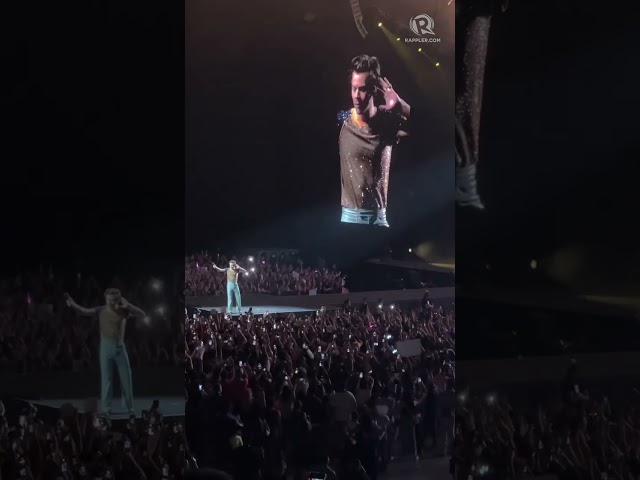 You know a date is going great when a person excites you, entertains you, makes you feel special, and makes you feel listened to even as you're listening to them. Somehow, even in a stadium full of tens of thousands, Harry managed exactly that.
Casual viewers and casual listeners would call it fan service. For Harry's devoted fans though, let's call it love. Love on tour! – Rappler.com