Who knew that while jumping around in confetti-strewn bliss, we would also rediscover ourselves?
MANILA, Philippines – There was a lot riding on Carly Rae Jepsen's headlining set at Wanderland 2023.
For Carly, it was her first show back in Manila since October 2019 – and the first time she would be playing songs from her 2022 album The Loneliest Time. For the Wanderland organizers, it was the first edition of the festival in three years, heavily hyped as their big comeback.
Carly's fans – a cult-like community calling ourselves Iglesia ni Carly – had a huge stake in the show as well, whether we realized it or not. Yes, we were there for the music, definitely we were there to dance, but we were also there seeking out something more – some sort of reckoning or release or, as one running joke on Twitter goes, "healing."
Carly Rae Jepsen's music has always been centered on its child-like honesty. It's an unapologetic approach to feeling feelings, the way we probably dealt with emotions before we were taught to hold them in and push them down. There is no pabebe inside the Iglesia Ni Carly. We are only unhinged and joyfully so, for the most part.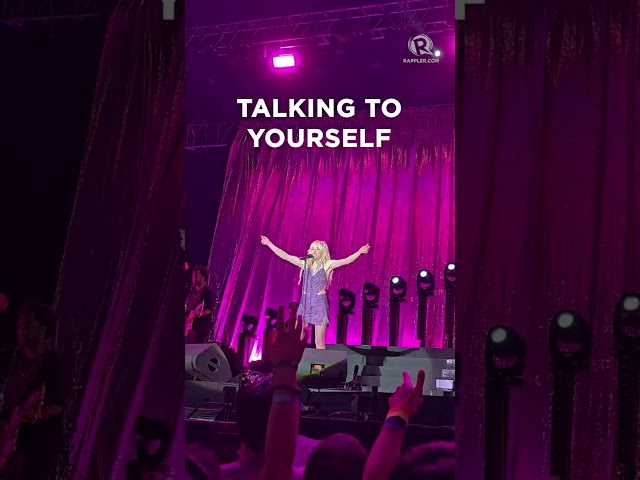 In Carly's world, being in love is okay. Wanting to be loved is okay. Being an emotional mess is okay. You don't have to shut your feelings up to survive them. Her songs are an invitation to Call Me Maybe, or Be Tormented By Me, Babe. They're an insistence that you really, really, really like someone, a declaration that you want them in your room, on the bed AND on the floor. It's music that resonates with people who party too much, dance too much, love too much and do it without shame, only a warning.
But in the past few years, most of her dancefloor devotees have gotten older, trading in the freedom of youth for something altogether more stable. And we did so in a pandemic no less, where there is hardly space for the same rosy romanticism that Carly's music espouses.
Even Carly — whose most famous song to date is about going crazy over someone she just met — displays an uncharacteristic guardedness in The Loneliest Time, which is after all an exploration of loneliness. As she pointed out before the release of the album, loneliness is a lot like love — perhaps a complete opposite in presentation, but just as powerful.
Her music has definitely grown up along with her and her fans – but it is by no means as hardened as some of us have become. Here she is still singing about surrendering her heart, still preoccupied with dreams of love and romance and boys that are "so nice, incredibly honest," of knocking on an ex's door to get back together, stronger than ever.
These are ideas that I purposely stayed away from in the past few years. Dealing with record-high levels of anxiety, a failed relationship, and finding comfort in isolation, there was simply no room to be a hopeful romantic. The last thing I wanted to do was surrender my heart to anything.
And yet when she opened with that very same song, "Surrender My Heart," at Wanderland, there I was doing exactly that. Not to be overdramatic, but I had tears in my eyes when the familiar synths shimmered and she launched into that first verse. As the crowd emphatically sang back that pre-chorus line to her – "I wanna be brave enough for everything" – I knew I wasn't the only one experiencing an emotional rush.
As she always has, there was Carly reminding us with her girlish inflections that it's okay to dream and desire and feel. Wrapped up in her shiny, earnest pop music — this time infused with disco for maximum danceability — the ideas of being vulnerable and wanting to be loved stop feeling so dangerous.
After "Surrender My Heart," she launched into "Joshua Tree," another new song, this time about being alone with nature. With lyrics that go "I'm feeling dramatic, I like the moon and the magic of this," it could not have been more a more perfect song in that moment, pulsating with fellow Carly devotees under an almost-full moon.
Her third song was a jolt to the pre-pandemic past of parties and packed dancefloors and surprise kisses and chaotic love affairs. What else but the iconic sax solo of "Run Away With Me" to herald in those memories? It's as if, after acknowledging our newfound loneliness, our Blessed Mother was reminding us of what it was like to be completely free and unguarded.
She continued to play a mix of fan favorites from past albums and standouts from The Loneliest Time. Some moments stood out: the crowd singing every single lyric of "Emotion" even while Carly fell silent to transition to "Favorite Color," a joyful Carly x crowd duet to "Call Me Maybe," the wind blowing at just the right moment as she sang "Western Wind," someone throwing a balloon sword onstage and making a meme come true as she closed out with the ultimate feel-good dance track, "Cut To The Feeling."
The highest point for me was her performance of "The Loneliest Time," the glitter-strewn disco title track to her new album. The song is pretty simple to decode. It's about someone reuniting with an ex, which is questionable behavior for protective friends and internet memes, but not for Carly. In the song, there is no shame about falling back into an old love. There is only hope that this time might be better than the last.
As with every song on her setlist, the crowd sang back every word – more emphatically in some parts than others. The most fun part was the coda, heralded by the unforgettable line, "What happened was we reached the moon!" giving way to Carly brightly singing out what most of us hoped was a promise: "I'm coming back for you baby!"
To that, let our response be: "yes please!" – the Iglesia is praying fervently for a Manila stop on her current So Nice tour.
On another note, to be able to sing those words along with her – "I'm coming back for you!" – also felt like a huge sigh of relief. It's almost as if we were finally coming back – not to anyone else but ourselves.
The song ended, as it does on the album, with the repeated line "And in the morning, sun hits the water. Is this nirvana?"
At this point, the lights on stage shift, basking our patron saint of shameless longing in a warm, golden glow. For those of us near enough to see, it really was like seeing the sun rise after a very long dark night. – Rappler.com