This is AI generated summarization, which may have errors. For context, always refer to the full article.
The 24-year-old stunner from Siniloan, Laguna wins the Miss Philippines Earth crown on her second try
MANILA, Philippines – Yllana Marie Aduana took home the title of Miss Philippines Earth 2023 during the pageant finals held on Saturday, April 29, in Cebu.
The 24-year-old stunner from Siniloan, Laguna bested 28 other candidates to succeed Miss Philippines Earth 2022 Jenny Ramp. Yllana clinched the crown on her second attempt at the Miss Philippines Earth competition. 
Seasoned beauty queen
Yllana is no stranger to pageantry. 
Her first foray into the national pageant scene was in 2021 when she first joined Miss Philippines Earth, where she finished as part of the Top 10. Also in 2021, Yllana was crowned Miss FIT Philippines. 
The following year, she participated in another national pageant: the Binibining Pilipinas 2022 edition. She made it to the competition's Top 12 and won the special award Face of the Binibini or Miss Photogenic. (It's not surprising to learn that Yllana also works as a model.)
Her placement finishes didn't hinder her from joining yet another national pageant. And it looks like third time's the charm for Yllana, because on her third consecutive year of pageantry – she finally took home a coveted crown. 
When she announced her bid for the Miss Philippines Earth 2023 crown, Yllana explained she was going back for a second time because "[her] heart truly lies" in the advocacy of the competition. 
"I was being completely honest when I told myself that I only want to be joining pageants that are advocacy-driven, because that is the legacy that I want to leave as a queen," she captioned her post. 
She added: "I am ready to fight; not for the title alone, but for my cause, for the people, and for our only home, our Earth." 
In her introduction video, Yllana also spoke up more about her passion: "It's truly relevant, especially in this time where care for the environment and care for the people [is getting out of our] reach. I knew I had to step up because I had the capacity to rear up [sic] to those responsibilities."
Yllana also detailed her "E.A.R.T.H Education" advocacy, which stands for "Environmental Awareness and Action to Restore and Transcend Home."
"I believe that education is truly the solution and I will use it as my medium to help fight climate change," she emphasized. 
"Now, more than ever, I am primed not only to be a queen of the Earth but the queen for the Earth."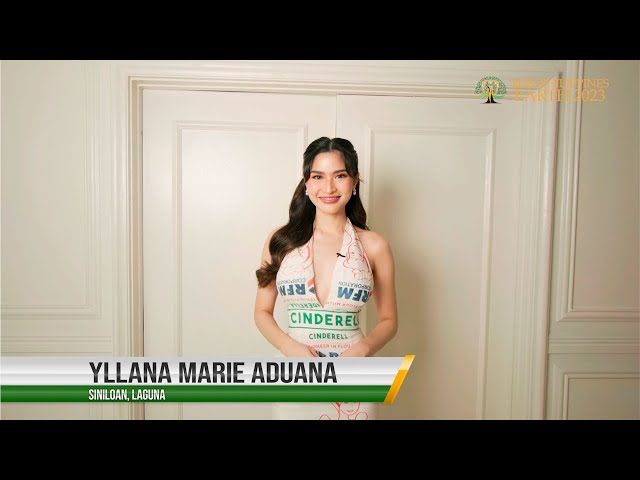 Being a familiar face, it was expected that Yllana would be one of the early standouts in the competition. And despite the pressure, she delivered a winning performance all throughout – garnering the most votes from the media to win "Darling of the Press poll," finishing third in the talent competition, and bagging several special titles from the pageant sponsors.
During the pageant's Top 5 segment, all candidates were asked: "What do you think people in the future would say about your generation?"
Yllana's winning answer was: "I would definitely say that our generation, although misconstrued [sic] as very ardent, I would have to say that we use our voice for a reason, and that is to always speak up for the things that we know are right, and for the things that we know we deserve." 
"That is why we are very ardent about it. That is why I am also conducting colloquiums on the 17 Sustainable Development Goals and their interconnectedness to nature in the hopes [of precipitating] people's eco-consciousness, because our future is the linebackers and pioneers of environmental amelioration, and we should always take advantage of it at all costs," she added.
Personal life
Yllana shared that she loved swimming and running outdoors as a child, and noted that her hometown had several waterfalls.
According to her profile on the Binibining Pilipinas website, Yllana's interests also include discovering new tourist locations and local delicacies. Gina Lopez and Venus Raj are listed as her role models.
Yllana grew up a consistent scholar. She finished her Bachelor of Science in Medical Technology at the Centro Escolar University in 2018 and passed the Medical Technologist Licensure Examination that same year. She's a licensed medical laboratory scientist by profession. 
"I passed the licensure examination a little bit too early for my age – before they [could] actually give me my professional license," she said. 
But Yllana pointed out that "academic excellence alone is not enough if [I want] to achieve developmental progress." "It should always be teamed with social competence," she said. 
This led her to found the nonprofit organization Edukasyon for Everyone, which aims to "promote inclusive quality education." Based on its Instagram profile, the organization mounts activities such as storytelling and community outreaches. 
The organization also took to social media to congratulate Yllana for winning Miss Philippines Earth 2023. "Your unselfish acts and undeniable love for Mother Earth and her children have caused a ripple effect through your advocacies and numerous projects," they wrote.
Yllana will represent the Philippines in the Miss Earth pageant to be held in Vietnam later this year. A final date has yet to be announced.
She is vying to become the fifth Filipina to win the Miss Earth title following Karla Henry (2008), Jamie Herrell (2014), Angelia Ong (2015), and Karen Ibasco (2017). – Rappler.com