The destiny of Vietnamese fishers like Duy is now largely charted not just by their country's fishing regulations but also by that of their neighbors in the ever-contested South China Sea
Taking a long drag on his cigarette, Captain Duy became silent, his legs hooked on a chair, in the middle of his simple, one-story house. The man – 40 years old, tall and thin, his skin darkened by years out at sea – looked over to the view outside his door. His gaze was fixed on the busy Sa Ky seaport in Quang Ngai, central Vietnam.
"My wrists were tied and forced to be held high up, my face to the wall. I felt like I was about to be executed. Then, the police whipped a stroke on my buttocks. A rattan cane. The pain would cause one to faint," he said to a journalist working with the Environmental Reporting Collective (ERC). Piece by piece, Duy, who requested anonymity because of the fear of reprisal, was recounting how he was treated inside a Malaysian jail.
With over a dozen investigative journalists from across the world, the ERC's Oceans Inc. team looked into the impact of illegal, unreported, and unregulated (IUU) fishing. In the South China Sea, where IUU is particularly rampant, our journalists were repeatedly told by fishers in neighboring countries that Vietnamese fishers were the main perpetrators.
Duy's story, however, paints a much more complex picture, one which highlights the true human – and environmental – impact of IUU fishing that is driven by large companies and geopolitical interests.
In September 2019, Duy and his crew of 12 were arrested by the Malaysian coast guard for trespassing into the waters of Sabah, a Malaysian state on the island of Borneo. They were also charged with having a fake fishing permit.
"Goddammit, I was cheated. All lost," said Duy. "I poured a bucket of cash into a permit that I thought was authentic but turned out to be fake."
The trial was conducted soon after the arrest. The judge announced a two-month jail sentence, a VND70 million ($3,000) fine, and a stroke of the cane for him. It was the same for each crew member, except they had a lower fine of VND20 million ($870).
"There was a Vietnamese translator for us at the trial, but she spoke very short sentences," remembered Duy. "The Malaysians asked us a few questions: full name, and from whom and where we bought the permit. They said a lot, but we understood little."
Duy is convinced that the Malaysian coast guard and judges knew he had been cheated. During his 14-day detention, he heard them repeatedly say "tipu," one of the few Malay words he knows, meaning "lie" or "cheat."
Being captured by coast guards from other countries is no longer uncommon for fishers in Duy's hometown, the Binh Chau commune in Quang Ngai. Fishing is a tradition in this coastal village, a livelihood that has been passed down for generations, making it the second largest deep-sea fishing village in Vietnam.
While getting in trouble with China's coast guard is often viewed positively by locals – as fishers have been encouraged to defend Vietnam's sovereignty in the disputed waters between the two countries – being arrested by other neighboring countries is still taboo. It is a violation of Vietnam's maritime code.
And yet, fishing boats from Quang Ngai often enter into the waters of Malaysia, Indonesia, or Thailand. Sometimes, they even venture as far as the Pacific Ocean.
These encroachments, also by boats from many other coastal towns, became so commonplace that Vietnam was issued a "yellow card" by the European Commission. It means the country's seafood exports into the European Union are currently restricted.
For generations, boats from Quang Ngai have harvested the bounty of the South China Sea in relative peace. But with increasing IUU activity causing an alarming depletion in fish stock, the destiny of fishers like Duy is now largely charted not just by their country's fishing regulations but also by that of their neighbors in the ever-contested South China Sea.
The fishers' dilemma
In September 2019, Captain Duy and his crew left Sa Ky port. The cerulean-painted boat, with its fluttering Vietnamese flag, headed east into the South China Sea, hoping to return laden with premium parrotfish, grouper, and sea cucumber.
Two years earlier, Duy and his wife had managed to build the VND4-billion ($170,000) wooden boat. They had used every last bit of their savings, selling their house, asking Duy's younger brother and other relatives for help, taking out a loan from the state bank, and borrowing from a wealthy local at a high interest rate. After 24 years of working for others, Duy finally had his own boat.
It took Duy's crew seven days to arrive at the spot where they could dive and cast their nets. Near-shore fishing is no longer an option for Duy's generation, with the fish stock around Vietnam's coast largely decimated. Neither is heading to the contested Spratly and Paracel Islands, as their fathers and grandfathers did, due to the increasing tension between Vietnam and China.
"The Chinese coast guard often hounds us, and if we're caught, they would destroy our boats, arrest the crew, and sometimes even try to shoot us," said Duy. "Not to mention how crowded it is with Chinese fishing boats and vessels in the East Sea (the Vietnamese name for South China Sea). They've trawled off all the fish stock in both the Parcels and the Spratlys."
Covering 3.5 million square kilometers, the South China Sea is home to the most diverse marine ecosystem on the planet, with approximately 3,365 species of marine fish. More than half the fishing boats in the world operate here, contributing to 12% of global fishing catches. This abundance of fish provides jobs to 3.7 million people from surrounding countries and territories.
Yet, fish stocks are being depleted due to the widespread use of trawling nets. A study by Rashid Sumaila and William Cheung at the University of British Columbia found that destructive fishing practices, as well as illegal and unregulated fishing activities, have emptied out as much as 90% of the East Sea's marine fish resources since the 1950s.
Despite all the challenges and risks, Duy and other Quang Ngai fishermen keep on sailing.
Finding a way out
On the sixth day of the September trip, the boat reached an empty area by the edge of Vietnam's maritime border. The captain ordered an anchoring.
As with previous trips, the crew started work – not with fishing nets, but with spray paint. The cabin's color was quickly changed to orange. The numbers on the hull were covered with new letters and numbers from Malaysia, whose national flag was also hoisted in place of the Vietnamese flag they had set sail with.
With the ship's identity now matching the permit he held, Duy was confident of crossing the border into Malaysian waters.
It was through a local ship owner that Duy had connected, in mid-2019, with a group of people who claimed to provide fishing permits for Malaysian waters.
"Two Vietnamese and one Malaysian man met me at a luxurious hotel in Saigon center. At the first meet-up, I gave him a deposit of $5,000," recounted Duy. "The second time, I gave him another $5,000, and in exchange, he gave me the photocopied version of the fishing permit. He kept the original.
"Only if the permit was approved by Labuan port officers (in Malaysia) and my boat was allowed to enter would I give him the remaining $7,000. When in Vietnam, the boat was registered as mine, but once in Malaysia, it is his," said Duy.
Each month, whether his boat ventured to the sea or not, Duy still had to pay the Malaysian another $1,500.
"If I do not pay, he will cross my name in his bailout list and report us to the police, who will deny our request to enter. He is rich and powerful – I know for sure there are many other fishing boats in Quang Ngai in this network."
For Duy, Malaysia was inviting. The marine resources are still abundant, the water is shallow, and the currents are mild, all of which make the diving smoother and safer than in the Paracels and the Spratlys.
Each fishing trip lasts around two months. In the middle of each trip, his boat would enter Labuan seaport to exchange several hundred kilograms of catch for cooking oil and food. The rest of the catch would then be carried back to Sa Ky port where it would be sold to wholesale seafood stores.
A wholesale store owner who regularly buys Duy's catches explained the supply chain: "From here, the fish will be transported everywhere. Some will be consumed in the domestic market, while those with higher quality will be selected for international export. Sea cucumbers, particularly, will be sold to the Chinese market."
Subtracting all costs, each crew member receives VND30 million ($1,300) per trip, and the shipowner gains VND150 million to VND200 million ($6,000 to $8,000), sometimes more if their net traps a mega-school of fish.
"The profit after such a trip is 10 times higher than fishing near-shore; three to four times higher than fishing in the Paracels and the Spratlys, so everybody wants to do it. For me, with two years of fishing like that, I could pay off all my debts," said Duy.
But everything fell apart during that trip in September, when Duy and his crew were arrested. It was his fifth trip while using the Malaysian "permit."
"I didn't know it was a fake permit until I was arrested. I used to poach in other foreign waters, but this time was definitely not poaching. I was cheated," said Duy, who swore under the sacred moonlight over his coastal hometown, a custom among the villagers when asserting their truth.
Duy added that he asked our journalist for anonymity out of the fear that if his story gets out, he will be fined another VND1 billion ($43,800) by Vietnamese authorities for illegal fishing in foreign waters.
'Nobody protects fishermen'
In March 2021, when most of the world was under lockdown, 22 women in Kien Giang, Southwestern Vietnam, wrote a letter asking Vietnamese leaders to help their husbands, fathers, and sons, all fishers who had been arrested by Indonesian coast guards in May 2020. They had been stuck almost the entire time in a holding cell at a prison in Tanjung Pinang, the capital of the Riau Islands.
They had finished their prison terms and paid their fines, but could not return home due to COVID-19 travel restrictions.
"I had to mortgage our only motorbike. My mom mortgaged her house to help me collect the VND130 million ($5,700) to meet bail. Yet, our family hasn't been able to reunite," said Dinh Thi Hang, who also signed the letter to the Vietnamese authorities.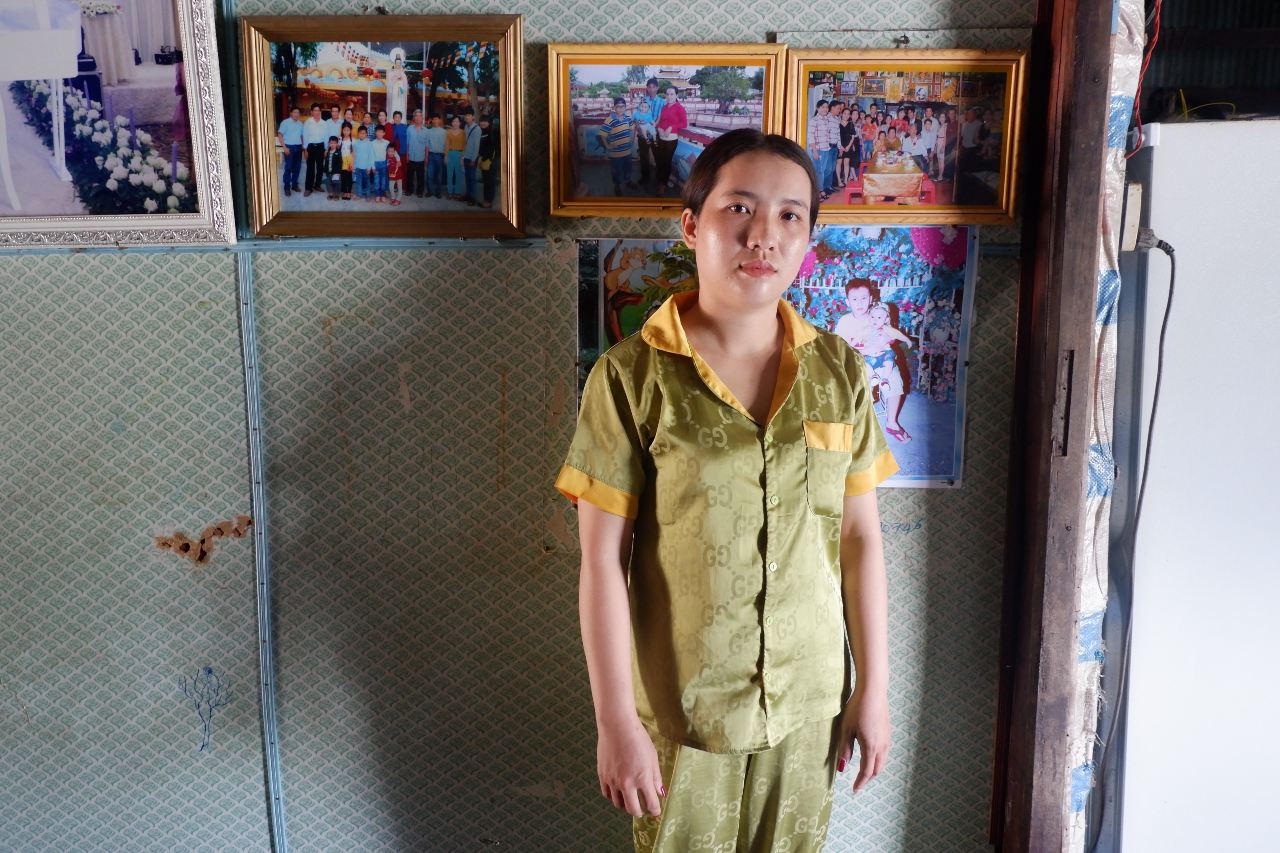 She had tried asking Kien Giang authorities for help many times, all in vain.
At the Tanjung Pinang prison, Nguyen Quoc Huy, Hang's husband, was with his fishing crew, rationing their last instant noodle packs while waiting for a flight back home.
"We're often hungry because the meals in this prison aren't enough for us. Our families had to send money over to buy us extra food. Now everyone back home has fed us with their last penny, no one is able to continue supporting us," said Huy, speaking to an ERC journalist on a phone call from prison.
This is not the first time that Huy, 36, has been arrested while trying to make ends meet in the East Sea. Five years ago, when his boat's engine died and free-floated into Indonesian waters, he and his crew were caught and detained but were fortunately released right after the trial.
"The boat owner we worked for came all the way to where we were held in Indonesia, hiring a lawyer and an interpreter so we won the trial," he said. "But, this time, no one helped justify that we're not guilty. We definitely didn't enter their waters."
"Nobody asked us a thing during the trial. They destroyed the evidence of the boat location, and I signed a paper in Batam, a paper written in their language which I don't know, but I do know it says I was in their water. But if I hadn't signed, I'd have been beaten."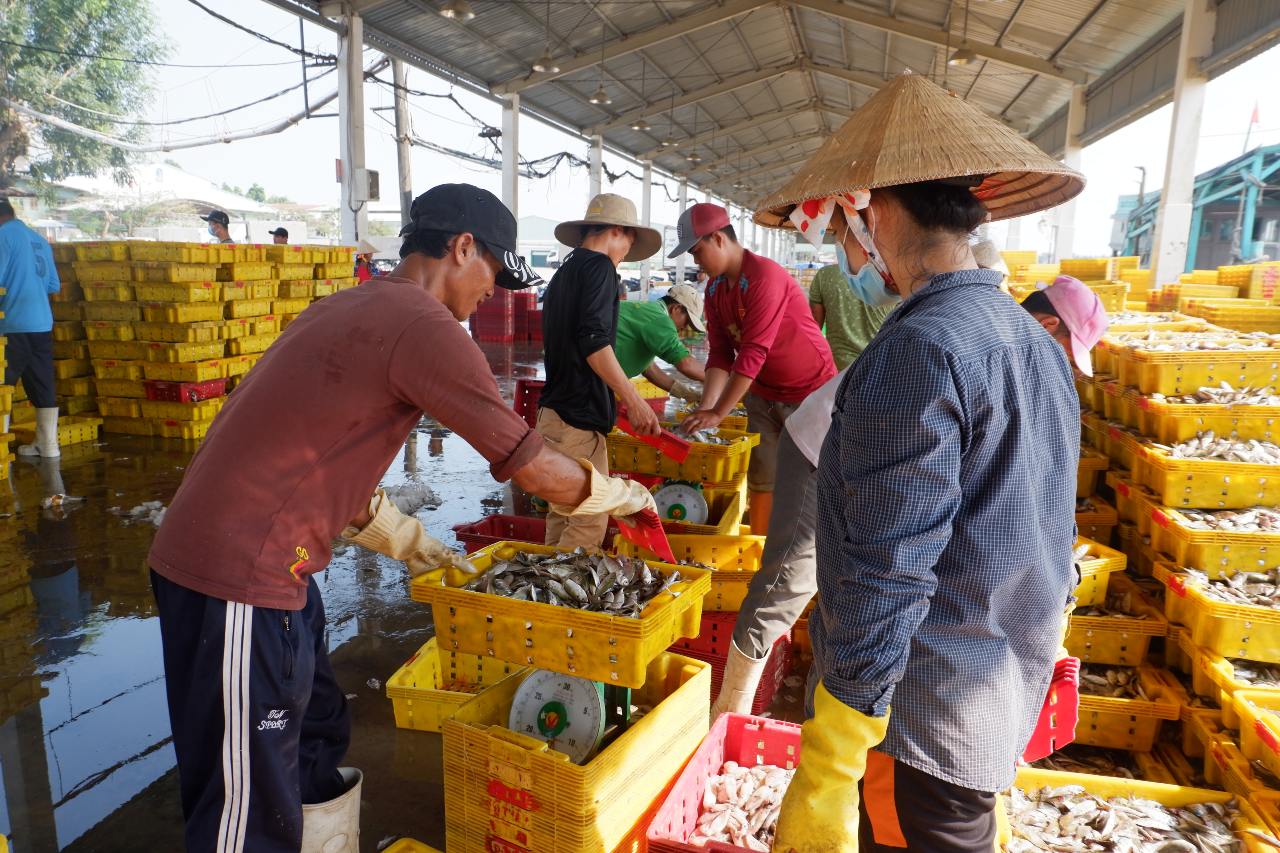 Huy is among thousands of Vietnamese fishermen arrested abroad each year, according to statistics from the Vietnam Coast Guard. Southwestern Vietnam is also a major fishery, as well as a red zone due to the increasing number of boats that encroach foreign waters, with Kien Giang having the highest number in all of Vietnam.
Huy conceded that, a few years ago, when he was "too engrossed following a school of fish," he had steered his pair-trawlers (the typical fishing method in Southwestern Vietnam) into Malaysian or Indonesian waters a few times.
In recent years, as Vietnamese authorities tightened their fishing boat management practices and increased fines in order to address EU concerns about IUU fishing (which led to the country being yellow-carded), fishers were more careful not to take risks.
"We didn't dare to go beyond Vietnam waters, but we're still arrested. Vietnam claims that water is Vietnam's, but so does Indonesia. What should us fishermen do?" asked Huy. It's been two decades since Huy first stepped on a fishing boat, and he said he never imagined it could ever become this arduous.
In May 2021, a year after they were first arrested, Huy and his crew were finally allowed to return to Vietnam, where Huy now is waiting for an opportunity to go back to sea. He'll find a new boat owner and ask to be hired as a pair-trawler skipper. "There's no way else. We have no land, no property, just debt over debt after being arrested [each time]," he said.
Meanwhile, hundreds of other Vietnamese fishers remain under detention in Indonesia, unable to find enough money to pay their fines or buy tickets to come back home.
A thousand kilometers from Huy's hometown, Captain Duy once again makes his way back to the East Sea, even after all that has happened. He continues as a skipper but, this time, on someone else's boat, often floating somewhere in the North, around the Paracels.
"I dropped out of school at 14 and have clung to the ocean for half my life. If I don't fish, what else can I do?" asked Duy. "But I do hope that Vietnam will work with the other countries so that I can continue fishing in the sea without being arrested again." – Rappler.com
This story is part of Oceans Inc.'s "Fishers on the Frontlines," which explores how fisherfolk across the South China Sea have been impacted by IUU fishing and the ongoing maritime territorial dispute.
Oceans Inc. is a collaborative investigation by the Environmental Reporting Collective, involving 23 journalists from over a dozen countries looking into IUU fishing. Follow the full investigation at www.oceansinc.earth.