'[M]any Hollywood stars like to wear ensembles that echo a world that's more diverse and representative of various cultures,' says Janet Nepales, the woman behind the 223-page tome
Beyoncé. Kristen Stewart. Heidi Klum. James McAvoy. Lady Gaga. Rhianna. Mariah Carey. Britney Spears. Jennifer Lopez. 
It's a laundry list of A-list pop stars and Hollywood celebrities, yes, but there's another thing they all have in common: they've walked the red carpet wearing Filipino designers. When before only names like Versace, Dolce and Gabbana, Yves Saint Laurent, and Chanel clothed the stars at prestigious awards shows and exciting premieres, now names like Michael Cinco, Oliver Tolentino, Monique Lhuillier, and Furne One are in the mix. 
It's this growing love for Filipino fashion among the world's biggest celebrities that inspired entertainment journalist Janet Nepales to come out with the coffee table book indulgently titled FASHION. Filipino. Hollywood. The World. The 223-page tome features photographs mostly by Filipino red carpet photographer Sthanlee Mirador, of celebs sashaying down red carpets in beautiful Filipino designs. 
Also featured are Mirador's shots of other famous folks in various haute couture – an ode of sorts to a career that has spanned two decades and counting – as well as those of ​​other renowned fashion lensmen such as Filbert Diego Kung. Peppered throughout the book as well are inspiring words and advice from both the designers and the celebrities.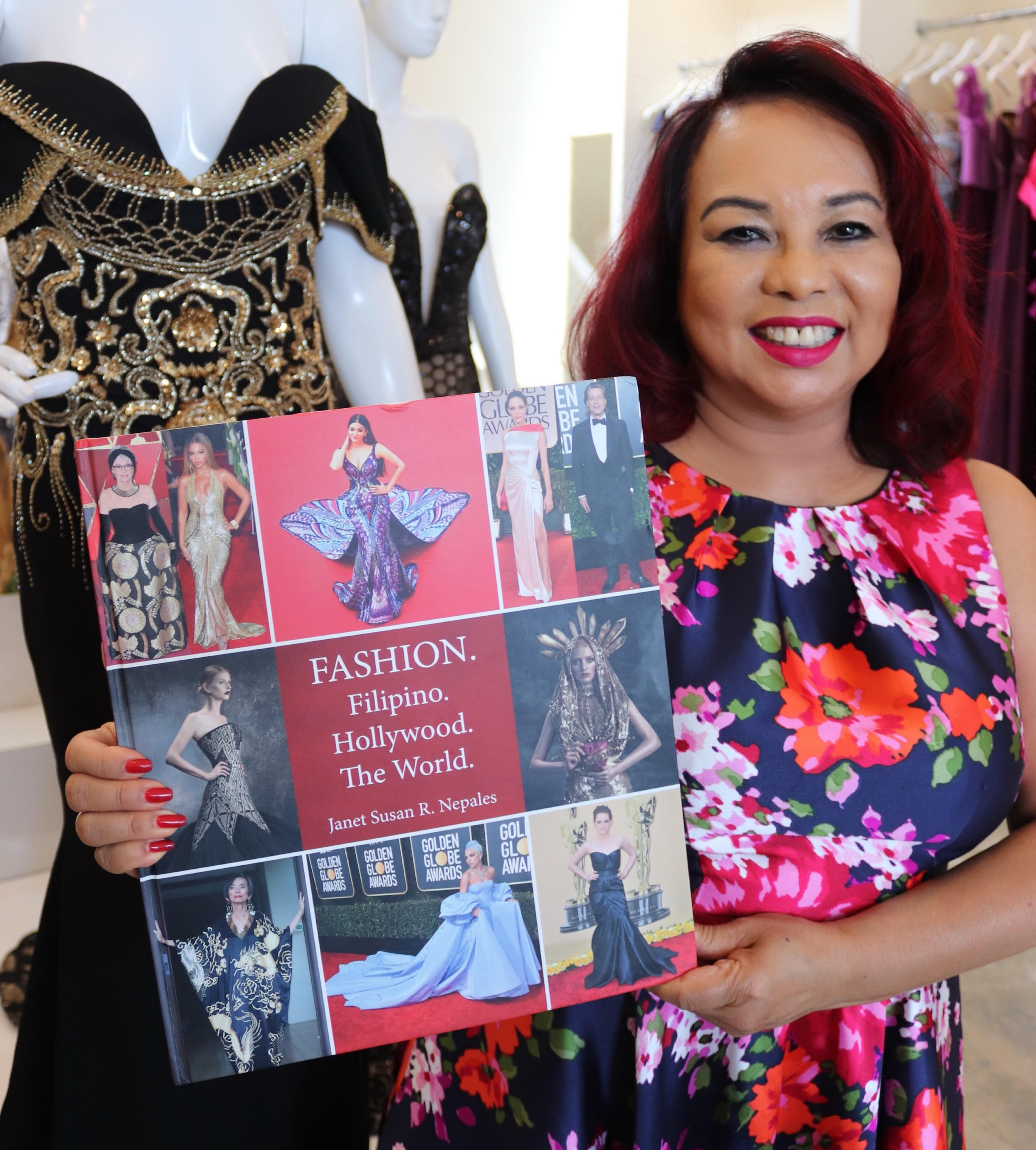 We asked Nepales a few questions about the book and her love of Filipino fashion. Here's what she had to say:
Among the designers featured in your book, who is most in tune with your personal style, and why?
That's a tough question! All of the featured designers have something that I like in style. It also really depends on my mood, [and] the event or occasion that I am attending. Some of them I love wearing on the red carpet or at award shows; others I love to wear their creations when I travel or simply when I am in a casual chic mood. Sometimes you want to be dramatic or flashy; other times you simply want to be business-like or formal, and at other times, just playful and very colorful.
Why do you think Filipino designers have been embraced by Hollywood celebs more and more in recent years?
Because of their unique artistry, distinct craftsmanship, and creativity. There is that Filipino touch, whether in their inspiration or the materials they use, that make them stand out.
And the small details that they add that are important to the success of any design. Filipino designers are also up-to-date [on] trends but temper their fashion creations with elegance, sophistication, and that classic touch. Not to mention their designs are wearable. The stars prefer to wear something chic yet comfortable, especially with the long hours at glamorous events.
From their training and background, Pinoy designers also have the advantage of being able to mix the old and new, East and West, which is an asset since many Hollywood stars like to wear ensembles that echo a world that's more diverse and representative of various cultures.
Are there any less mainstream Filipino designers who you think should get more attention?
We have a lot of fashion talents in the Philippines. Some of the designers who have caught my eye and whom I believe should get more attention and be showcased on the global fashion stage include Mak Tumang, Jessan Macatangay, Andrea Tetangco, Jaggy Glarino, Roy Erwin Tizon, Nina Gatan, Chis Nick, and Michael Leyva.
When I watch Philippine beauty contests and check out the evening gowns, I am just blown away by the artistry, craftsmanship, and ingenuity of the Filipino designers. It shows in their breathtaking gowns.
What was the biggest challenge in creating this book?
Time was one of the biggest challenges because I actually started working with my photographer-friend Sthanlee B. Mirador for photos in June of 2020. But we stopped for a while because we both got busy and then the pandemic struck. But I was able to get back on track in May 2021 and began reviewing the proofs around September. We printed in October.
Another challenge was my publisher, beauty queen-model-actress-film producer Bessie Badilla, was (and still is, wisely choosing to sit out the COVID crisis with her family) in the Philippines while I was working on the book. She happens to be our amazing book design and layout artist as well. I am in Los Angeles so we were in two completely different time zones. That involved endless PMs, chats, and emails at odd times of the day for Bessie and me. Thank God for the internet!
What do you think Filipino fashion will be like in 10 years?
Filipino fashion in 10 years will be very global and avant garde. It will be pushing the boundaries of the status quo in Philippine fashion and will be experimental and edgy. But it will retain the Pinoy touch which is intrinsic in every Filipino designer. I can already see this in our young designers and I celebrate their desire to highlight their individuality.
I also foresee our designers using more of our indigenous and ethnic materials since the fashion world will embrace more original and striking creations. I also think that our very flexible designers will be more eco-friendly in their fashion since the coming years will demand more environmental consciousness from everyone.
You can pre-order a copy of FASHION. Filipino. Hollywood. The World. here (for dollar payments) and here (for peso payments). – Rappler.com