(UPDATED) Vice President Leni Robredo launches a series of videos where she addresses every false claim being spread about her online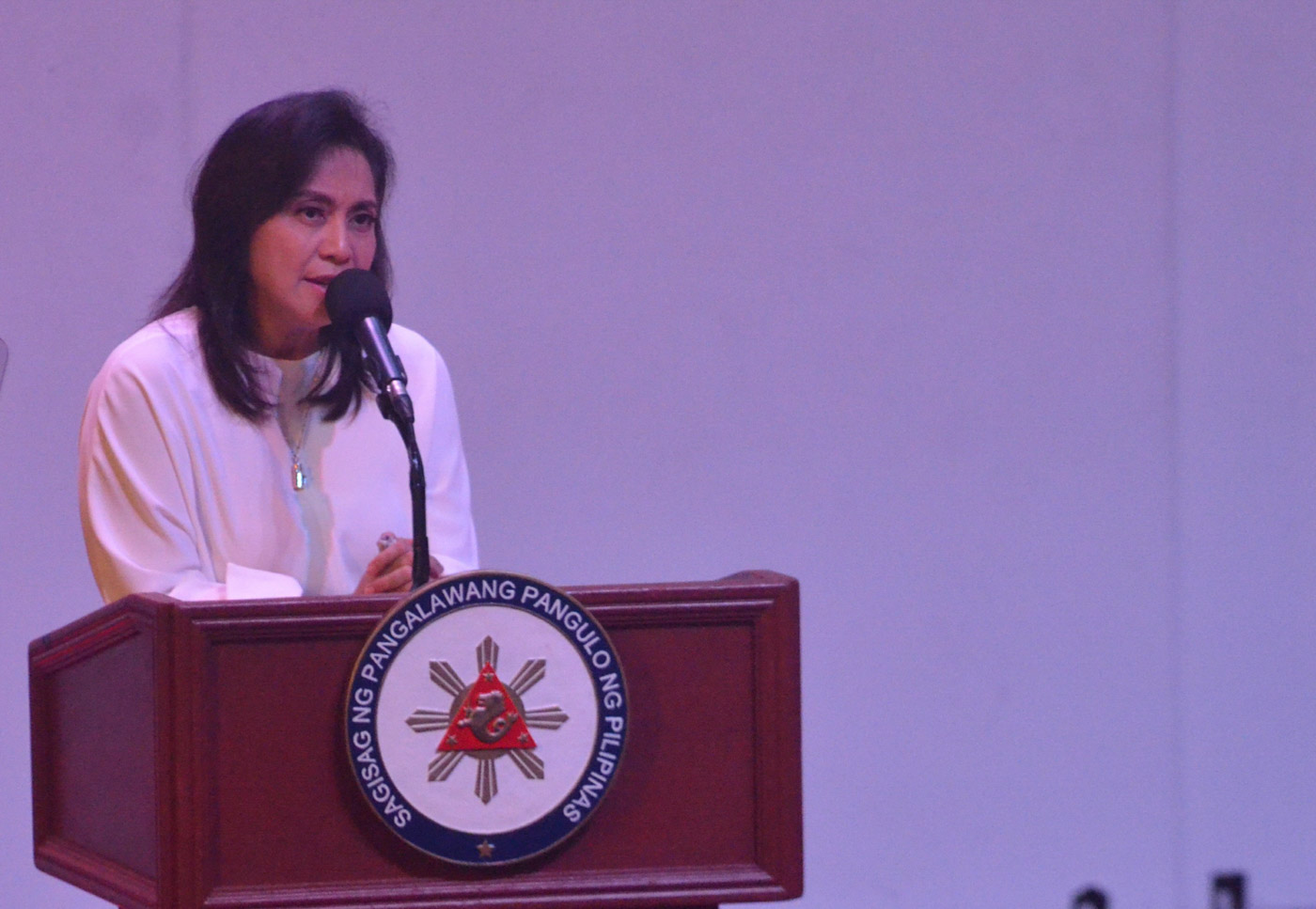 MANILA, Philippines (UPDATED) – Vice President Leni Robredo has finally set the record straight on multiple rumors being spread about her online.
On Thursday, May 24, Robredo released the first of a series of Facebook videos where she lists down every false claim thrown at her and debunks them one by one.  
The video series, titled "VP Leni fights back vs 'fake news,'" was launched after Robredo herself started calling out Facebook posts and tweets containing false information against her. (READ: Robredo on lies: 'Bring it on')
Robredo has been on the receiving end of several harsh rumors since she won the vice presidency in 2016.  
She said she chose to ignore the lies at the beginning because she did not want to dignify her bashers and she wanted to focus on her work. In March, the Vice President said she dealt with trolls by ignoring and laughing at them, since what they say aren't true anyway. (READ: What does Leni Robredo think about online bashers?)
But in May, Robredo agreed that she made a mistake in her approach to dealing with purveryors of false information about her and said she would speak up against the latter. For the first time in her vice presidency, she called out a tweet of a journalist regarding the vote recount in the electoral protest against her.
Robredo reiterated this on Thursday. "So naka-focus nga tayo, pero ang na-realize nga natin na 'yung pagpili natin na 'wag sumagot, may mga tao talagang mapapaniwala. At 'di natin sila masisisi kasi 'yun at 'yun lang ang nakikita at nababasa nila," she said.
(We are focused on our work, but I realized my choice to stay silent made some people believe the lies. You can't really blame them because that's what they keep on seeing and reading.)
"Kaya sabi ko lately, 'pag meron na namang lumabas, lalaban tayo (That's why I said the next time another rumor about me surfaces, I will fight it)," said Robredo. 
Here are Robredo's explanations for every rumor being spread about her:
FALSE: Robredo was the mastermind behind her husband's death. 
THE TRUTH: The Vice President's husband, the late interior secretary Jesse Robredo, died in an airplane crash in Masbate on August 18, 2012. It was the darkest period in the lives of the wife and 3 daughters he left behind.  
According to the Vice President, the claim that she had plotted her husband's death is the "saddest" of all false reports against her.
"Unang-una, bakit mo naman ipapapatay 'yung taong mahal mo? No'ng namatay 'yung asawa ko, sobrang hirap nang pinagdaanan ko pati ng mga anak ko. Bakit ko gagawin 'yon? Bakit ko papahirapan ang sarili ko? Bakit ko gagawin 'yon sa mga anak ko? At bakit mo sasaktan 'yong taong nagmahal sa 'yo nang lubos-lubos?" said Robredo.
(First of all, why would you have the person you love killed? When my husband died, my daughters and I went through great difficulty. Why would I do that? Why would I make myself suffer? Why would I do that to my kids? And why would you hurt the one who loved you the most?) 
FALSE: Robredo got married to a leftist in her teens.
Robredo's bashers claim she got married twice: Her marriage with Jesse and an earlier marriage with a supposed member of the Left.
THE TRUTH: The Vice President did get married twice – with Jesse both times. They first got married in a civil ceremony and later had their church wedding.
The photo being used to support the false claim on her supposed marriage contains the wedding photo of a man and a woman who resembles a younger Robredo.
The Vice President said they are a certain Daniel and Janette. She found out the people in the photo were real because the couple's child explained in a Facebook comment that the picture shows his father and mother, not Robredo.
The Vice President did not disclose any other personal details of the couple or the child.
FALSE: Boyfriend #1: Quezon City 3rd District Representative Jorge "Bolet" Banal
THE TRUTH: Banal has been regularly seen joining Robredo in her engagements since the campaign period because he is her political close-in, not her lover. 
"Gusto ko 'tong i-address head-on. Hindi totoo. Hindi totoo 'yung lahat ng kuwento sa amin ni Cong Bolet," said Robredo.
(I want to address this issue head-on. It's not true. None of the stories about Cong Bolet and I are true.)
The Liberal Party (LP) had assigned Banal to advise Robredo on political affairs and help her talk to politicians during the 2016 polls. It was one of the party's ways to convince then-reluctant candidate Robredo to run for higher office. 
After Robredo's victory, the LP decided to assign Banal once again as the party's permanent liaison to the Office of the Vice President.
"Ako po, uulitin ko: Mula noong namatay 'yung asawa ko, 'di ako nagka-boyfriend. Wala akong boyfriend. At wala akong kabalak-balak magboyfriend," said the Vice President.
(Let me reiterate: Since my husband's death, I've never had a boyfriend. I don't have a boyfriend. And I don't have any plans at all of having one.) 
FALSE: Boyfriend #2: Nonoy Ladines 
THE TRUTH: Ladines is a staff member of Naga City Councilor Ray-an Rentoy, who acts as Robredo's political close-in whenever she goes back to her hometown.
"Parati ko siyang (Rentoy) kasama, kaya parati kaming may engagement ni Nonoy. Pero mas malambot 'yon sa akin!" said Robredo 
(I am always with Rentoy, so Nonoy and I always have a lot of engagements. But he is more effeminate than me!) 
FALSE: Boyfriend #3: A 'clingy stranger'
THE TRUTH: The man pictured to be hugging the Vice President is actually her hair and makeup artist when she visited Ibajay, Aklan.
"Mas malambot din siya sa akin kaya siguro pumayag ako na magpa-picture nang ganoon (He is also more effeminate than me so maybe that's why I agreed we get photographed like that)," said Robredo. 
FALSE: Boyfriend #4: Jonas Cabiles Soltes, whom she supposedly brings along on overseas trips
THE TRUTH: Soltes, who is now a councilor in Tinambac, Camarines Sur, used to be a congressional staff member of Robredo. Prior to Robredo's election as vice president, she was Camarines Sur 3rd District representative.
Robredo's district had previously been chosen to handle a pilot program on food security and nutrition, which Soltes headed. 
She decided to bring him to Brazil with her when the World Food Program invited Robredo to see their food security-related projects there.  
FALSE: Robredo is pregnant. 
THE TRUTH: The Vice President is not pregnant. The pregnancy rumors against her started in 2016 and continue to this day. 
"'Yon malala 'yon. 'Di ko alam kung matatawa ako or maiinsulto. Una, mafa-flatter kasi 53 na ako. Sabi ko baka naman mukha akong 33 kaya puwede pa 'kong magbuntis," said Robredo. 
(That's a grave one. I don't know if I'm going to laugh or get insulted by it. First, I'm flattered because I'm already 53 years old. I said maybe I look 33 that's why they think I could still get pregnant.) 
"Pero grabe naman 'yong pagbuntis ko! Simula 2016 hanggang ngayon, buntis?" she added.
(But what a pregnancy! Really, I've been pregnant since 2016?)
She also did not go to the United States to have a checkup with an obstetrician-gynecologist, and did not undergo any abortion. 
FALSE: Robredo has an opulent lifestyle.
THE TRUTH: The Vice President denied reports that she lives a luxurious life and instead calls herself "kuripot (stingy)."
In fact, Robredo's Statement of Assets, Liabilities, and Net Worth in 2017 showed her wealth decreased by P7.7 million since 2016, all thanks to the electoral protest filed against her by former senator Ferdinand "Bongbong" Marcos Jr.
The Vice President's net worth had previously dipped by P2.1 million during her first 6 months in office. 
FALSE: Robredo does not work anymore and instead goes on several foreign trips and magazine photoshoots.
THE TRUTH: The Vice President goes abroad to accept speaking engagements she has been invited to. She also goes overseas to travel with her daughters Aika, Tricia, and Jillian. But Robredo pays for her family's expenses out of her own pocket. 
On the issue of her magazine covers, most of these were published before she became Vice President.  
FALSE: Robredo owns a pair of Salvatore Ferragamo doll shoes worth $700.
THE TRUTH: The Vice President owns a pair of similar-looking but cheaper flat shoes. Robredo, however, did not specify the brand of the shoes she owns.
The Vice President calls this her favorite doll shoes, and said she wears them whenever she visits poor communities. 
"Sabi yata nila parang $700? Siguro kung may $700 ako na sapatos, siguro covered with plastic parati. 'Di ko siya i-a-apak sa putik," said Robredo. 
(I think they said the shoes are worth $700? Maybe if I did have shoes worth $700, I'd just keep them covered in plastic all the time. I wouldn't use them to walk on mud.)
On Monday, June 4, Robredo released part two of the video series. The second video included the Vice President's defense against lies being spread not just against her, but her daughters Aika and Jillian.
FALSE: Robredo held a fundraising activity and a paid meet-and-greet in Los Angeles in the US.
THE TRUTH: The Vice President went to LA upon the invitation of the Filipino American Symphony Orchestra. The orchestra had organized a fundraising activity for itself and invited Robredo to attend.
FALSE: The Vice President had a confrontation with Senator Loren Legarda.
THE TRUTH: Robredo did not have a confrontation with the senator. The trolls were sharing a photo of the Vice President looking serious as she stood in a huddle with other senators, including Legarda.
The Vice President said the candid moment was taken during her office's budget hearing at the Senate. That day, Legarda had even invited Robredo to eat breakfast with her and they later walked together to the plenary hall for the hearing.
Legarda is the chairperson of the Senate finance committee, which approves agencies' budget proposals.
"Ano ba naman, bes? Bakit ko susugurin?" said a laughing Robredo. (What is this nonsense, friend? Why would I confront her?)
FALSE: An alleged photo of Bicol residents shows them posing underneath a sign that says, "Taga-Bicol kami. Kinahihiya namin si Leni (We are from Bicol. We are ashamed of Leni)."
THE TRUTH: The sign was edited. It originally contained the words, "Physicians for Peace celebrates Jesse's life for PWDs (persons with disabilities)."
The sign was used in an event organized by doctors who went to Naga City to honor Robredo's late husband.
"Ito lang masasabi ko: Hindi maganda ang pagka-edit," said the Vice President. (This is what I have to say: The editing was poorly done.)
FALSE: The Vice President described Paoay Church in Ilocos Norte as "old" and could not be renovated by the "poor" city government.
THE TRUTH: Robredo did visit Paoay Church in 2015 upon the invitation of then-mayor Chevylle Fariñas. But her original caption for her photos taken in front of the church goes this way: "Paoay Church. Beyond words."
FALSE: Robredo met with members of the European Parliament.
THE TRUTH: The Vice President and key members of the LP went to Europe in early April to accept the invitation of the Friedrich Naumann Foundation Philippines to attend a series of talks on poverty alleviation in Germany.
Robredo later went to the United Kingdom for a speaking engagement at the London School of Economics.
She did not talk to any European parliament members during her visit to these two countries.
FALSE: Robredo is a "Lugaw Queen."
THE TRUTH: Several supporters of Robredo had sold lugaw or porridge to raise funds for her campaign in 2016.
"'Yon pinakagusto ko 'yon… Parang gustong-gusto ko siya kasi ang ganda pakinggan. Very Filipino, 'di ba?" said Robredo, who joked she might put up a porridge shop once her term ends.
(That's my favorite… I like it because it sounds good. It's very Filipino, right?)
FALSE: Robredo owns a bed worth P700,000 that was made in London.
THE TRUTH: Robredo denies owning such an expensive bed. She argued that she would not buy a bed worth P70,000, let alone a bed that costs P700,000.
She said the bed she sleeps in at the condominium unit she shares with her 3 daughters belongs to her in-laws, who also own the unit.
The bed was not made in London but in Pasig City by a Filipino carpenter. Robredo's in-laws estimate the bed to be worth less than P20,000.
FALSE: Robredo has no experience prior to being vice president.
THE TRUTH: The Vice President admitted she had no experience – in terms of cheating in the elections and engaging in corrupt activities, that is.
Before being elected as vice president, Robredo served one term as Camarines Sur 3rd District representative. She was also a lawyer for Sentro ng Alternatibong Lingap Panligan, a legal support group for the poor based in Naga City.
FALSE: Robredo is a "fake VP."
THE TRUTH: Robredo is the duly elected vice president. She beat her closest rival, ex-senator Ferdinand "Bongbong" Marcos Jr, by 263,473 votes. Her awareness rating in the 6-way vice presidential race started at 1%, but later rose during the campaign period.
Marcos has since filed an electoral protest against her.
"Nanalo na nga, pero meron pa ring ayaw mag-move on. Halata naman kung saan galing 'yong fake news," said Robredo in an apparent hit against Marcos.
(I already won, but it seems someone can't move on. It's obvious where the fake news is coming from.)
"Ang sa akin lang, kung alam mo na nanalo ka sa eleksyon, hindi mo kailangan mag-fake news, 'di ba?" she added.
(For me, if you know for sure you had won the elections, you wouldn't resort to fake news, right?)
FALSE: Dead voters ended up voting for Robredo.
THE TRUTH: Robredo referred to a fact-check article by Rappler that corrected this claim, which says Robredo got 7,879 votes and Marcos just 153 votes in Salvador Benedicto, Negros Oriental. This is supposedly due to some people using the names of deceased people to vote.
But Rappler's fact-checking team said election results from the Commission on Elections (Comelec) Transparency Server showed Robredo got only 5,293 votes, while Marcos received 628 votes.
Officials from Comelec and the National Citizens' Movement for Free Elections also denied reporting any cases of election cheating in the municipality.
FALSE: Robredo wants to replace Rodrigo Duterte as president.
THE TRUTH: Robredo gave a categorical "no" answer.
"Wala, wala akong planong palitan si Pangulong Duterte (I have no plans to replace President Duterte)," she said.
FALSE: The Vice President is against the Philippine National Railways (PNR) Bicol Express.
THE TRUTH: Robredo supports the proposal. When she was still a lawmaker, Robredo was a principal author of a bill seeking to extend the PNR's corporate life.
The Vice President, however, is against the proposal to fund the PNR South Railway connecting Manila to Bicol through official development assistance (ODA) from China or Japan. The big-ticket infrastructure project was initially planned to be bid out as a public-private partnership.
"Ang ODA utang… Bakit ipapalit natin 'yong walang gastos 'yong gobyerno sa isang usapan na uutangin pa natin?" said Robredo.
(The ODA is a loan… Why would we replace the method where the government would not spend anything with a method that would require us to borrow money?)
FALSE: Robredo stole money from the nation's coffers to fund her daughter Aika's Harvard University tuition.
THE TRUTH: As an Edward S. Mason Fellow at Harvard's John F. Kennedy School of Government, Aika did not have to pay for her tuition, fees, and other living expenses. These were shouldered by the fellowship. (WATCH: Robredo's vlog on daughter Aika's Harvard graduation)
Aika finished her Mid-Career Master in Public Administration program under the fellowship as well. (READ: Aika Robredo at Harvard: In her own time)
"Wala akong personal na pera na ginastos. 'Yong nakuha na anak kong scholarship ay full at hindi lang tuition ang covered," said Robredo.
(I didn't spend any of my personal money. The scholarship my daughter was able to get was full and covered everything, not just her tuition.)
FALSE: Aika Robredo was arrested in the US for drug charges.
THE TRUTH: The Vice President said propagandists resorted to this lie when their attempt to discredit Aika's Harvard education did not fly.
Robredo said people who know her and her daughter are aware they do not engage in vices like smoking and drugs.
FALSE: The Vice President picked up trash in the US.
THE TRUTH: Robredo had helped Aika pick up secondhand furniture along the streets of Massachusetts for the latter's apartment in the US.
This is a common practice of university students there, who would leave their old but functional furniture and appliances out on the streets at the end of the school year so other students could make use of them.
"Hindi ko 'yon ikinakahiya. Tingin ko mabuti nga na hindi bumili ng bago dahil marami namang available. Mas maganda nga na nagre-recycle," said Robredo.
(I was not ashamed we did it. I think it was good we didn't have to buy new things because there were many furniture and appliances available already. In fact, recycling is good.)
FALSE: Robredo's youngest daughter, Jillian, made a magazine used by the LP.
THE TRUTH: Jillian, who graduated from the Philippine Science High School this month, had a school project that required them to create a magazine featuring people who inspire them.
Robredo said one group in Jillian's class decided to feature her for the project and sought Jillian's help to secure the interview with the Vice President.
The magazine was neither published nor used by the LP.
FALSE: Jillian Robredo went on a shopping spree in Spain.
THE TRUTH: According to the Vice President, Jillian was among two students chosen to participate in a 3-week exchange program in Spain.
Robredo said her daughter did not go on any shopping sprees during the exchange program, but spent most of her time learning about Spanish culture with her foster family there. – Rappler.com