President Rodrigo Duterte skips seniority, and chooses his appointee Alexander Gesmundo, who will serve as the country's top magistrate for over 5 years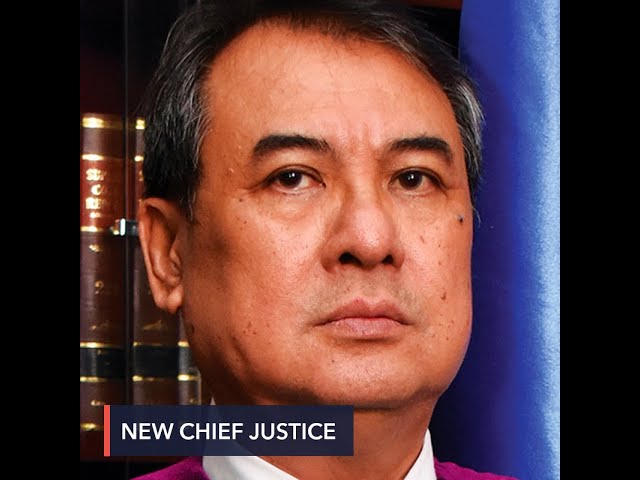 President Rodrigo Duterte appointed Supreme Court (SC) Associate Justice Alexander Gesmundo as the new chief justice.
Malacañang confirmed Gesmundo's appointment on Monday, April 5, during a virtual press conference.
Duterte skipped seniority for this appointment – Gesmundo is the 4th most senior in the High Court.
Senior Associate Justice Estela Perlas-Bernabe is the most senior, and stood as acting chief justice for a week, but she retires in May 2022. Gesmundo retires in November 2026.
Former Judicial and Bar Council (JBC) member Jojo Mejia said a longer term for a chief justice will give stability to the SC, which had seen a revolving door of short-term justices or justices retiring early.
"If he appoints one who is more junior and will have more years other than Justice Bernabe whose term is more limited, then it will, I think, stabilize more the leadership of the Supreme Court in that sense," Mejia told Rappler's Law of Duterte Land Podcast.
Duterte appointed Gesmundo, an Ateneo Law School graduate, to the SC in August 2017. He was a justice at the anti-graft court Sandiganbayan at the time.
Gesmundo belongs to the Fraternal Order of Utopia at Ateneo which counts former chief justice Renato Corona and associate justices Andres Reyes Jr and Rodil Zalameda as alumni, among others.
When the President steps down on June 30, 2022, the SC will be filled with Duterte appointees, with only the dissenters – associate justices Marvic Leonen and Benjamin Caguioa – as the remaining Aquino appointees.
Duterte's newest pick of chief justice, his 4th in the 5 years he's been President, is crucial because it comes at a time of many challenges in the judiciary – the pandemic for one, and escalating human rights problems as well as killings of lawyers and activists. The role of the courts in upholding and protecting human rights has been under scrutiny in the past year.
Gesmundo's votes, judicial principle
Gesmundo has never voted against Duterte in any of the President's interest cases.
Asked during his JBC interview how he would address perceptions that an appointee just follows the President's orders, Gesmundo said: "The Court should decide on the basis of what is before it in terms of issues and those applicable. People may have different perceptions, but what matters is the Court is doing its job."
Gesmundo's recently noted ponencia was the decision that allowed foreign construction firms to have regular contractor licenses, a win for the Philippine Competition Commission, which wanted to reap economic benefits from opening up the industry to foreigners.
Gesmundo was also the ponente of the decision that denied the legal challenge to Duterte's Bayanihan to Heal as One Act, one of the President's 3 wins during the pandemic, when the SC made many other petitioners wait. Duterte's two other victories are the junked petition to disclose his state of health, and another to compel the government to conduct mass testing for COVID-19.
At the anti-terror law oral arguments, Gesmundo pursued a line of questioning on existing safeguards to potential abuses of the controversial law.
For one, Gesmundo said an abusive law enforcer can always be sued for damages under the Civil Code. Gesmundo also said that the law cannot be struck down for being too vague when all suspects are afforded the right to clarify charges during trial.
"I have not always agreed with his votes as an SC justice but that is not as important as the overall record of the man," said constitutional law professor Tony La Viña.
At the Sandiganbayan, Gesmundo penned the ruling that cleared former military comptroller Carlos Garcia of perjury in connection with his 1997 Statement of Assets, Liabilities, and Net Worth (SALN) where he supposedly failed to declare ownership of 3 vehicles.
"Any false declaration in the SALN is not in itself unlawful…the prosecution must also prove that the accused did not believe his statement to be true," Gesmundo wrote in that decision.
On the administrative side, Chief Justice Diosdado Peralta had credited Gesmundo for his role in the new rules and procedures promulgated during Peralta's watch.
Gesmundo is also on top of building the long-awaited Manila Hall of Justice. He had represented the judiciary several times at budget hearings in Congress.
"CJ Alex is imaginative and progressive and will find creative ways to deal with our big law and justice challenges," said La Viña.
In his JBC interview, Gesmundo addressed the problems on search warrants that have led to killings, and said the judge must thoroughly examine all applications for search warrants.
Gesmundo also said that he was fine with releasing justices' full SALNs, provided this is justified, to comply with a post-Corona rule.
Gesmundo has not yet definitively shown whether he is for judicial restraint or judicial activism, but he had said during his JBC interview that judicial legislation is "out of the bounds of the Supreme Court."
A decision is perceived to be judicial legislation when it seems to have stepped on the foot of Congress. For example, the SC junked the same-sex marriage petition, saying it is better left to lawmakers.
Judicial activism – where the Court doesn't back down from reviewing or even reversing actions of its co-equal branches if it finds such actions unconstitutional – is talked about these days because of escalating killings and other policy questions about the Duterte government.
It will be curious to watch how the SC reacts to Gesmundo's appointment over the more senior Bernabe. How he will get the support and cooperation of the other 14 will be crucial, too.
Collegiality, especially after the tumultuous Sereno quo warranto period, is a valued virtue in a High Court still recovering from almost a decade worth of upheavals, starting from the impeachment of Corona in 2012. – Rappler.com