(UPDATED) Presidential Spokesperson Harry Roque shoots back: 'Babagsak po kayo'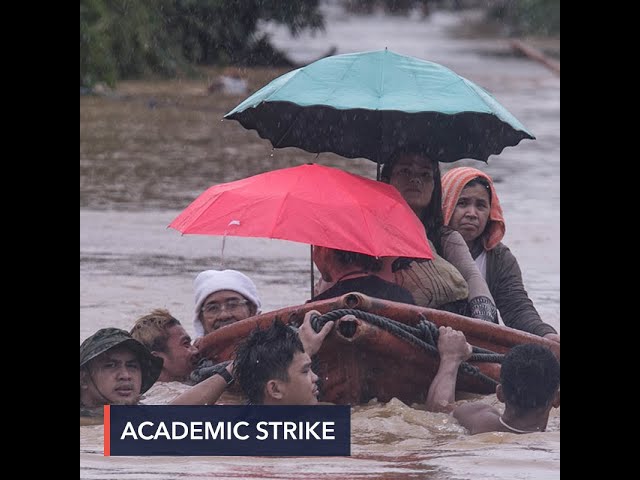 In a bold move, students from Ateneo de Manila University – home to the children of some politicians and government officials – pledged to go on academic strike starting Wednesday, November 18, as they called out the government for neglecting Filipinos during the past 3 typhoons that ravaged the country.
The students plan to stop submitting school requirements until the national government "heeds the people's demands for proper calamity aid and pandemic response."
"We believe that things cannot continue business as usual. We can no longer stomach the ever-rising number of deaths due to the state's blatant incompetence. We cannot prioritize our schoolwork when our countrymen are suffering unnecessarily at the hands of those in power," the students said in a strongly worded statement.
"The national government must act now or step down from their positions. No compromises," they said.
In the past 3 weeks, the Philippines was battered by typhoons Quinta, Rolly, and Ulysses in the middle of the pandemic. Around 80 people have died during the onslaughts of the 3 typhoons, injured hundreds, and damaged billions of property and agriculture.
While Ulysses had left the country, the worst is yet to be over for victims who have to rebuild their lives after the damage. In Cagayan province, massive flooding reached 13 meters high, claiming 9 lives.
"We cannot sit idly by and do our modules, ignoring the fact that the Philippine nation is in shambles. We sacrifice what we have – that is, our access to education – for those who do not share our privileges," they said.
The students said that the university should prioritize all efforts for helping victims, particularly those in Cagayan, Isabela, and the Bicol Region.
The strike, according to them, would give students the time for relief efforts.
"Many Ateneans are leading or are part of initiatives that address what the Duterte administration has not been responsive to.…We strike in order to let them, and more of the student body, focus on their advocacies," the students said.
As of posting, over 500 Ateneo students have signed the statement.
In reaction, Presidential Spokesperson Harry Roque warned the Ateneo students on Sunday, "Babagsak po kayo." (You will fail.)
"Bilang isang dating propesor, kahit ano ang dahilan ng sinasabi 'nyong strike, 'pag hindi kayo sumunod sa mga academic requirements, mawawalan kayo ng kinabukasan, hindi kayo magga-graduate sa Ateneo," Roque said.
(As a former professor, whatever the reason for your supposed strike, if you don't follow the academic requirements, you will lose your future, you will not graduate from Ateneo.) – Rappler.com