(1st UPDATE) More than one in three people testing for the virus have been found infected, according to statistics from the city's epidemiology and surveillance unit
Negros Island's largest COVID-19 referral hospital shut its emergency room doors over the weekend, followed by its pediatric ward, as this city's positivity rate jumped to 37% in a span of a week.
That means more than one in three people in Bacolod who took the COVID-19 reverse transcription polymerase chain reaction (RT-PCR) test were found infected, Dr. Julius Drilon, head of the Corazon Locsin Montelibano Memorial Regional Hospital (CLMMRH) told Rappler on Sunday, September 12.
The CLMMRH also announced on the same day the latest COVID-19 findings from the Department of Health regional office in Western Visayas (DOH-R6), showing a 30% growth rate in the city's cases and an 10.81 average daily attack rate (the proportion of people who become ill with COVID-19 in a population initially free of the disease).
The figures brought Bacolod to Alert Level 4, often called the red zone by doctors, "due to the increasing bed occupancy for COVID-19 patients in the hospitals, reaching up to 78.25%," the hospital announcement said.
The DOH-R6 also placed Iloilo on Alert Level 4, Mayor Jerry Treñas said on Monday, September 13.
Treñas also said that the Philippine Genome Center (PGC) reported seven additional Delta variant cases in the city. He said the seven cases tested positive for COVID-19 on August 7, more than a month before the PGC released their Delta status.
"DOH declared the metro under Alert Level 4 because our hospitals are getting full," Treñas said. The mayor also ordered 17 more surgical lockdowns in the city, adding to the 36 announced over the last two weeks.
'Powder keg'
Mayor Evelio Leonardia on Monday, September 13, said an online conference with 20 barangay chiefs led to an agreement to conduct rapid antigen testing for areas with the more infectious Delta variant, impose granular lockdowns, active case finding and active contact tracing.
Confirmed Delta cases come in trickles because of DOH testing protocols. City officials, however, said they presume that case clusters and outbreaks come from Delta variant infections.
Bacolod City Epidemiology and Surveillance Unit (CESU) figures from September 6 to September 12 showed that 452 tested positive out of the 1,223 persons who took the RT-PCR test. On September 12, the positivity rate was 55%, more than one in two, with 84 of 153 persons testing positive for the virus.
The week before, from August 30 to September 5, CESU figures showed a 24.81% positivity rate.
"This is a powder keg," Drilon said. "We are the hospital of last resort for residents of the city, the province (Negros Occidental) and even, sometimes of those from Negros Oriental."
"I've said this before but will repeat the message: unless we test more, trace more, and isolate more, we will see worse days ahead," he warned. "We are dealing with the Delta variant of the virus. It cannot be business-as-usual."
The DOH has reported a total of 16 local Delta cases in Negros Occidental, including Bacolod.
Ten days earlier, on September 3, City Administrator Em Ang said health care capacity utilization was at 53%, with 81% critical care utilization.
The city has 268 functional COVID-19 beds and 86% of admissions in Bacolod's seven hospitals are residents, she said.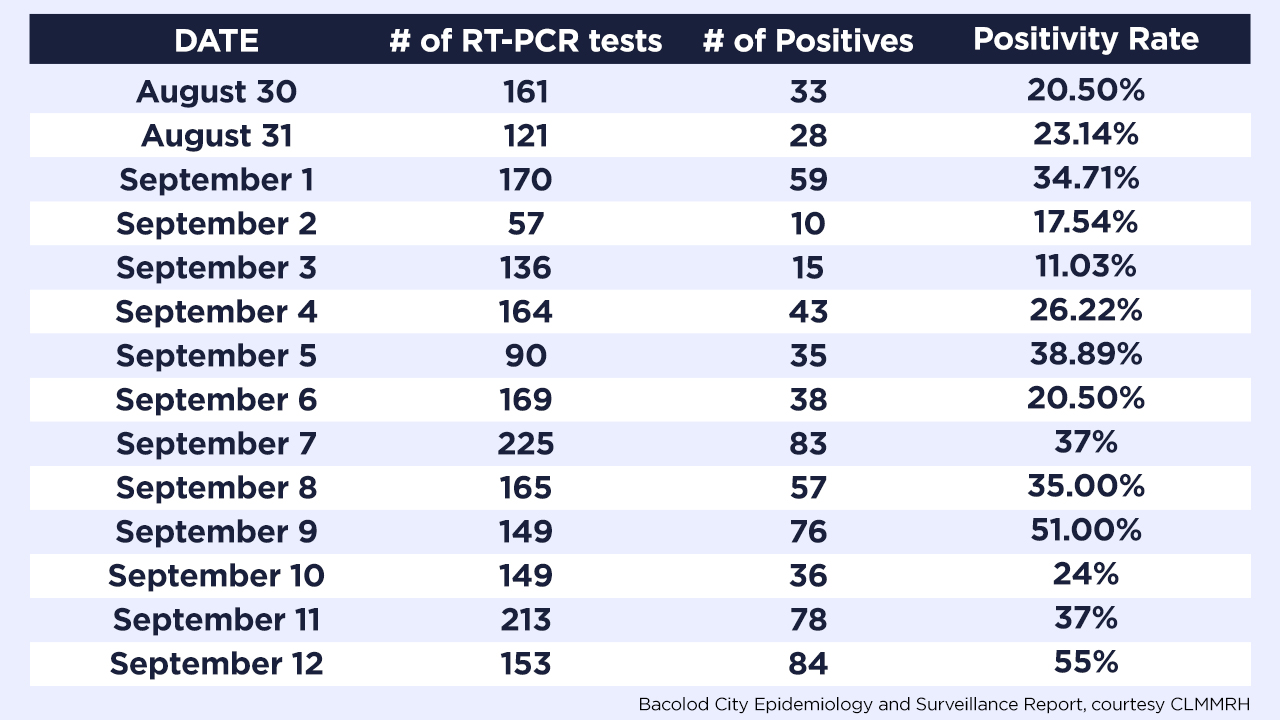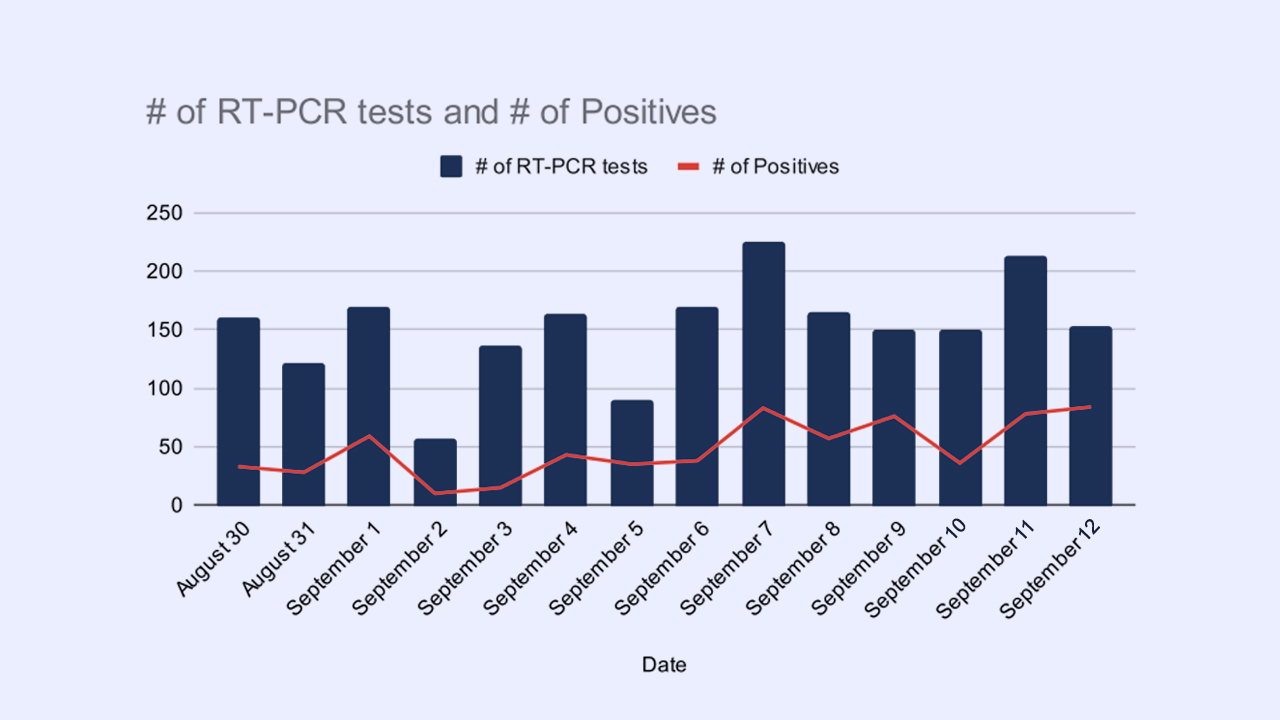 Newborn infections
The CLMMRH, a DOH hospital, on September 11, said its emergency room could no longer accept patients.
"As the number of new cases in Bacolod and Negros rises, CLMMRH's emergency room has received a significant number of COVID-19 patients for evaluation. The management would like to inform the public that the emergency room is now at full capacity and has no more available isolation beds for incoming patients," the September 12 announcement said.
The hospital also stopped accepting new non-COVID-19 pediatric patients on September 12 for "thorough disinfection" of the regular children's ward. Drilon told Rappler some staff had been infected by watchers who had initially tested negative for COVID-19 but later tested positive.
Last week, the province of Negros Occidental said the district hospital in Valladolid town, 31 kilometers south of Bacolod, was 100% full.
Over the weekend, the Bago City Hospital also announced it would no longer accept patients because of full occupancy. It also said non-COVID-19 patients could be endangered by the large number of COVID-infected patients waiting in triage tents.
Drilon explained that even if hospitals have beds, their ability to receive patients also hinges on the number of staff available for duty.
"Every time a nurse or doctor gets infected with COVID-19, that means you have to also quarantine their close contacts, usually their shift companions," he pointed out.
Drilon stressed that COVID-19 affects all other patients. The hospital earlier announced it would temporarily stop accepting new patients to its regular obstetrics ward.
"Now, there are women on the streets outside, waiting to give birth because they can't afford private hospitals and other government hospitals are also getting full," the CLMMRH said.
"Te, kung magbata sila, dalagan sa emergency tents. (When they're about to give birth, they run to the emergency tents.) We can't turn them away, but we can't allow them to the wards also."
Drilon suspects it is the Delta variant that fuels cases of new-born COVID-19 infections.
"Within 24 hours, they tested positive," he told Rappler. "We have not experienced this before."
"This is vertical transmission," Drilon added. "The virus is not just confined to the pulmonary and respiratory areas. It's in your blood."
The CLMMRH has recorded 16 pediatric patients since June, this year, when the second surge started. Of these, three have died, Drilon said.
Testing guidelines
Ang explained that the city follows the IATF Omnibus guideline, amended on August 19, 2021, which focuses testing on symptomatic individuals.
"The government has no program for mass testing due to limited resources. Testing asymptomatic people who do not have exposure to COVID patients is not cost-effective and rational as 85% of transmission came from symptomatic individuals, per DOH data," Ang said. "The DOH testing protocol has not changed yet."
The DOH-R6 daily COVID-19 case tracker regularly shows that asymptomatic patients make up the bulk of those who test positive.
Drilon said the danger with limited testing has grown with the Delta variant as vaccinated people may not display symptoms of breakthrough infections.
Ang said the policy is to swab household members and close contacts of positive cases. But she admitted last week that many residents refuse to be tested and deny close contact status. – Rappler.com