This is AI generated summarization, which may have errors. For context, always refer to the full article.
Senators learn that the crypto scam operation, which allegedly employed trafficked persons, operated legally in the Clark Freeport Zone using a Pagcor-issued POGO license
MANILA, Philippines – An executive of the Clark Development Corporation (CDC) admitted that the crypto scam that was operating within the Clark Freeport Zone, and the subsequent rescue of over 1,000 human trafficking victims, was a "failure of intelligence."
"As for the CDC management, there was a failure of intelligence," Noelle Meneses, vice president for CDC's Business Development and Business Enhancement Group, told the Senate panel on women, children, family relations and gender equality on Tuesday, May 30.
"As a consequence of the operation, the board and management created a special administrative committee just to investigate and hear all of the security officials of the CDC, and they are all under preventive suspension," she added. The CDC is a government-owned and controlled corporation that manages the Clark Freeport Zone.
The Senate committee held an inquiry in aid of legislation on Tuesday to investigate the rescue of 1,048 human trafficking victims from a crypto scam hub located at Clark Sun Valley Hub Corporation inside the Clark Freeport last May 4.

According to Meneses, the "scam hub" had been operating inside the CDC since September 2021 under a Philippine offshore gaming operator's (POGO) license.
On Monday, May 29, committee chair Senator Risa Hontiveros inspected the Sun Valley Hub, a cluster of commercial and residential buildings within the Clark Freeport Zone where the May 4 rescue happened, to find out how the operations worked and how it remained undetected by authorities for so long. (READ: Over 1,000 human trafficking victims rescued in Clark, official confirms)

Hontiveros said that employees trafficked from other countries would use dating apps to lure foreigners into investing in crypto scams.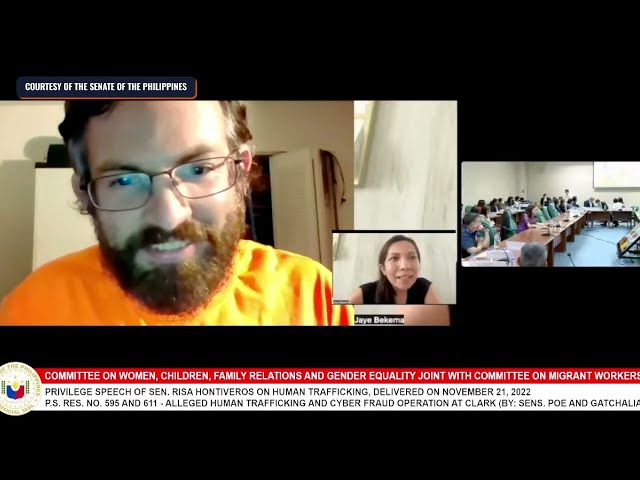 Based on a report received by Rappler, the victims rescued included at least 919 foreigners – 389 Vietnamese, 307 Chinese, 143 Indonesians, 40 Nepalese, 25 Malaysians, 7 from Myanmar, 5 from Thailand, 2 Taiwanese, and 1 from Hong Kong – as well as 129 Filipinos.
The operations were only discovered when Philippine authorities were tipped off by the Indonesian embassy, who received a call for help from Indonesian workers who had sent photos showing that some of them were sick.
Senators on Tuesday grilled the CDC on how the scam was allowed to happen in a government-controlled property for over a year.
When asked by Senator Raffy Tulfo on how the illegal operations went undetected for over a year, Meneses said there were no "red flags" that indicated any illegal operations within the property.
"Isa lang ito [locators]. Gaano ka ka-sure na this time, 'di kayo magfe-fail sa inyong intelligence sa 999 [other locators] (This is just one operator. How sure are you that this time, you won't fail in your intelligence with other locators)?" Tulfo asked.
According to Bureau of Immigration (BI) Commissioner Norman Tansingco, a majority of the trafficking victims entered the Philippines using a tourist visa or were allowed visa-free entry for 30 days.
The immigration chief said it was not illegal to pursue a work visa after coming to the Philippines as a tourist.
"Under our present laws and regulations, all first-time foreign nationals entering the country are entering the country under a tourist visa category. And when they are already in the country, they are already allowed to convert to other immigration status, like working visa, student visa etc.," Tansingco said.
Tulfo responded by saying that the BI should intercept those who enter the country on a tourist visa with the intent to work and stay. The senator also suggested possible amendments to correct this.
"Sana from point of origin, kumuha sila ng proper visa, which is a working visa, at doon, na-vet na sila, na-screen na sila (Ideally, from the point of origin, they should get a proper visa, which is a working visa, and from there, be vetted and screened already)," Tulfo said.
Hontiveros said it was "appalling" that this kind of scam operation was enabled through the issuance of POGO licenses.
"It is appalling that this fraudulent cryptocurrency corporation, which has trafficked thousands of foreign nationals into the country to work as scammers, has been operating under a legal POGO. This has been used to scam innocent people," Hontiveros said in a mix of Filipino and English.
"What is Pagcor doing? It cannot be that they approve licenses but will not monitor their license holders. Pagcor, as the regulator of POGOs, should be actively looking into the companies that they allow to operate in the country. Otherwise, it is, in effect, exacerbating this growing and disturbing humanitarian crisis in our region," Hontiveros added.
She also reiterated her call to abolish POGOs, which flourished under the previous Duterte administration.
"If POGOs are allowed to continue business as usual, the crypto scam and human trafficking operations will also grow at a frightening rate our government will never be able to overtake. There's not one good thing that POGOs have brought to the country, just crime. We say it again and again, and with this new information, we hope our government has learned by now: kick POGOs out of the country now," the committee chair concluded. – Rappler.com