Both houses of Congress are also interested why some allowances were given in the form of gift certificates
The parallel hearings by both chambers of Congress would like to know if health care workers received the benefits that were released to the regional units of the Department of Health (DOH), because if they did not, "that's fraud, that's corruption."
"We have to answer, there's so many of them here saying the benefits did not reach them. That's fraud, that's corruption. If it didn't reach them, where did the money go?" said Senate Blue Ribbon Committee chairman Richard Gordon in a mix of English and Filipino during the upper house's hearing on the DOH audit on Wednesday, August 18.
House public accounts committee chairman and PROBINSYANO AKO Representative Bonito Singson said their hearing would also look at the same issue.
"There are unliquidated cash advances. There are purchases that have incomplete documents. So the question is did they really buy the things they said they bought? Did they really distribute the allowances they said they did? We haven't even reached that point. That's a huge amount, so we have to be meticulous about that," Singson said in Filipino over Rappler Talk on Thursday, August 19.
One of the transactions flagged by the Commission on Audit was P539 million worth of payment of allowances which did not have complete documentary support. There was also a P214 million payment to "unqualified recipients."
This audit came just as many health care workers felt aggrieved because they have not received their benefits. The dire situation is forcing some of them to consider holding mass protests.
During the hearings, DOH provided a breakdown of the regional units and hospitals to which they have released funds to cover the benefits of medical front liners.
"But our health care workers associations are saying that in truth and in fact, they have not received any," said Senator Risa Hontiveros during Wednesday's hearing.
"Something's got to give, DOH says it released this certain millions of funds to some hospitals, but nurses are saying they didn't receive any. I'm really hoping that our committee will be able to solve that," said Hontiveros.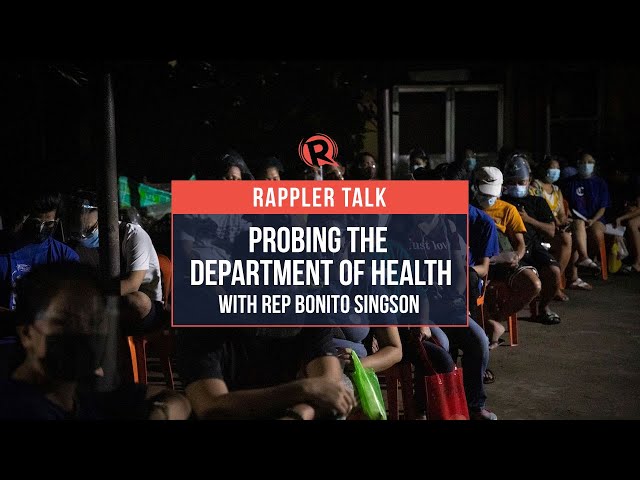 SRA and MAT
In the audit, the DOH did not obligate P11.8 billion worth of funds that would have covered the special risk allowance (SRA) and active hazard duty pay for medical front liners.
One of the problems is the definition of who are entitled to these benefits – were they limited to those directly treating COVID-19 patients, or could the definition be more liberal?
Senators proposed to expand the definition to cover more workers, and COA chairman Michael Aguinaldo said he would be open to discussing with DOH to allow other front liners to get SRAs.
"So it's, I guess, within the power of the DOH, to a certain extent, to provide who should be considered covered," Aguinaldo said during the Senate hearing.
Another problem was the MAT or the meals, accommodation and transportation allowance, which some front liners also claimed they did not get.
"Nasaan na po 'yung ayuda namin para 'dun sa MAT? Lagi niyo pong dinadala sa SRA, ang tinutukan po namin 'yung MAT. Hindi pa rin po kayo nakikipag-usap kung paano ang requirements para sa MAT," said Jao Clumia, president of the St. Lukes Medical Center Employees Association.
(Where is our MAT? You always take the discussion to the SRA, what we're focusing on is the MAT. You still haven't talked to us what the requirements are for the MAT.)
DOH Assistant Secretary Maylene Beltran said the Department of Budget and Management (DBM) only released P215 million to them for MAT, P10 million of which was released to the hospitals who first asked for it.
Beltran told Gordon: "Tama po na nagre-request po kami ng higher amount (It's correct that we requested for a higher amount) and then DBM is giving us an amount lower than that we requested."
DBM Officer-in-Charge Tina Canda said: "Kung kulang ho 'yun, bakit sila nagbabalik? (If they need more, why are they returning money?)
Gordon also scrutinized the audit finding that "some P275 million was released in the form of cash allowances, gift certificates and grocery items." These lacked sufficient legal basis, said auditors.
Gordon said they would need to thresh it out more as some directors may have been liberal about the definition of benefits and instead gave these in the form of gift certificates and groceries.
The House of Representatives would have another hearing at 10 am on Friday, August 19, while the Senate would hold their next hearing on August 25.
– Rappler.com