(1st UPDATE) Negros Occidental says its rules covers everyone entering through the Bacolod-Silay airport, which is under its jurisdiction
A week after Bacolod Mayor Evelio Leonardia issued EO 53 lifting the S-PASS (Safe, Swift, Smart Passage) and Reverse Transcription Polymerase Chain Reaction (RT-PCR) test requirements for fully vaccinated incoming travelers, residents and visitors were caught in a tug-of-war between the city and the provincial government of Negros Occidental.
Leonardia on Monday, November 22 asked Juan Jovian Ingeniero, Western Visayan (Region 6) director of the Department of Interior and Local Government to compel the provincial government of Negros Occidental to exempt Bacolod-bound travelers from its S-Pass requirement.
His letter followed messages on the city information office's page by residents complaining of being stranded as late as November 22. Rappler first reported the problem on November 16.
On Monday, Angel Marquez Yulo said: "Please inform the airlines, shipping lines, bus lines, ports, coast guards, boundary securities, etc.. pls pls pls coordinate with them. It's not you who's having a hard time and wasting money and time."
Another resident, Ces Jo, said an aunt was being held at Terminal 3 because of the SPASS requirement as Cebu Pacific staff claimed they have not received the EO details.
The main problem is, the Bacolod-Silay airport is under the jurisdiction of Negros Occidental, which still requires the S-PASS for every traveler, vaccinated or not.
Bacolod requires unvaccinated or partially vaccinated travelers to present a negative COVID-19 test result but does not impose the S-PASS on them. The S-Pass is an online travel management system managed by the Department of Science and Technology.
The S-PASS website's LGU Policy Table still has a restricted annotation for Bacolod and an S-Pass requirement. It also lists a travel coordination permit, which Bacolod City officials told Rappler is no longer needed.
The Philippine Airlines website, updated on November 22 also lists the SPass as a requirement. Cebu Pacific, however, notes that requirements cover "all guests bounds for cities and municipalities within Negros Occidental (except for Bacolod City) …"
"The requirement of the SPASS in inter-zonal and intrazonal travel is not covered in Guidelines," the mayor said, referring to the IATF (COVID-19 Inter-Agency Task Force) document that includes travel policies under Alert Level 4.
Both the city and the province are now under Alert Level 2, from November 15-30, which should have more relaxed rules.
"Bacolod City doesn't even require the S-PASS in its two major ports," Leonardia pointed out . He cited Iloilo City's similar policy and stressed the need to harmonize policies to spur economic movement.
Bacolod Emergency Operations Center chief Em Ang told Rappler that she called up Ingeniero on Sunday. The Regional IATF is headed by the DILG. Ang said the regional DILF gave EO 53 the green light.
The DILG director promised to call a regional IATF meeting to resolve this, Ang said. But no notice for a meeting nor an official response has arrived, she added.
Ang also said the city has contacted the airlines but did not detail their responses.
"In the meantime, travelers are frustrated and are getting stranded," she said. "It does not make sense to make the fully-vaccinated get the S-Pass because the only requirement is a vax card. This is just a burden for travelers. Some have limited internet access and do not know how to use apps."
Flights to Bacolod and other provincial centers are almost fully-booked because the relaxation of RT-PCR test requirements spares travelers a few thousand pesos.
Provincial Administrator Rayfrando Diaz on November 22 said Negros Occidental would continue to require the S-PASS from Bacolod travelers.
He cited IATF Resolution 101, issued on February 26, designates the S-PASS as a one-stop shop for both local and international travellers. The resolution cites S-PASS as the country's "primary contact tracing system".
Diaz said the S-PASS allows the province to authenticate the vaccination cards and the negative RT-PCR tests of travelers.
Since there is no appeal to rescind the IATF resolution, it remains in force, he said.
He cast doubt on whether Leonardia's EO is a legal executive order and said the IATF should resolve the matter.
Bacolod Mayor Evelio Leonardia's letter to the IATF Region 6.
The S-PASS website LGU Travel Policy Table on Bacolod City.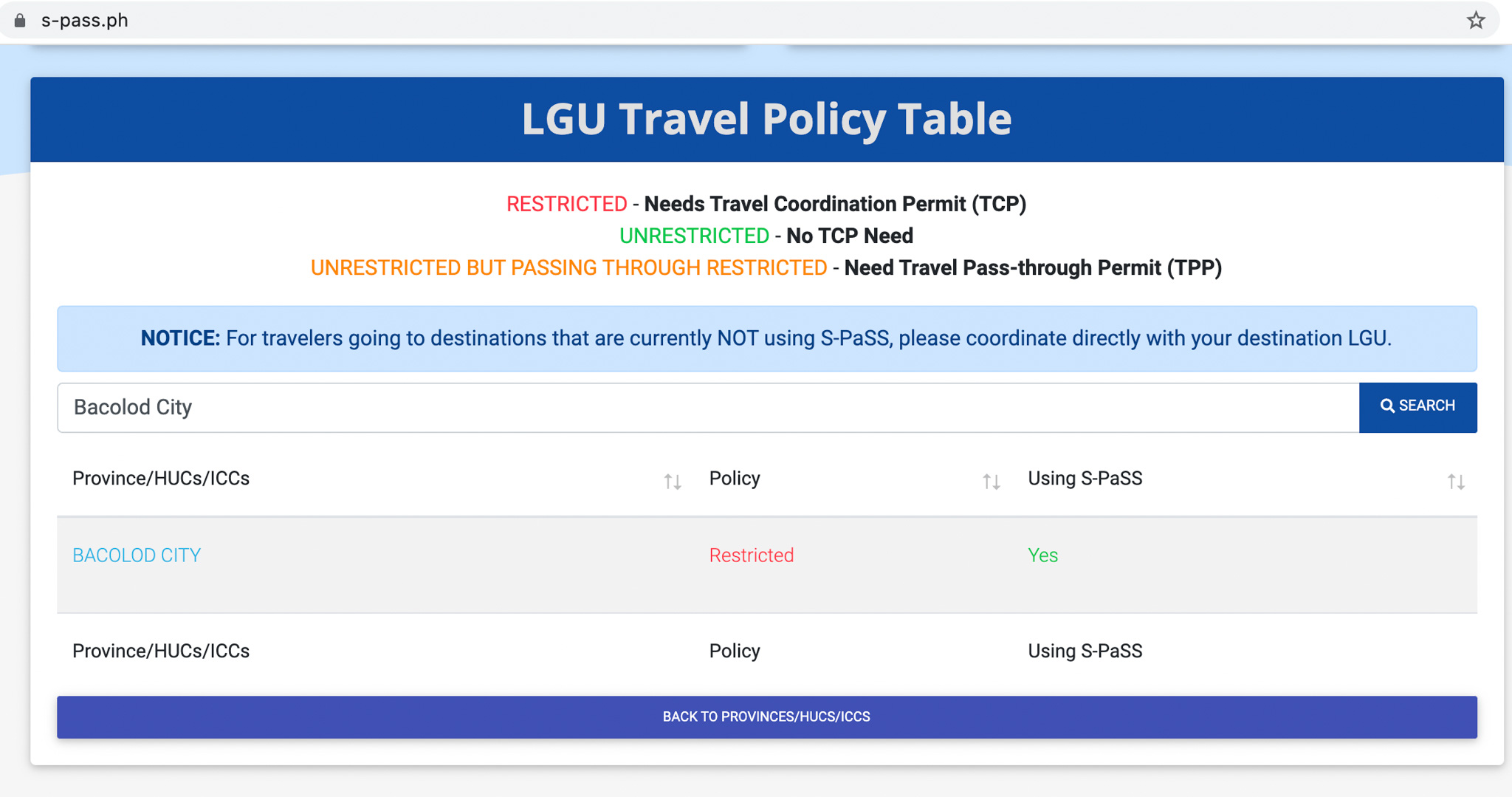 – Rappler.com