Senator Cynthia Villar scolds Environmental Management Bureau Director William Cuñado for having issued environmental compliance certificates to projects that could cause flooding in southern Metro Manila
MANILA, Philippines – Senator Cynthia Villar, who chairs the Senate committee on environment, natural resources, and climate change, lost her temper when reclamation projects were discussed during the budget hearing for the Department of Environment and Natural Resources (DENR) on Tuesday, October 11.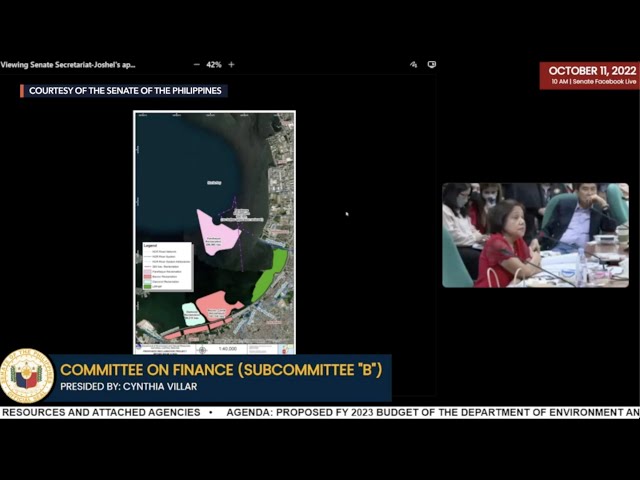 DENR confirmed Senator Nancy Binay's sighting of islands in the middle of Manila Bay, saying these were part of 21 projects with approved environmental compliance certificates (ECCs) nationwide.
Villar fumed upon hearing that reclamation projects near the Manila-Cavite Expressway or CAVITEX received ECCs from the agency, claiming that she nor former President Rodrigo Duterte did not know about such projects.
"Ang kapal-kapal naman ng mukha 'nyo. Alam 'nyo nang babaha kami nang katakot-takot, ayaw 'nyo pang tigilan 'yan," Villar said, referring to her home city of Las Piñas in southern Metro Manila. (How dare you! You all know that the reclamation projects would cause massive flooding in our area, but you wouldn't stop.)
"Huwag 'nyong gagawin sa akin 'yan, t—–a mo. Dumating ka dito galing ka sa Cebu, ginulo mo kaming lahat," the senator added, glaring at DENR-Environmental Management Bureau Director William Cuñado who was answering her questions. (Don't do that to me, son of a b—h. You came here from Cebu and caused chaos.)
Villar said she had warned officials of the Bacoor city government in Cavite, which shares a border with Las Piñas, that the reclamation would cause six to eight meters of floods in her city.
Las Piñas has been ruled by Aguilar-Villar family for decades.
"It took me 10 years to clean my river so there will be no flooding, tapos sasarhan 'nyo 'yung daan ng river ko (then you will block the river passageway)?" Villar said, standing from her chair twice in anger. "I cleaned 30 kilometers of river, bakit hindi sasama ang loob ko (why wouldn't I be mad)?"
Environment Secretary Maria Antonia Yulo-Loyzaga, appointed by President Ferdinand Marcos Jr., responded by saying that the agency would be revisiting its reclamation policies "as a whole" under the new administration.
In September, Rappler mapped and analyzed available data on 187 proposed and ongoing reclamation projects in the Philippines, and tackled the dangers they posed. (READ: Philippine reclamations: Spreading, posing dangers | Philippine reclamations: How business and nature collide)
DENR is set to receive a P23.04-billion budget in 2023, just half of their P40-billion proposal and lower than the P25.45 billion allotted for the agency in 2022. – Rappler.com