In trying to get state protection, Miguel and the KMU approach the CHR first, aware of the difficulty of securing court protection through the writ of amparo
Dandy Miguel, the 35-year-old vice chair of labor group Pamantik-Kilusang Mayo Uno (KMU), has been extra busy since last year helping fellow unionists get government protection from harassment and surveillance.
On Sunday night, March 28, Miguel was the one who ended up on the other side of a gun, shot dead in Barangay Canlubang in Laguna.
"Dandy Miguel led filings of complaints with the Commission on Human Rights (CHR) in the Region and at the National Office in Diliman," Eleanor de Guzman, KMU's director for human rights, told Rappler on Monday, March 29.
In a November 17, 2020, filing, KMU asked the CHR to look into the surveillance and harassment of unionists, where men claiming to be members of the army barged into their offices and homes to threaten them, and where posters branding them as terrorists were even posted on the walls of a barangay hall.
Miguel documented them all.
"Talagang kasama niya 'yung mga manggagawa na nakakaranas ng mga harassment, siya talaga ang nagsisinop ng mga file niya. Nasa kanya nga ang original copy ng mga receiving copy," said De Guzman.
(He was really with the workers who were harassed, he was on top of everything. He even has the original copies of the receiving copies.)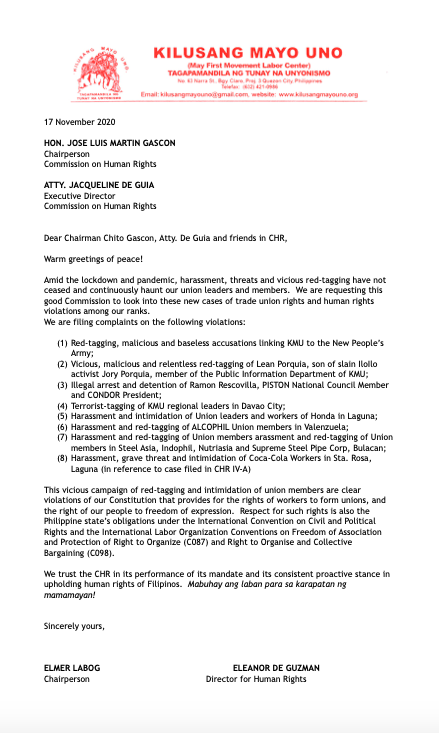 Why the CHR?
The CHR, an independent constitutional body, has the mandate to investigate state agents for abuses. It can do its own probe, but does not have prosecutorial or disciplinary power. It can recommend or file a complaint. People sometimes prefer a CHR-backed complaint, rather than doing it on their own.
This is why Miguel and the KMU went to them first, before planning a formal complaint to be filed with prosecutors, or even filing for an extraordinary writ of amparo with the courts.
"Accessible kasi sa amin ang CHR. Ang dami rin kasi talaga ng kaso, gusto na naming mai-file kaagad pero hindi pa talaga kami nagfa-file sa court. 'Yung mga agent na nagpapakilala, wala rin silang pagkakakilanlan, 'yun ang isang nagiging [problema] o legal question," said De Guzman.
(It's the CHR that is accessible to us. And there were so many cases already that we wanted to immediately file something and not file with the court. The agents who identify themselves as agents, we don't have their identities, so that's also a problem or a question legally.)
It also doesn't help that many petitions for the writ of amparo have been denied, including the one by Negros activist and Karapatan's Zara Alvarez who was shot dead in August 2020 before the Supreme Court could even move on her appeal.
"Inaaral pa namin ang writ of amparo, kasi napaka-stringent ng requirement ng writ of amparo. Sa karanasan na rin ng Karapatan, na-dismiss tapos 'yun pang nangyari kay Zara," said De Guzman.
(We're still studying the writ of amparo, because the requirements are very stringent. We also considered Karapatan's experience, it was dismissed and then there's what happened to Zara.)
In light of the escalating lawyer killings, the Supreme Court has committed to review its rules, including the rules on the writ of amparo, to see whether institutuonal changes have to be made. It took the Court a decade to do so.
Fear and anxiety
One of the workers whom Miguel helped in the CHR filing was Arnedo Lagunias of the Honda Workers Union. A man claiming to be an army sergeant went to their home to accuse Lagunias of being a high-ranking communist leader, and to convince him to "clean his name."
Lagunias was arrested in Santa Rosa, Laguna on March 4, or 3 days before the March 7 Bloody Sunday operations of the Calabarzon police that led to the killings of 9 activists and arrests of 6 others.
In the aftermath of the Bloody Sunday killings, Miguel got to moving again, joining press conferences and other actions to call for justice for their slain friends.
He admitted he was scared.
"Inisip ko talaga iyong takot eh. Sobrang nerbiyos rin. Pero siyempre, iyong takot at niyerbos, normal na nangyayari iyan sa atin," Miguel told Rappler in an interview on March 9.
(I think of the fear. I'm also really anxious. But of course, the fear and anxiety are normal to us.)
"Pero kung kami ay tatalikod sa aming mga responsibilidad bilang isang manggagawa at tumutulong para marespeto ang karapatan ng mga manggagawa, lalong walang mangyayari sa aming mga kapwa manggagawa kung matatakot," he said.
(But if we turn our backs on our responsibility as workers, and helping to uphold the rights of workers, all the more nothing will happen to us if we are scared.)
Justice Secretary Menardo Guevarra said the Department of Justice (DOJ) will do a preliminary assessment and determine if Miguel's killing could be included in the ongoing investigation of its extrajudicial killing or AO 35 task force.
"If there's any indication that Miguel's death had something to do with his being a labor leader, the AO 35 committee will include his case for investigation," said Guevarra.
– Rappler.com