The Department of Education expects more enrollees as it has extended late enrollment until September 30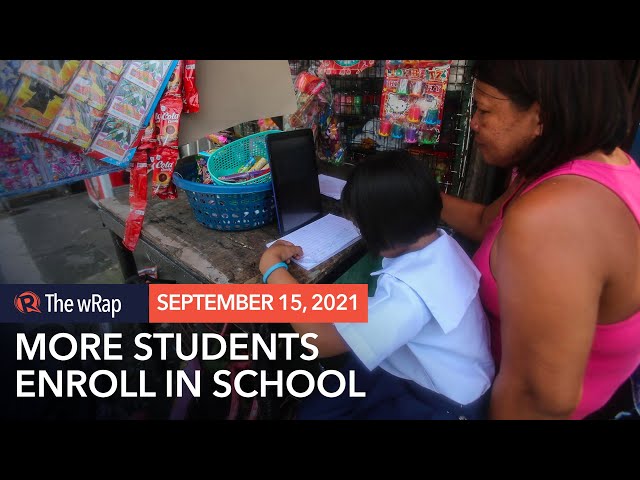 Two days after school opening, the Department of Education (DepEd) said that enrollees for school year 2021-2022 have surpassed last year's 26.2 million students, as the department recorded 26.3 million students enrolled as of Wednesday, September 15.
As of Wednesday, a total of 26,308,875 public and private students have so far registered, with 11 regions in the country hitting over 100% of their 2020 enrollment. The figures represent 100.3% of the enrollment for 2020.
"We thank our field offices, school heads, and teachers for their dedication and hardwork in encouraging the public to enroll. Likewise, we are grateful to the parents of our learners who continue to put their trust and support in DepEd and for learning continuity amidst the pandemic," the department said in a statement.
The DepEd said that the figures are expected to go up as it extended late enrollment until September 30.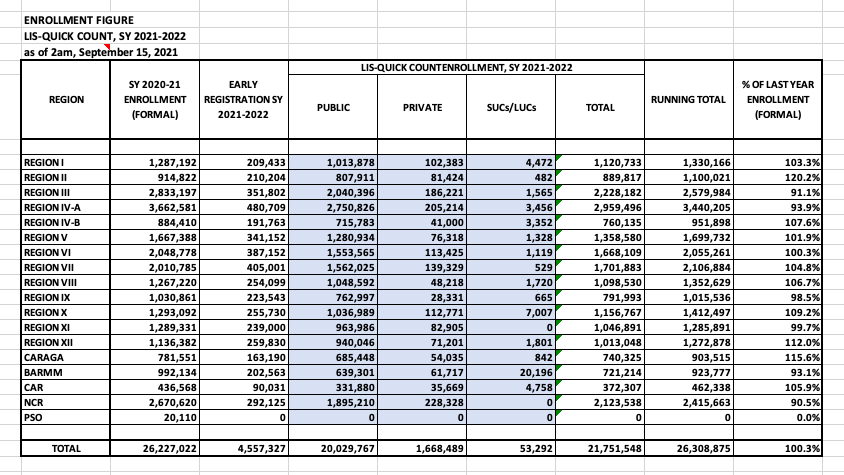 During school opening on Monday, September 13, Education Secretary Leonor Briones said that the start of classes for the second time in a pandemic was a "celebration of victories" against COVID-19. This did not sit well with the public as the same issues, such as lack of gadgets and poor internet connection, welcomed the new school year.
Alliance of Concerned Teachers (ACT) secretary general Raymond Basilio said students and teachers were forced into another school year of "underfunded and ill-equipped distance learning, with still no plans from the government on how it can safely reopen our school."
"Despite years of neglect and violation of labor rights from this government, we never wavered in our commitment to deliver education to millions of youth," he said.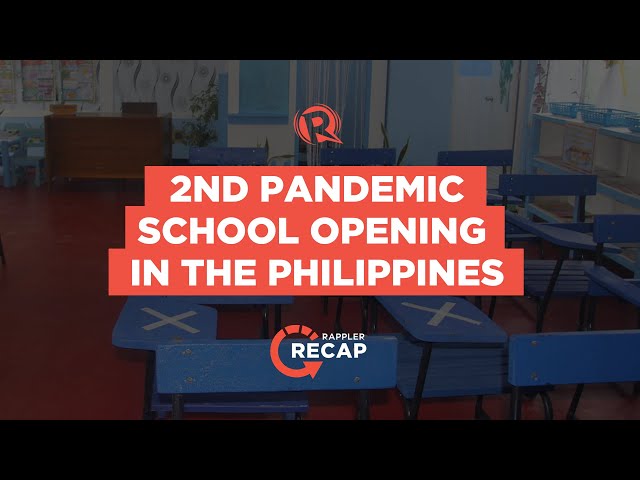 To date, only four countries in the world have not reopened schools since the pandemic began in March 2020: Bangladesh, Kuwait, the Philippines, and Venezuela. Most countries have either partially reopened schools or reopened schools in phases.
By the end of September, the Philippines and Venezuela will be only countries where classes are done remotely. Bangladesh and Kuwait will reopen on September 12 and September 27, respectively.
President Rodrigo Duterte has not yet decided on whether he would allow the limited face-to-face classes in 120 schools identified by DepEd.
The government has been criticized for its pandemic response, with critics saying school closures in the country reflect misplaced priorities and failed management of the health crisis. – Rappler.com