This is AI generated summarization, which may have errors. For context, always refer to the full article.
The senator says overstocking of medicines near their expiration dates has been a mainstay in audit findings of the health department since 2013
Year in and year out, since 2013 at least, the Department of Health (DOH) has been overstocking on medicines that are left undistributed and expired, worth a combined P2.73 billion now.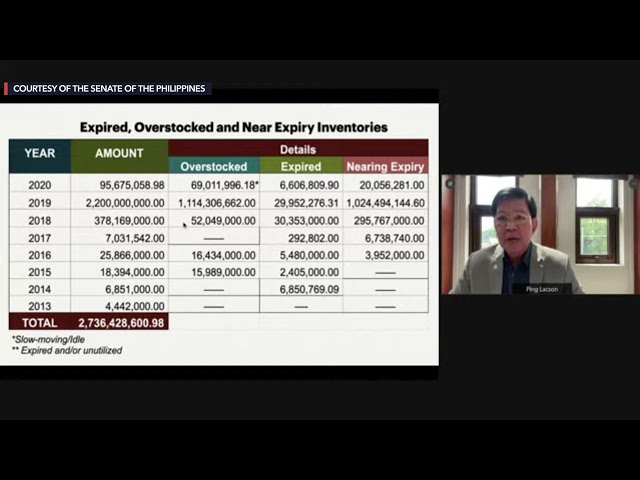 The biggest chunks of these purchases were made in the last three years, under the Duterte administration, when Francisco Duque III was already the health secretary.
These were the Commission on Audit (COA) findings cited by Senator Panfilo Lacson on Wednesday, August 25, during the Senate blue ribbon committee hearing on the mishandling of funds by the DOH.
Lacson said that because the overstocking of medicines that were left to expire had been a mainstay audit finding every year, he would suspect that there could be a "well-entrenched mafia" at the DOH that operated regardless of administration.
He called on Duque to investigate this once and for all, "unless…you've been co-opted" by the mafia.
"For me, this [pattern of findings] indicates that there is, probably, a mafia that is well-entrenched, not yet disbanded, not yet uprooted, not yet extracted, or remaining in the DOH," Lacson said in Filipino.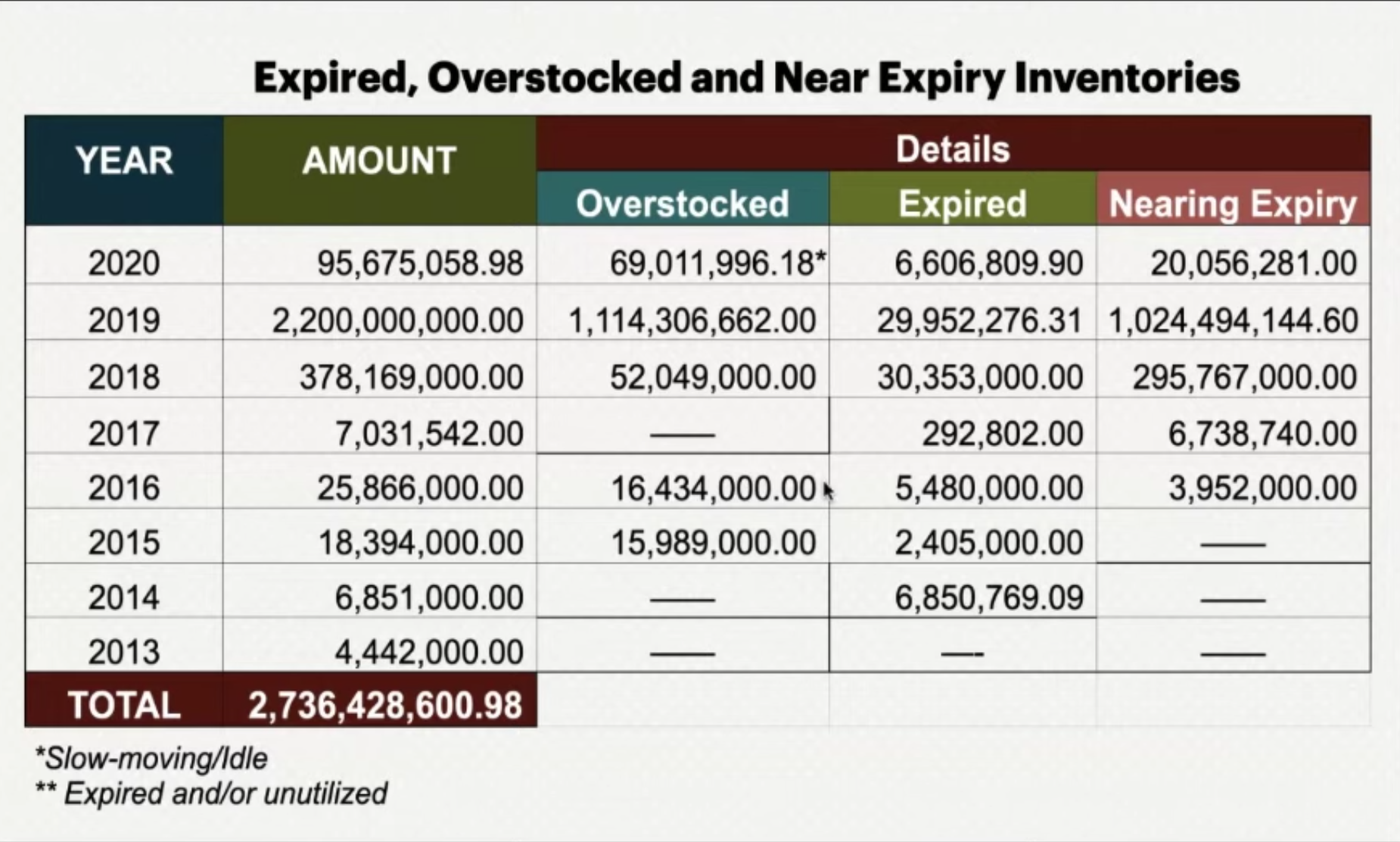 Based on Lacson's presentation which cited COA reports, the majority or P2.2 billion worth of drugs that were either idling or nearing expiry was noted in the 2019 inventory.
In 2020, the amount reached P95.68 million, something state auditors called an "indiscriminate wastage of government funds and resources." Some P6 million worth of medicines in the DOH's inventory has already expired.
"Year in, year out, we are wasting hundreds of millions of pesos," said Lacson.
Secretary Duque tried to explain that the department had its own standards of medicine procurement and even brought up the need to update the inventory.
Lacson, however, was not satisfied with Duque's "theoretical and hifalutin" answer.
"I think the better approach here is a thorough scrutiny of the department or unit under DOH that is in charge of procuring drugs and medicines instead of the theoretical and hifalutin words to go about it," Lacson said.
"It's well-entrenched, you see.… If I were in your position, I will check if there is a mafia here because every year, nothing happens. These are recurring issues," the senator added.
"Di ba mas maganda na pag-aralan nating mabuti? (Isn't the better approach to get to the bottom of this?) Unless – I don't want to believe – you have been co-opted," the senator told Duque.
Duque eventually gave in and said he would be calling for an investigation into the issue. State auditors in its 2020 report already asked the DOH legal service to conduct a probe into erring employees.
"Magpapaimbestiga po ako rito, lalo na 'yung sinasabi 'nyo na may mafia," the health chief said. (I will have this investigated, especially what you say is the probability that there's a mafia.)
COA has also asked the DOH to take "concrete steps," particularly in improving procurement planning, strengthening distribution and monitoring systems, and a review of internal controls. – Rappler.com