'Ay, ambot na lang!' says an exasperated councilor, George Goking, who chairs the city council's trade and commerce committee
President Rodrigo Duterte's warning that he would place Cagayan de Oro under stricter quarantine measures sent jitters across the city, which was already on its knees after a 15-day modified enhanced community quarantine (MECQ) was imposed on it due to surging COVID-19 cases.
Cagayan de Oro has ranked third in OCTA Research's list of Philippine cities with the most new cases per day, based on its June 1 to June 7 data.
President Duterte on Monday, June 7, warned that the government would likely "adopt measures that would be commensurate (with) the gravity of the situation."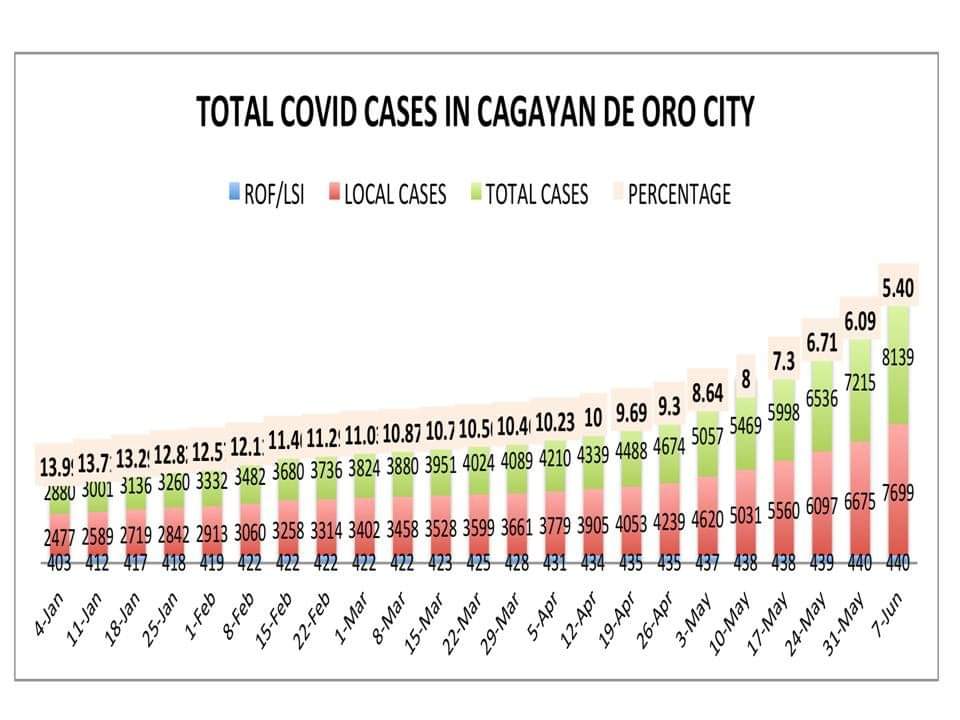 "Ay, ambot na lang (I'm at a loss for words)!" said an exasperated councilor, George Goking, who chairs the city council's trade and commerce committee.
Goking said Duterte's pronouncements hinted at an impending Cagayan de Oro lockdown or enhanced community quarantine (ECQ), the strictest of the government's quarantine classifications, after June 15, the last day of the MECQ.
He added that Cagayan de Oro was in a damned-if-you do, damned-if-you-don't situation, which he attributed to the failure of many people, seemingly due to indifference, to observe basic health protocols despite city hall's repeated pleas for cooperation. 
The choice, Goking stressed, was "between the devil and the deep blue sea."
"Nakita ko talaga. I passed the place while going home…. Nakita ko talaga ang mga tao – parang balewala, parang walang nangyari, parang walang sakit. Pasyal nang pasyal," Duterte said of Cagayan de Oro and Bacolod cities when he addressed the nation on live TV Monday.
(I really saw everyone just not caring, as if nothing had happened, as if the virus didn't exist. They were just out and about all the time.)
Bacolod, a city in the Visayas, ranked fourth, next to Cagayan de Oro, in OCTA Research's list of cities with the most newly documented COVID-19 infections per day. 
Incidentally, Davao City, where Duterte's daughter Sara is mayor, and where the president served as local chief executive until 2016, topped the list ahead of Quezon City, which ranked second.
Duterte said, "We might calibrate our response to the intransigence that you would show. Kung talagang ayaw ninyong sumunod, then we can go into… Marami… Marami… Ayoko lang sabihin, but we have the power to control it, actually, kung gusto lang namin pahirapan ang tao."
(If you really don't want to follow protocol, there are many things we can do. I don't want to bring this up, but we have the power to control it, actually, if we just want to make things difficult for people.)
Goking said the government was running out of options, and "I really don't know what an extension of the MECQ or an ECQ would do to the city's economy."
"Since the start of the MECQ on June 1, the business sector in the city has seen nothing but losses. An extension of the MECQ or an ECQ would be devastating to our econony," he said.
Cagayan de Oro Chamber of Commerce and Industry president Ruben Vegafria said the city's business community was averse to the prospects of an ECQ.
"If Cagayanons will just discipline themselves and follow health protocols, I think a reversal to (the less stricter) MGCQ (modified general community quarantine) status is possible," Vegafria told Rappler.
He said latest data show that new COVID-19 cases in the city dropped from June 1 to June 7, the first week of the MECQ.
Vegafria added, "The government is doing its best to arrest the spread of COVID, but all attempts or efforts will be useless if people continue to violate all health protocols."
Deputy Speaker Rufus Rodriguez, representative of Cagayan de Oro's 2nd District, said it would be premature for the government to decide now on whether or not to extend the city's quarantine classification.
"Let us wait until June 12 and evaluate again if it [needs] to be extended," Rodriguez said.
Mayor Oscar Moreno said Duterte's warning was a "somber reminder" for people to fully comply with the public health standards set by the government.
"His (Duterte's) observation that there were people who were acting as if there was no pandemic was correct, which is why there is this surge of COVID-19 cases in the city," Moreno said.
Cagayan de Oro recorded 102 new COVID-19 infections on Tuesday, June 8, bringing the city's active cases to 1,584. The city has so far documented 8,139 COVID-19 cases since March 2020. – Rappler.com