This is AI generated summarization, which may have errors. For context, always refer to the full article.
The government attacks the press because 'they're afraid the truth will come out.... They are afraid that all the corruption and abuses happening in this regime are going to be exposed,' says veteran journalist Sheila Coronel
His administration's attacks on the free press show how President Rodrigo Duterte and his allies fear the truth and accountability after his term ends in 2022, veteran journalists said in a virtual forum on the state of journalism in the Philippines.
Sheila Coronel, co-founder of the Philippine Center for Investigative Journalism and the director at the Stabile Center for Investigative Journalism at Columbia University, said the government's actions against journalists are "actions of fear, not strength."
"I think it's the government that is afraid. You have a government that's very strong, that has the military and police under its command, and it is clamping down on young reporters at Rappler, that is such an asymmetrical battle. It's threatening the publishers of newspapers, it's closed down the largest TV network. Those are actions of fear, not strength," Coronel said at the virtual DaangDokyu forum Reality Check: The State of Journalism in the Philippines, moderated by One News' Roby Alampay.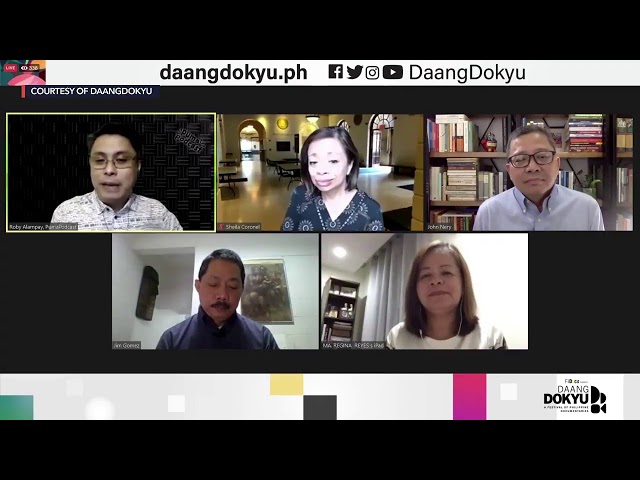 "Why are they afraid? Because they're afraid the truth will come out. They are afraid that the watchdog tradition in the Philippine media would assert itself. They are afraid that all the corruption and abuses happening in this regime are going to be exposed. It's the government that is afraid," she added.
While Coronel said some Filipinos might be scared to speak out, "the government is even more fearful." (READ: Majority of Filipinos agree: 'Dangerous to print or broadcast anything critical' of Duterte gov't)
"This government is afraid it would be held to account when there's a new government that is in power that is not friendly to [them]," she said.
ABS-CBN Integrated News and Current Affairs chief Regina Reyes said powerful people "demonize" the media for "self-serving reasons." (READ: ABS-CBN News chief: 'Our audience is overentertained, underinformed')
"Most of the time it is the case with people in power. You know ABS-CBN, Inquirer, Rappler and all the other news outlets have offended one way or another many of those in power now and before. And yet this time somehow, it is different," Reyes said.
"Some of these people behind our powerful institutions do understand what press freedom is and yet they choose to demonize the media for reasons that are self-serving," she added.
ABS-CBN, which drew the ire of Duterte, was forced to go off-air early May due to a National Telecommunications Commission order. Lawmakers rejected the network's bid for a fresh franchise in July over alleged "numerous violations" – a decision widely condemned as politically motivated.
Rappler is facing multiple government-backed cases, with its CEO Maria Ressa arrested twice. She was convicted of cyber libel under a law that was not yet enforced when Rappler published the article in 2012.
Past presidents attacked the media. What's different now?
Past administrations have also pressured the media. But what's different now is the prevalent use of social media and the spread of disinformation online.
Coronel said Duterte is benefitting from a global populist movement that has assaulted truth and democracy.
"What's different is that there is a systematic campaign to create disinformation and propaganda in favor of the government, mainly using social media. But also when you listen to the radio, mainstream media," Coronel said.
"It used to be that the tactic is to curtail information that was disadvantageous to the government. In the current landscape, the tactic is to flood media with disinformation. It's no longer constricting but flooding; that's the main difference."
Ressa said: "When a leader lies so many times, the journalists are running around trying to fact-check every lie. But if the lie happens every so frequently, the fact-checks don't matter and it changes your reality. It makes the people more docile because you have no idea what is really true."
Ressa is among the 25 experts that form The Real Facebook Oversight Board, an independent council that wants to hold Facebook accountable and push for meaningful change on the platform. (READ: Maria Ressa in Prince Harry interview: 'Duterte, Zuckerberg on same page')
Reyes agreed and said that was exactly what happened with the franchise issue of ABS-CBN during the legislative hearings.
"We presented evidence and yet what prevailed was Congress' version of right…. The case of ABS-CBN has seen the whole gamut of disinformation, gas lighting, demonization, etc," Reyes said.
"That's the biggest difference: We have social media now, a potent tool for spreading disinformation that was not in existence during the time of Marcos, Erap, Gloria Arroyo," she said, referring to former Philippine presidents.
Other panelists at the virtual discussion include Inquirer opinion journalist John Nery and Associated Press journalist Jim Gomez. – Rappler.com