'This is a war freak President who fails to see where the real enemy lies,' says sociologist Jayeel Cornelio
Philippine President Rodrigo Duterte's last State of the Nation (SONA) was his longest, but it contained little of what Filipinos longed to hear: a plan to lift the economy from the pandemic.
His speech on Monday, July 26 lasted 2 hours and 46 minutes, the longest SONA delivered by a president elected after the 1986 EDSA Revolution.
He spent around 22 minutes talking about the pandemic and related issues, excluding his words of thanks to frontliners and the private sector. But a bulk of this was mentioned two hours into the SONA.
The topic that got the first spotlight was security, military, and police programs and anti-insurgency efforts, not altogether surprising for a President who spent his first year in power courting soldiers and cops and ensuring they got higher salaries. This portion was quickly followed by his controversial drug war.
Duterte spent almost 30 minutes in total talking about communism and illegal drugs, and even kept circling back to the drug war twice in the middle of other topics.
But the drug war and rag-tag New People's Army are not what Filipinos want to hear about. A Pulse Asia survey released earlier on Monday showed that Filipinos were waiting for him to talk about the economy, which continues to suffer from the pandemic.
"Creating more jobs or livelihood" was the top concern of close to 40% of Filipinos. The next top concerns were "improving the national economy" (35%), and "controlling inflation" (33%). In contrast, only 17% wanted to hear about illegal drugs. Communism specifically didn't even make it to the list of top concerns.
Sociology professor Jayeel Cornelio said that while communism and drugs are still problems, COVID-19 is much more consequential and Duterte wasted an opportunity to explain a pandemic plan.
"This is the irony. This is a war freak President who fails to see where the real enemy lies. And it's in that sense that this speech is emblematic of his presidency," he said in a post-SONA discussion with Rappler.
He said Duterte has been "waging wars on enemies that are not consequential, and then forgetting that there are real problems: COVID, poverty…hunger has increased."
Most of Duterte's remarks about communism and drugs were not even to list achievements or new ways of dealing with them. To a nation of Filipinos who wanted to hear about new jobs and more affordable necessities, Duterte offered long rehashes of his anecdotes about the ills of drugs and threats to anyone who gets in his way.
"Those who destroy my country, I will kill you. And those who destroy the young people of our country, I will kill you," he said.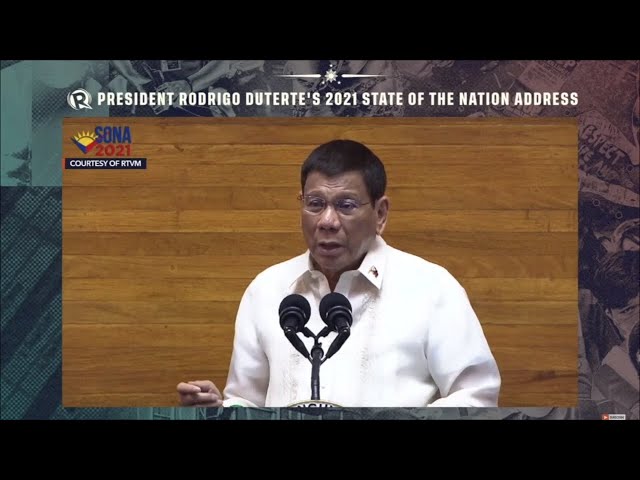 Duterte then devoted nine minutes of his SONA to his "war on oligarchs," which he has previously said he considers his biggest achievement.
Specifically, he recalled how he got two of the country's biggest companies, those of the Ayalas and Manny V. Pangilinan, to accept new contracts with government to replace old ones "disadvantageous" to Filipinos
"Talagang inupakan ko sila (I really beat them up)," said Duterte.
ABS-CBN, forced to shut down its broadcasting operations after Duterte's Congress allies denied it a new franchise, he again accused of owing government "billions" to the government.
Duterte's SONA last year too was panned by critics for lacking a comprehensive COVID-19 plan after he devoted more time to railing about "elites" and "oligarchs."
Pandemic remarks confusing, defeatist
What Duterte did say about the pandemic was contradictory and thrice entered defeatist territory.
"I really do not know what to do. I have to listen to the task force," said Duterte, referring to a pandemic task force he created composed of Cabinet members.
"If it requires a new vaccine, we do not have it yet, I do not know what, we will just have to pray for salvation," he also said.
In an early part of the speech where he was reading from the teleprompter, he said the country "cannot afford more lockdowns." But later on, while speaking off-script, he changed his tune.
"If something wrong happens, I'll have to be strict and I have now my word that there will be just like what happened in the early days," said Duterte, referring to March 2020 lockdowns that crippled the economy.
His clearest, most tangible words about the the pandemic were those he read out.
For example, he promised to create more than one million new jobs through a 2021 to 2022 National Employment Recovery Strategy to be implemented by a task force led by Trade Secretary Ramon Lopez.
Two laws he called on Congress to pass were pandemic-related, a measure to establish the country's first Centers for Disease Prevention and Control and a law to shift government processes and transactions online (E-Governance Act).
"The pandemic has taken so much from us as a nation but like other adversities that tested us, time and again, it can never take our courage and resilience," he said toward the end of his speech.
He also asked Filipinos to get vaccinated as soon as possible.
Foreign policy, populist measures
Duterte took the opportunity of his last SONA to talk about a myriad of other issues, ranging from populist measures to foreign policy.
He insisted he used every avenue to "assert" the Hague ruling invalidating China's claim to the West Philippine Sea. He promoted his advocacy to end the Middle East kafala system victimizing migrant Filipinos.
Duterte listed laws he signed that enrolls all Filipinos in a health insurance system, provides free education in state colleges and universities, and exempts small-holder farmers from paying irrigation fees.
He told government to "raise against time" to complete the rebuilding of Marawi City, still broken after a five-month siege by terrorists in 2017.
But alongside these were ad-libs where he complained about his salary and being forced to stay inside Malacañang by his security guards due to the pandemic. Several times he shared long anecdotes about his days as Davao City mayor, lessening queues in front of government offices, ordering cops around.
He twice mentioned the International Criminal Court, set to decide in a few months whether to investigate his drug war.
He had time to repeatedly comment cynically on the timing of his audience's applause and, towards the end, said he was wrapping up because he needed to pee.
"It's good that I was able to really talk with you, anyway it's my last SONA…. They don't include this here [SONA], the [written speech] contains no curses," said Duterte.
Duterte got everything off his chest, but left Filipinos hanging on the topic they needed to hear about the most – how their lives will improve despite a raging pandemic. – Rappler.com