The senator, who is the ruling party's standard-bearer, says there's 'hope' for Sara Duterte to run as president
Senator Ronald dela Rosa, the ruling PDP-Laban Cusi faction's bet for president in 2022, said he did not see the late deposed dictator son's Ferdinand Marcos Jr as his opponent. In fact, he considered him an ally. 
"Kami ni Senator Bongbong [Marcos Jr] ay hindi magkalaban, magkakampi po kami," said Dela Rosa in an interview with CNN Philippines' The Source on Tuesday, November 2. Dela Rosa was asked his reaction to the Cebu City meeting between Marcos and Davao Mayor Sara Duterte, President Rodrigo Duterte's daughter.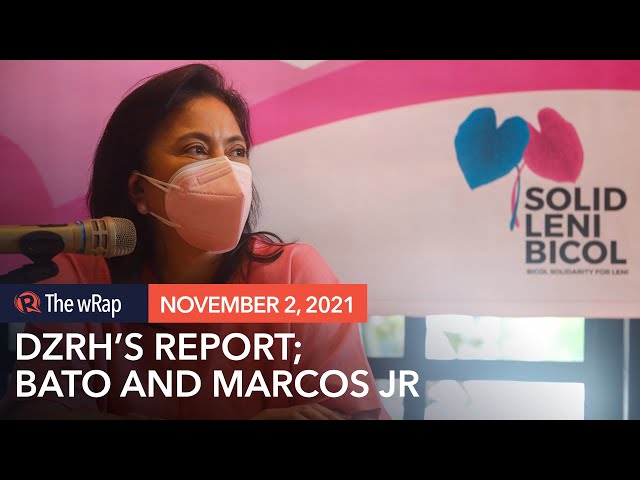 The younger Duterte has kept mum on the details of their meeting but said she talked to Marcos Jr. about how her regional party, Hugpong ng Pagbabago, could help his presidential campaign.
"To be honest with you, I did not feel any insecurity sa support ni (when it comes to support from) Inday Sara," said Dela Rosa, likening Sara's pledge to Marcos as a friend finding a way to help another friend. Dela Rosa had met Sara in Davao City days after the latter's meeting with Marcos in Cebu City.
Dela Rosa initially told media that he simply reminded Sara of the approaching November 15 deadline for substitution from withdrawal.
The senator, President Duterte's first national police chief, has since said that he went there in the hopes of a "change [of] mind" for Sara "na tumakbo siya (to run) as president."
Dela Rosa, as head of the Philippine National Police, launched Duterte's centerpiece war on drugs.
He did not say how Sara Duterte reacted but said: "Nakikita ko kanyang mga mata na may hope na possible mag change." (I see in her eyes hope that her mind will change.)
The senator said how she topped early presidential surveys – or at least, those held before the filing of candidacies – as one of the reasons why she should pursue the presidency.
Dela Rosa and other Duterte allies have been trying to convince Sara to run for president even as he and PDP-Laban insisted they were serious in fielding him as their presidential candidate.
Despite the party's "official stand," Dela Rosa said they would surely adjust should the older Duterte, the party president, hear of his daughter's possible change of heart.
"Do you think kung mapa-oo ko si Mayor Sara at malaman ito ng aming party chairman [president] na si President Duterte, do you think 'di kami magkakaroon ng adjustment?" he told anchor Pinky Webb.
(Do you think if I convince Mayor Sara to run and our party president, President Duterte finds out, we won't have any adjustments?)
The Cusi faction had been set to field long-time presidential aide Senator Bong Go as president alongside the older Duterte himself, who was nominated to be the vice presidential candidate. But on the second day of filing for candidacies, Duterte announced that he would retire from politics and that Go would be running for vice president instead. A survey earlier showed 6 out of 10 Filipinos saw President Duterte's planned vice presidential run as unconstitutional.
Weeks later, however, faction head Energy Secretary Alfonso Cusi himself floated the possibility of Duterte running for senator instead, likely via substitution. (A party in disarray: Who wins in PDP-Laban's 2022 game?)
"Ang alam ko, gusto niyang tumakbo talaga. 'Yan ang alam ko. Alam mo, gusto niya mag retire. Sometimes naman, gusto niya tumakbo. Let's leave him sa kanyang choice kung ano talaga gusto niya," said Dela Rosa of Duterte.
(I know he wants to run. That's what I know. You know, he wants to retire. Sometimes, he wants to run. Let's leave him to make his choice, on what he really wants to do.)
The former police general noted that Duterte wanted to work "until he dies" and that he wanted to "serve the country" until the end.
While Duterte did not file to run for senator, Commission on Election (Comelec) rules allow substitution from withdrawal until November 15. That means Duterte – either the President or Sara – can switch places with candidates who filed under official national parties. Duterte himself made use of substitution via withdrawal in 2015, after he missed the original deadline to file his candidacy for president in the 2016 polls.
Sara, who earlier filed her candidacy for Davao mayor, would have to withdraw that candidacy first before she can file to substitute for a national post.
PDP-Laban itself has kept mum on efforts to woo Sara Duterte. Dela Rosa said he had gone to Davao to meet Sara on his own volition. Sara, meanwhile, has insisted that she had no presidential plans.
She recently blasted a newspaper columnist for claiming that she would be running for vice presidential against Go to spite her father, among other reasons. – Rappler.com