Parties backed by the country's biggest political clans will be working towards a Marcos-Sara Duterte win in 2022
Inside Davao – not the city, but a function room in the posh Sofitel Philippine Plaza Manila – the children of two controversial Philippine presidents formalized their 2022 alliance, backed by parties that count former presidents and fellow presidential children as their stalwarts.
Lakas-CMD, Partido Federal ng Pilipinas (PFP), Pwersa ng Masang Pilipino (PMP), and Hugpong ng Pagbabago (HNP) signed a four-party alliance agreement on Thursday, November 25.
Based on the documents they signed, the four parties will be backing PFP standard-bearer Bongbong Marcos Jr., son of the late dictator Ferdinand Marcos; and Lakas-CMD vice presidential candidate Sara Duterte, the eldest daughter of President Rodrigo Duterte.
The top officials of the parties were present at the signing – South Cotabato Governor Reynaldo Tamayo, PFP president; Davao Occidental Governor Claude Bautista, HNP president; Majority Leader Martin Romualdez, Lakas-CMD president; and sormer senator Jinggoy Estrada, PMP president.
Explaining their decision to coalesce with each other, Romualdez, Marcos' cousin, said Lakas-CMD had "vowed to help elect new leaders who will guide and steer us to the right direction."
"We need leaders who have displayed steely nerves in leadership. We need leaders who have solid background in public service. We need leaders with a clear vision on how to keep Filipino families safe and the Philippine economy growing and expanding," he said.
The names in the coalition are anything but new. Lakas-CMD has produced two presidents – Fidel Ramos and Gloria Macapagal Arroyo, its president emeritus. PMP is the party of ousted president Joseph Estrada, father of current party president Jinggoy.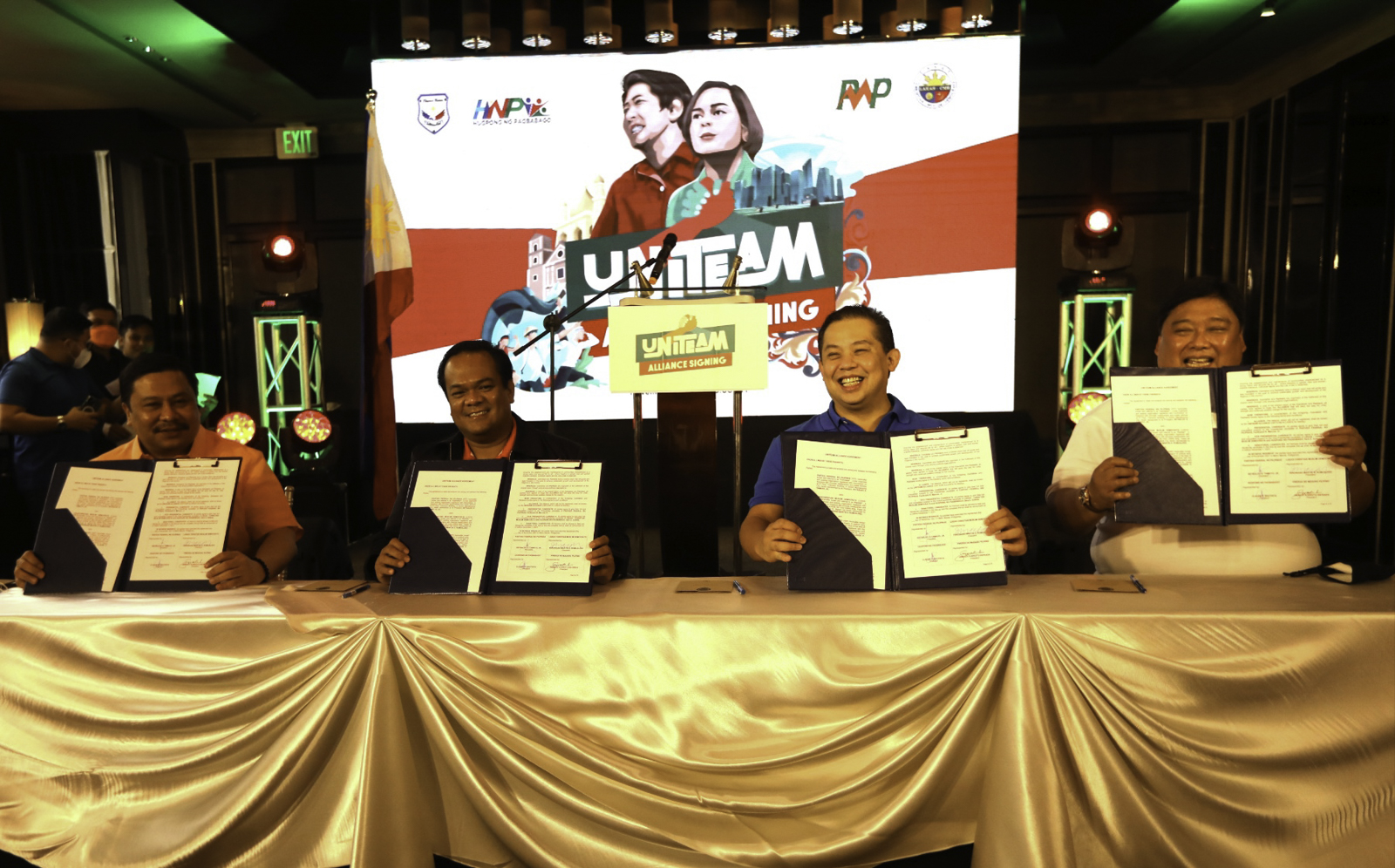 HNP and PFP, both relatively new political parties, are fronted by old names in politics – the Marcos and Duterte clans.
The Marcos-Sara Duterte 2022 ticket is a formidable one, at least if early preference surveys are to be believed. Before the deadline of the filing of certificates of candidacies (COCs), Duterte led early presidential preference surveys with Marcos trailing her at second.
Newer surveys held after COC filing week – when Sara had shunned a national post and instead filed for reelection in Davao City – placed Marcos as the leading presidential candidate.
The "Uniteam" tandem is one that critics of the administration and the opposition have long expected.
Even as PDP-Laban, the supposed ruling party in Philippine politics, said it was fielding long-time Duterte aide Senator Bong Go and the President himself as its 2022 tandem, observers and critics believed Sara Duterte would vie for the presidency.
By 5 pm of November 15, the deadline for substitution via withdrawal, the ruling party was left without a presidential and vice presidential candidate – Senator Ronald dela Rosa backed out of the presidential race while Go, who had initially filed for vice president under PDP-Laban, filed for president under Pederalismo ng Dugong Dakilang Samahan (PDDS). President Duterte, chairman of PDP-Laban, opted to run for a Senate seat also under PDDS.
Amid the mess of the President Duterte-allied parties and personalities, Lakas-CMD and PFP seemed to have prevailed. Days after Sara filed for vice president, the Davao mayor revealed they had asked PDP-Laban to support a Marcos-Duterte tandem, which the ruling party rejected. PFP would later announce Marcos' 2022 ticket with Sara as his running mate.
The tandem also broung together two major bailiwicks – the "Solid North," where the Marcos have maintained power and influence even after they were driven out of Malacañang in 1986, and Mindanao, where the Duterte name is strongest.
"Unity" has been a core message for the Marcos campaign even before the tandem with Duterte was announced.
"The political arena is now in the middle of the decision making process that our people will have to come to when May comes and the election comes but this is precisely the advocacy, this is precisely the ideology behind my candidacy, the candidacy of Mayor Inday, together we have come together on the basis of unity and it is this unifying force that I believe will bring stability back first, to the political arena and secondly, to the country," Marcos said in a speech during the alliance signing.
Marcos added: "We find ourselves in a crisis again and we must once again unite. So, mark this day in your calendars – it is the day that we began the consolidation and unification of the political forces that we have."
Sara Duterte, in a video message, said as much: "The UniTeam has done something remarkable in a time when political noise and bickering drown the issues and problems confronting the Filipino people – that is, to forge a partnership as one organization, setting aside political rivalries and differences, to become strong partners of the people and the nation. Our alliance is built on friendship, trust, and the commitment to serve the Filipinos and the country."
The "Uniteam Alliance" will announce its Senate slate by December 1. Each partner in the alliance is "allowed to field one senatorial candidate in the lineup." – Rappler.com