This is AI generated summarization, which may have errors. For context, always refer to the full article.
Saying that a Duterte-Marcos vice presidential showdown is unlikely, Bongbong says he's in talks with groups to finalize his 2022 moves
What's it gonna be for Bongbong Marcos in 2022? A run for a national position definitely, he said, but refused to be categorical.
Shadowing what he described as the last stretch of "making alliances and finding consensus" is his political ties with President Rodrigo Duterte and a pandemic landscape that is making him keep a bit of distance from this administration.
He said on Friday, September 24, that what has been floated as a possible Bongbong Marcos-Sara Duterte or Sara Duterte-Bongbong Marcos ticket is "probably out of the question for now." Sara, daughter of the President, has said she will be seeking reelection as mayor of Davao City.
"I still consider it a possibility na magbabago ang isip nya, but for now we consider it na tama [na] ipagpatuloy ang kanyang sinabi na hindi siya tatakbo. So 'yang mga tambalan na 'yan, eh siguro out of the question muna 'yan," Marcos told the Friday News Forum, which he attended instead of the national convention of the Kilusang Bagong Lipunan (KBL) that nominated him as party standard-bearer in 2022.
(I still consider it a possibility that she will change her mind, but for now we consider it that she will stand by what she said that she won't run. So that tandem is probably out of the question for now.)
His sister Senator Imee Marcos has likewise hit Duterte's pandemic response as "one horrific year after a horrible year when we are imprisoned in our own homes." Imee also helps steer the Senate blue ribbon committee hearings into questionable pandemic contracts, which Duterte had been defending.
Unlike Imee, Bongbong is a little more subtle. For the past months, he's been busy issuing statements and guesting on radio shows to point out inadequacies in the Duterte government's response to COVID-19, such as vaccination.
"I wouldn't call them criticisms, I would call them observations. It is trying to find a better way to do things, I'm pretty sure the President takes it that way, and his advisers take it that way," he said.
Bongbong said he doesn't think that these "observations" would affect his family's ongoing talks with the Dutertes for 2022.
How about another VP run?
He added it is unlikely that there will be a vice presidential showdown between him and President Duterte.
"I don't know kung paano aabot sa ganun, dahil magkaalyado naman kami. Kung may mga ganyan klaseng conflict mapag-uusapan namin, mareresolba namin before the actual elections," said Bongbong. (I don't know how it will come to that, because we are allies. And if there are those kinds of conflict, we can talk about it, we can resolve it before the actual elections.)
Bongbong said he now considers Duterte as a vice presidential candidate, after the President signed PDP-Laban's Certificate of Nomination and Acceptance.
So if he's not seeking the VP post again – a post he lost to Vice President Leni Robredo in 2016 – what is Marcos up to?
He said in the same forum that he was talking to all potential vice presidential aspirants.
"Lahat ng potential vice president na ano, na nagsabi na may interes na tumatakbo…eh nakikipag usap tayo sa kanilang lahat, all of these things are not open anymore, medyo mas nagiging maliwanag na ang picture," said Bongbong. (All of the potential vice presidents, who have said they have interest in running, I am talking to all of them. All of these things are not open anymore, the picture is getting clearer.)
Back to the drawing boards
Asked about talks with the PDP-Laban Cusi faction which is pushing Duterte as vice president and Duterte's longtime aide Senator Bong Go as president, Marcos said: "Yes [it's] true [that] there are no formal talks, but there's been many, many, informal talks."
"Many of them were hoping Inday Sara would run but as of now, it looks like she has withdrawn from that. Everyone has to rethink their plans, that's what's been happening," said Marcos. He said he's also in talks with the PDP-Laban faction of Senator Manny Pacquiao, who declared his presidential bid last week.
The filing of candidacies is set from October 1 to 8.
If he runs for president, Bongbong would fulfill the dream of his mother Imelda Marcos for him to follow in the footsteps of his father, the late dictator Ferdinand Marcos whose martial law was marked by rampant human rights abuses and massive corruption that the Philippines is still recovering.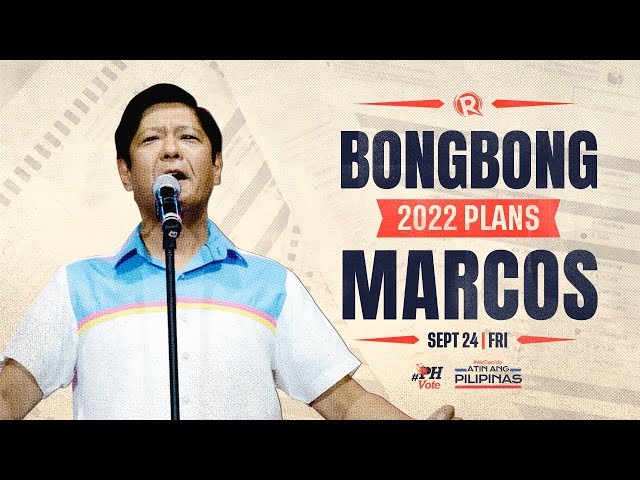 'Mad attempt'
Whatever his plans are, Marcos is upsetting activists and the opposition.
"Bongbong's run is a mad attempt for the Marcoses to return and restore their power and rule on a country pillaged and violated during Marcos's martial law, to further evade their accountability for their crimes, and to promote the historical lies that they have perpetuated," said Duterte's former social welfare secretary Judy Taguiwalo, convenor of the Campaign Against the Return of the Marcoses and Martial Law.
"It is also a form of direct support for Duterte's continuation of his murderous rule," said Taguiwalo, referring to the thousands of killings in the drug war, now a subject of investigation by the International Criminal Court.
The La Salle and Ateneo unit of opposition coalition 1Sambayan said it denounces "in the strongest possible terms this shameless bid to install another Marcos in the Malacañang." – Rappler.com
Follow this developing story page for the latest updates on Bongbong Marcos' plans for the 2022 elections