This, even as the Commission on Elections' rules of procedure state that the deadline is 'non-extendible'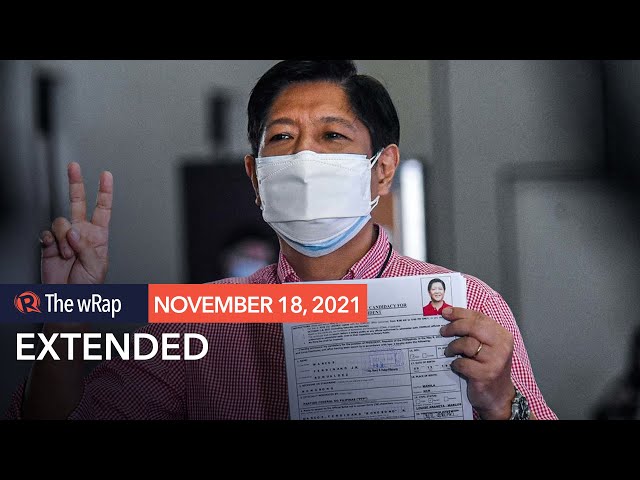 The Commission on Elections (Comelec) confirmed on Thursday afternoon, November 18, that it had granted the motion filed by the camp of Ferdinand "Bongbong" Marcos Jr. to extend the deadline to answer a petition against his 2022 presidential bid.
This, even as the Comelec rules of procedure state that the deadline is "non-extendible."
"[The] Comelec second division just now issued an extension in the cancellation case against former senator Marcos. Five days. But since the fifth day falls on a Sunday, the last day is actually November 22," poll body spokesperson James Jimenez tweeted at 3:32 pm.
His statement came just two hours after he faced reporters and blasted Marcos' spokesperson Vic Rodriguez for saying in television interviews in the morning that the poll body approved their request for an extension of the deadline.
"What do you mean na-grant na? Sabi sila nang sabi, wala naman silang karapatang magsabi," Jimenez had said past 1 pm. "I got word from a commissioner that this has not been resolved. If he's saying something else, maybe he's coming from somewhere else," he added.
(What do you mean when you say it was granted? They say all this stuff, they don't have the right.)
Jimenez said his source was a commissioner from the second division, which was handling the cancellation case filed by civic leaders with the poll body on November 2.
Commissioners Socorro Inting and Antonio Kho, both appointees of President Rodrigo Duterte, comprise the second division.
What's the issue here?
Marcos' camp was due to to submit on Tuesday, November 16, his reply to the first petition.
But lawyer Estelito Mendoza – solicitor general of the late dictator Ferdinand Marcos – explained in his motion for extension that he was only hired on Monday, November 15.
Comelec's rules of procedure state that the five-day period within which a respondent can file an answer to a petition is "non-extendible."
The petitioners' counsel, former Supreme Court spokesperson Ted Te, also opposed the motion for extension.
"Just received by email (2:53 pm) official notice of what was alluded to this morning by a lawyer who is not counsel of record. We disagree with the order and will register our disagreement appropriately with the Comelec, including questions about the news statement earlier made," he said.
"Petitioners reminded the Comelec that the consequence of granting respondent's motion for more time would be for the Comelec to flout its own rules, which the Supreme Court had already ruled in previous instances as grave abuse of discretion," Te had also said earlier on Thursday.
The first petition against Marcos stemmed from accusations that he falsified his certificate of candidacy "when he claimed that he was eligible to be a candidate for president of the Philippines in the 2022 national elections when in fact he is disqualified from doing so."
The petition referred to Marcos' 1997 conviction for failure to pay income tax returns (ITRs) from 1982 to 1984.
The appellate court conviction did not slap any prison time against Marcos and only asked him to pay a P30,000 fine. But petitioners argued that failure to file ITRs for multiple years is a crime of moral turpitude.
The Omnibus Election Code disqualifies a person who has been convicted of such a crime. – Rappler.com