(1st UPDATE) The commitment from a Comelec official comes after one lawmaker asks the poll body to reconsider its decision against extending the September 30 voter registration deadline
The Commission on Elections (Comelec) has been firm against extending the September 30 voter registration deadline, but House lawmakers on Friday, August 27, managed to prod at lease one poll body commissioner to commit to reconsider their appeal.
"Can we get a commitment from the Comelec that they will reconsider hearing all the concerns from the young voters themselves… [that] they would reconsider the extension of voter registration?" Kabataan Representative Sarah Elago asked Comelec Commissioner Marlon Casquejo during the poll body's briefing to House lawmakers about its preparations for the 2022 elections.
The question came after some students present in Friday's hearing told Casquejo the challenges they faced in registering for the 2022 polls in their localities.
These hurdles include supposed caps set by some local Comelec offices on the number of applicants they could accept per day, as well as the months-long suspension of voter registration in areas under coronavirus-driven hard lockdowns.
Casquejo, in response, said one of their offices will look into the proposal to move the voter registration deadline.
"Yes, we have already instructed the law department to conduct a study on this," Casquejo told Elago.
Even before Elago brought it up on Friday, several groups, youth organizations, and lawmakers had already been urging the Comelec to consider extending the voter registration for the 2022 Philippine elections beyond September 30, 2021.
After all, some areas in the country lost almost eight voter registration months due to pandemic lockdowns, as a Rappler report noted.
Before Casquejo's commitment to lawmakers on Friday, he reiterated the poll body's explanation that it couldn't extend the voter registration deadline because doing so would cause a domino effect on their other deadlines.
"One is the preparation of our Project of Precincts, the decision as to the number of registered voters per clustered precincts," Casquejo said. Determining the total number of voters would help the Comelec finalize how many clustered precincts and vote-counting machines would be needed.
"Also, it will go with the filing of the [certificates of candidacy], which starts on October 1," he added.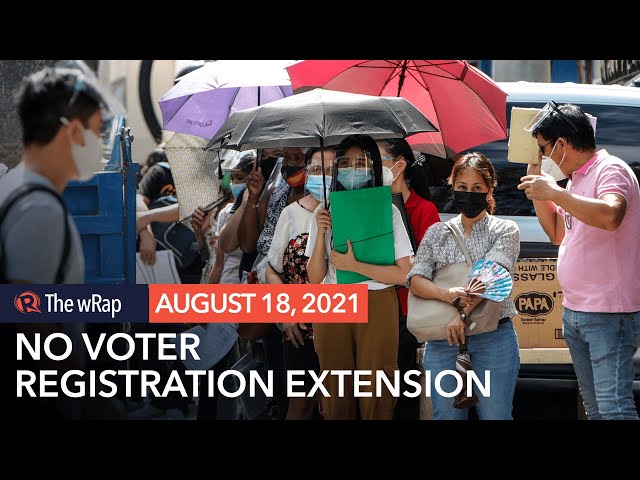 As of late August, the Comelec has 61 million registered voters for the 2022 elections. But the many months of voter registration lost in several areas due to lockdowns has fueled fears that millions of Filipinos could be disenfranchised from participating in the polls.
Based on data from the Philippine Statistics Authority, the projected voting population for the 2022 polls is over 73 million.
"We have to urge the Comelec to provide expansive opportunities for our Filipino citizens qualified to vote to be able to vote," Bayan Muna Representative Ferdinand Gaite said.
To be able to register more voters for the 2022 polls in areas with less stringent lockdown curbs, the Comelec extended voter registration hours, partnered with shopping malls for satellite registration, and launched online reactivation of voter data for those with deactivated records. – Rappler.com