Former Albay governor Noel Rosal and his wife, newly disqualified mayor of Legazpi City Geraldine Rosal asked their supporters to protest peacefully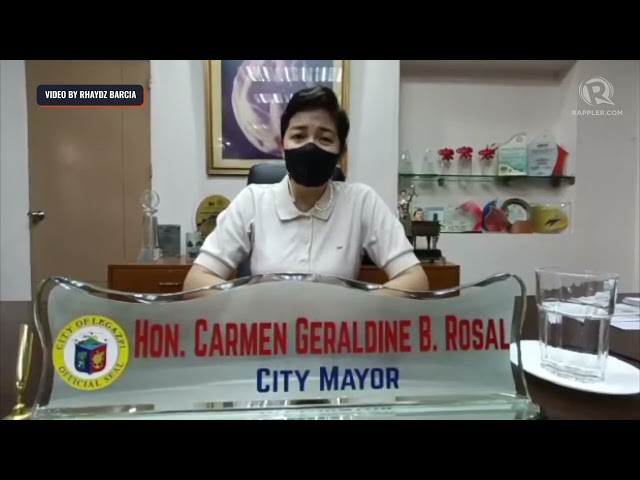 ALBAY, Philippines – Around 1,000 supporters of former Albay governor Noel Rosal and his wife, newly disqualified mayor of Legazpi City Geraldine Rosal, protested in front of the city hall Monday morning, May 8.
The protesters held placards and chanted messages for the Supreme Court to grant a temporary restraining order (TRO) in favor of the Rosal couple while it hears their appeals on the disqualification decisions handed down by the Commission on Elections en banc body.
The Comelec en banc on May 4 unanimously nullified Geraldine's 2022 narrow mayoralty victory over second placer Alfredo Garbin Jr., the former Ako Bicol representative.
It said she violated Section 68 of the Omnibus Election Code by giving money to attract votes.
The Comelec ordered Garbin to take the place of Geraldine.
In contrast in December 2022, Noel was also disqualified by the Comelec, but the election body named Vice Governor Grex Lagman to take over.
The protesters said they had no leader and described the event as their "people power." They came from barangays that supported the Rosals during the last elections.
Legazpi City police chief Lieutenant Colonel Dennis Balla called on the protesters to express their sentiment peacefully. He said that cops will stand by to ensure peace and order in the city.
The Rosal couple also dropped by to talk to the protestters.
The former governor urged their supporters to remain calm and peaceful.
At the same time, the couple stressed that the Comelec decisions stomped on the political will of voters in Legazpi City and Albay province.
In an interview with Rappler, the Geraldine noted what she called the Comelec's changing decision (on succession).
In ordering the loser of the May 2022 elections to assume her post, Geraldine said the poll body trampled on Legazpi residents' "sacred votes".
Geraldine has until Tuesday, May 9, to secure a temporary restraining order from the High Court, Comelec spokesman Rex Laudiangco said on Friday, May 5. – Rappler.com