In the 2019 midterm polls, groups affiliated with the Makabayan bloc, except for one, saw diminished votes. Now, the government wants them disqualified.
(Part 2 of 3)
Christian Ruz has spent most of the past three years taking down tarpaulins all over Baguio City, sometimes even elsewhere in the Cordillera Administrative Region. The routine has proven to be frustrating but very important.
Removing posters tagging Cordillera youth leaders as members and recruiters for the New People's Army (NPA) is just one line in the long list of things he has to do to counter the smear campaign mounted by the government against leftist groups.
Ruz, a national executive vice president of Kabataan, told Rappler that the impact of the discrediting scheme – led by President Rodrigo Duterte himself – not only aims to sway public opinion, but to also to instill a culture of fear among the activists.
The "relative ease" in organizing is gone, replaced by the reluctance of communities and schools to continue engaging with them.
"Even the personalities who used to help in our advocacies now understandably fear for their safety and for their lives. We know that red-tagging is no joke," Ruz said in a mix of English and Filipino.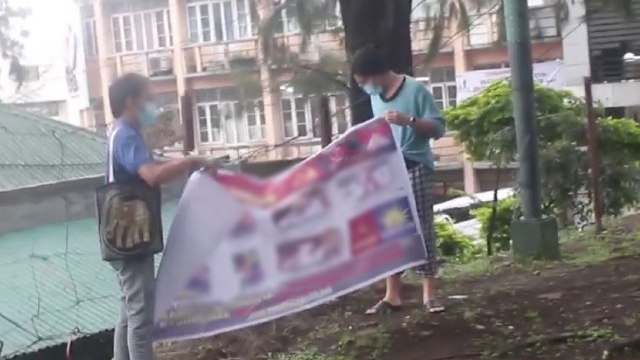 This proves to be a challenge as Kabataan guns again for a seat IN the House of Representatives through the party list in the 2022 elections. The group, admittedly with little resources, banks on organic support among even the non-affiliated public.
"Ang Kabataan heavily relies on the mass movement because the youth are the ones who campaign for us. We exhaust everything, even social media, so we can maximize what's available to us to introduce the group and the youth agenda," he told Rappler.
Legal battle
The red-tagging – both offline and online – go hand-in-hand with attacks against national leaders of the Makabayan bloc, which includes the progressive groups represented in Congress: Bayan Muna, Gabriela Women's Party, ACT Teachers, and Kabataan Partylist.
President Duterte himself has spent parts of his usual late-night speeches attacking the Makabayan bloc. In November 2020, Duterte said they were part of a "grand conspiracy" and were "co-conspirators" of the New People's Army.
Red-tagging had become so common that it was not a surprise the administration would prioritize removing the elected progressive members from the House of Representatives.
The National Task Force to End Local Communist Armed Conflict (NTF-ELCAC) has filed petitions to cancel the registration of Gabriela Women's Party and Kabataan in a bid to prevent them from participating in the May 2022 party-list elections. (READ: Which party-list groups is NTF-ELCAC trying to get disqualified?)
NTF-ELCAC accuses Gabriela, which first joined Congress in 2004, of being a legal front of the Communist Party of the Philippines and receiving foreign funding. The group vehemently denies these.
Kabataan, which first won a congressional seat in 2007, is accused of opening "gates for the recruitment of youths to a declared terrorist organization."
The cases are ongoing, with Kabataan Representative Sarah Elago saying in September 2021 that these are "broader attempts to silence the opposition, and remove all forms of accountability."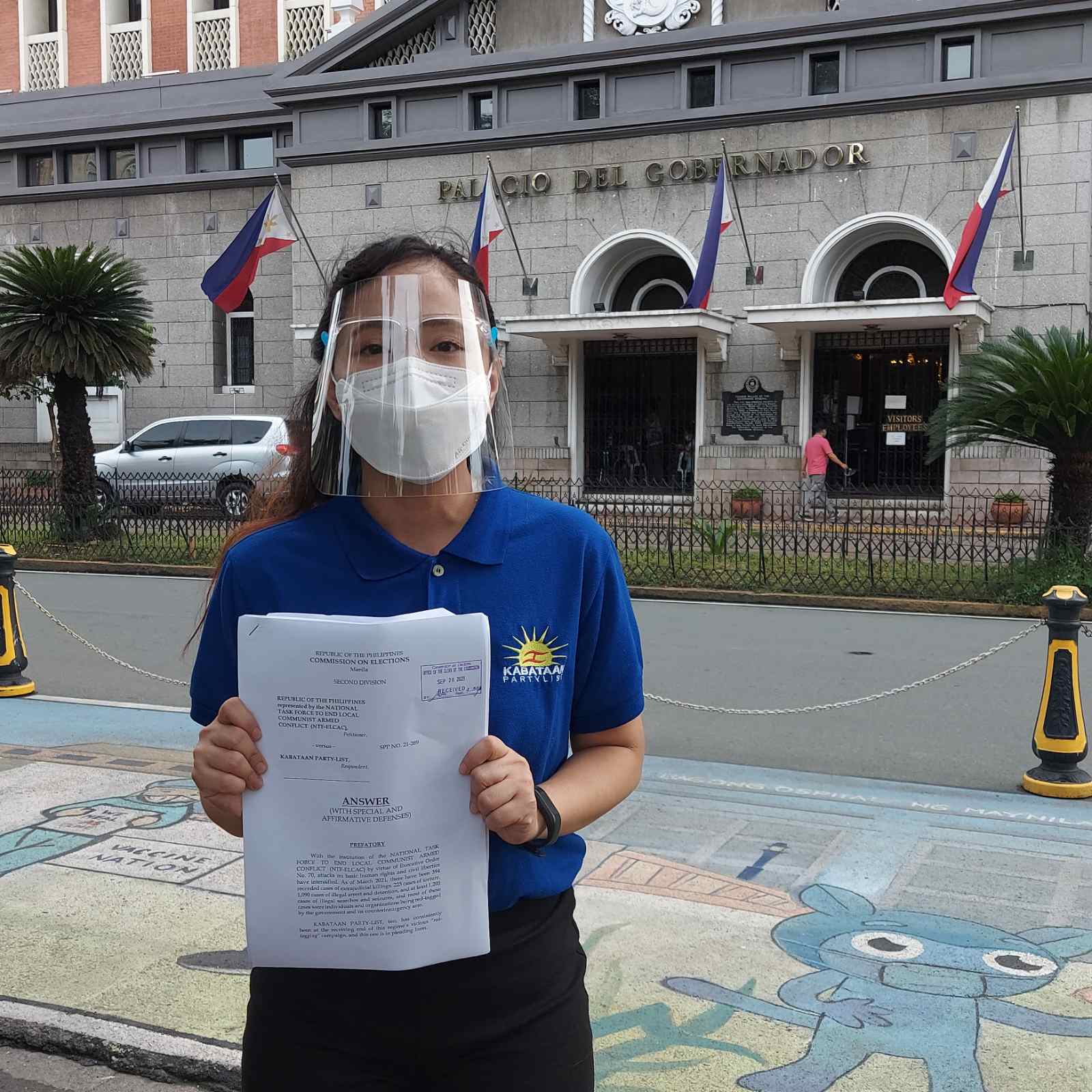 Fighting to survive
The impact of the attacks over the years showed in the results of the 2019 elections.
Only Bayan Muna recorded an increase in votes in 2019. Gabriela, ACT Teachers, and Kabataan, while winning one congressional seat each, recorded lower number of votes compared to the 2016 elections.
The downward trend recently seen for Gabriela and ACT Teachers is the complete opposite of the results between the 2013 and 2016 elections, where the two party-list groups each enjoyed more than half a million increase in votes.
What happened before 2019, especially after Duterte dropped all pretenses of being a progressive president?
In 2018, the government attempted to label hundreds of individuals as terrorists. It also tried to discourage the funders of many progressive organizations by openly tagging them as fronts of the CPP-NPA.
In January 2019, a few months before the elections, police were reportedly profiling members of ACT Teachers. The Commission on Human Rights said this move was already concerning, given the "climate of harassment and threats against progressive and vocal groups."
Then there was the anti-terror law implemented in 2020, which many fear would legitimize the crackdown not just on progressive groups but any person who would dare express dissent against the government.
While these are happening on the ground, the massive online propaganda machine is also working at full speed, with social media pages affiliated with police and military openly perpetuating lies and red-tagging progressive groups and activists.
No less than then-NTF-ELCAC spokesperson Antonio Parlade has used his platform to malign the Makabayan bloc, repeatedly referring to them on Twitter as "Kamatayan Bloc." In August 2020, he said that the anti-terror law "will catch up on" Elago, the representative of Kabataan, for pushing the youth "to be violent and dangerous citizens of this country." (READ: On social media, PH military declares war vs rights defenders)
A Rappler investigation also found that the propaganda war has now put focus on creating an environment that seek to justify and enable attacks against activists, branding them as terrorists.
Lost, strained ties
Progressive groups experienced red-tagging even before Duterte came into power, but they had civil ties back then with some local government units (LGUs), especially in implementing programs for different communities.
Tonet Amorado, spokesperson of Bayan Muna Southern Tagalog, recalled that Anakpawis, one of the Makabayan-affiliated mass organizations, used to have an office just beside a municipal building in Laguna for many years. But because of the increasingly hostile situation, the group was forced to relocate.
In Quezon, meanwhile, Bayan Muna previously had close coordination with one local government unit, which proved to be helpful when they ventured into fact-finding missions in the face of incidents against their colleagues on the ground.
The continued and intensified campaign by the Duterte government has led to strained ties between progressive groups and LGUs, and Amorado said they couldn't blame the local officials.
"Because of the climate of fear, they themselves told us that they don't want to talk in the meantime. We understand them because we ourselves are already scared of harassment, how much more them who are government employees?" Amorado told Rappler in Filipino.
Aside from instilling fear, the government has also employed what they have at their disposable: money.
This comes in the form of NTF-ELCAC's Barangay Development Program, which aims to reward barangays that successfully cleared their jurisdictions of alleged communists.
The funding, amounting to P16 billion, was released to 812 "NPA-free" barangays. The Department of the Interior and Local Government said the program would finance 2,726 projects, including 926 farm-to-market roads, 516 water and sanitation projects, 156 health stations, and 135 school buildings.
But critics hit this as a way of giving incentives for the suppression of dissent or, in many cases, for attacks against activists. It can further heighten the culture of impunity in the regions, they said.
In Davao Region, which got the biggest chunk of the funding at P4.3 billion, at least 56 killings of activists and grassroot organizers had been recorded, as of June 2020.
Caraga, with the second highest funding at P3.82 billion, had 33 deaths in the same period.
Barangays in Bicol, which recorded the highest number of killings at 53, got P980 million from the program.
Calling out lies, opening discussions
RJ Ledesma, Kabataan Party-list chairperson in Negros Occidental, acknowledged that some organizers lay low in the aftermath of crackdown in Western Visayas, which had recorded 53 slain activists. Many prospective members, meanwhile, did not want to be connected with them, fearing reprisal from the government.
In many cases, the dire situation can be traced back to disinformation. In this case, according to Ledesma, persuasion is key.
"We try to educate our members, how to counter propaganda, how to explain to our fellow youth our causes, by highlighting what we do in Congress, and focus on the youth's concern," he said.
Ruz, who has been with Kabataan for almost five years, is more optimistic.
He sees the never-ending attacks against Makabayan-affiliated groups as an opportunity to open and increase the surrounding discourse on social issues.
"We are able to maximize the opportunity for public discussion because, look, people are now discussing what are human rights, what is red-tagging and why it is bad. More people are now curious and want to look into Kabataan and what we are doing and, in return, our detractors do not see anything wrong, but instead see our network and advocacy" Ruz said.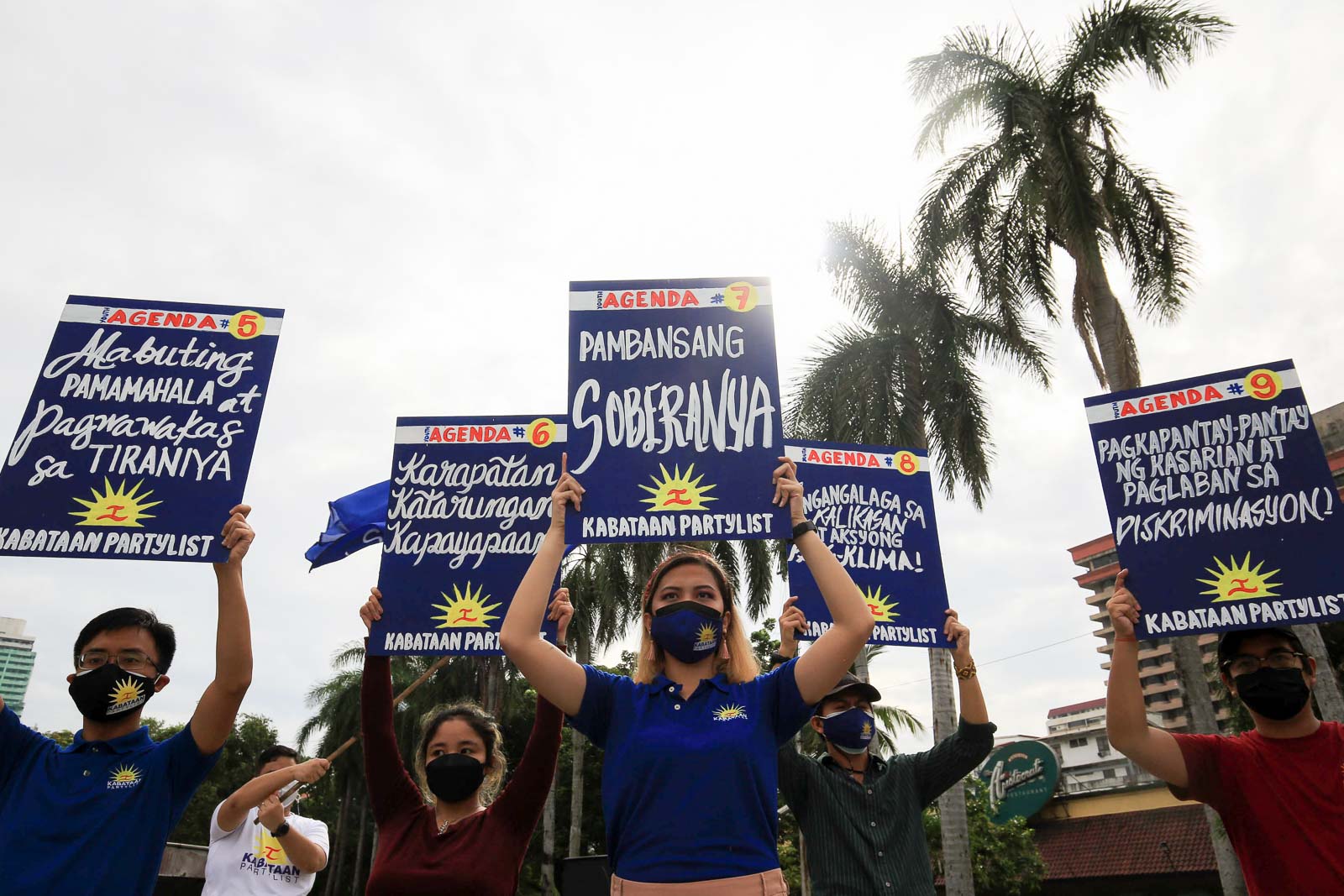 'Huwag maduwag'
The Duterte administration has everything – the power, influence, money, and even the network – to push forward its aim to remove the Makabayan bloc from the House of Representatives.
There is no indication that government allies will stop filing cases against them, while many anti-Left party-list groups have signified intent to join the race. In fact, one nominee of a newly-created group wants to be the voice of the NTF-ELCAC in Congress.
All signs point towards a challenging – and very dangerous – campaign season for the Makabayan bloc. Everything is at stake in the fight to keep their congressional seats amid relentless attacks.
Bicolana Gabriela regional coordinator Nica Ombao knows it all too well. She feels the withdrawal of support of former allies, the effect of dwindling finances, but the public cannot lose an already-small group of dissenters in Congress.
Fear will always be there, she told Rappler, but it is now more important to do whatever it takes to help address the dire situation in the Philippines.
"Mag-ipon ng tapang, mag-ipon ng lakas (Let's gather courage and strength), continue educating yourself on what's happening in our society, so that you have the drive, the knowledge, to continue fighting the numerous atrocities that the Duterte administration is doing to the Filipino people," Ombao said.
"Matakot pero huwag maduduwag (Acknowledge the fear, but don't lose courage)." – Rappler.com