Manila Mayor Isko Moreno also visits tourism workers in Moalboal town during his 'listening tour'
Will he be the chosen one? The Garcia-led One Cebu party is still seriously considering presidential aspirant Isko Moreno for president, the party's secretary general Pablo John "PJ" Garcia told reporters on Friday, November 5.
"We're seriously considering yorme for president," Garcia said, referring to Isko by his other nickname. "[He's the] only presidentiable so far to listen to sectors most affected by the pandemic here."
The Cebu 3rd District representative said that he would not have accompanied Moreno to Dumanjug and Barili – bailiwicks of the Garcia dynasty – if they were not seriously considering him.
"I think he's going in the right direction," Garcia said. "But we won't make a final decision until after the substitution deadline on November 15."
Garcia spoke to reporters at the Cebu provincial capitol building where Moreno briefly chatted with Cebu Governor Gwen Garcia, the head of One Cebu.
Moreno was overheard in the Sugbo News livestream discussing his city's vaccination rollout, while Garcia shared her experience in creating the province's COVID-19 pandemic response.
Garcia praised Moreno's leadership in Manila during the pandemic and said she appreciated his visit to the province, stopping short of giving the mayor an official endorsement.
One Cebu is credited for helping President Rodrigo Duterte secure a victory in Cebu province over his closest rival, former interior secretary Mar Roxas.
At least 1.1 million Cebuanos voted for Duterte, while 600,000 voted for Roxas.
Moreno recognized that securing an endorsement from the party would be a big boost to his candidacy.
"It [One Cebu] was created to unify the entire island," Moreno said in Filipino. "If that is the case, of course, I am hopeful, on the 15th, I will be the chosen one."
He added, "Cebu delivers – and chooses presidents."
Other factors
There are other factors at play. For instance, Garcia's daughter Christina Garcia-Frasco is the spokesperson of Davao City Mayor Sara Duterte. She has visited the province several times despite frequently denying that she has plans to run for president.
Garcia was also photographed raising the hands of presidential aspirant Bongbong Marcos and Sara Duterte when they visited her in Cebu on October 22.
When local reporters asked Sara if that was Garcia's endorsement of a Marcos-Duterte tandem, the Davao mayor said it was actually their endorsement of Garcia's candidacy for reelection.
Aside from President Rodrigo Duterte, former presidents Gloria Macapagal-Arroyo and Benigno Aquino III also won in Cebu in 2004 and 2010, respectively.
As of September 2021, Cebu has 3.2 million registered voters, making it the most vote-rich province in the country.
'Listening tour'
Moreno branded his visit as part of his pre-campaign "listening tour."
President Duterte also called his visits to various provinces to promote federalism before his 2016 campaign a "listening tour."
Moreno's campaign manager Lito Banayo was part of Duterte's campaign team then.
In Barili town, Moreno met with micro, medium, and small entrepreneurs who came from all over Cebu province.
He then went to meet local officials in Dumanjug town, before going to the beach town of Moalboal in southern Cebu to meet with tourism workers affected by the COVID-19 lockdowns.
Tourism sector 'brought to its knees'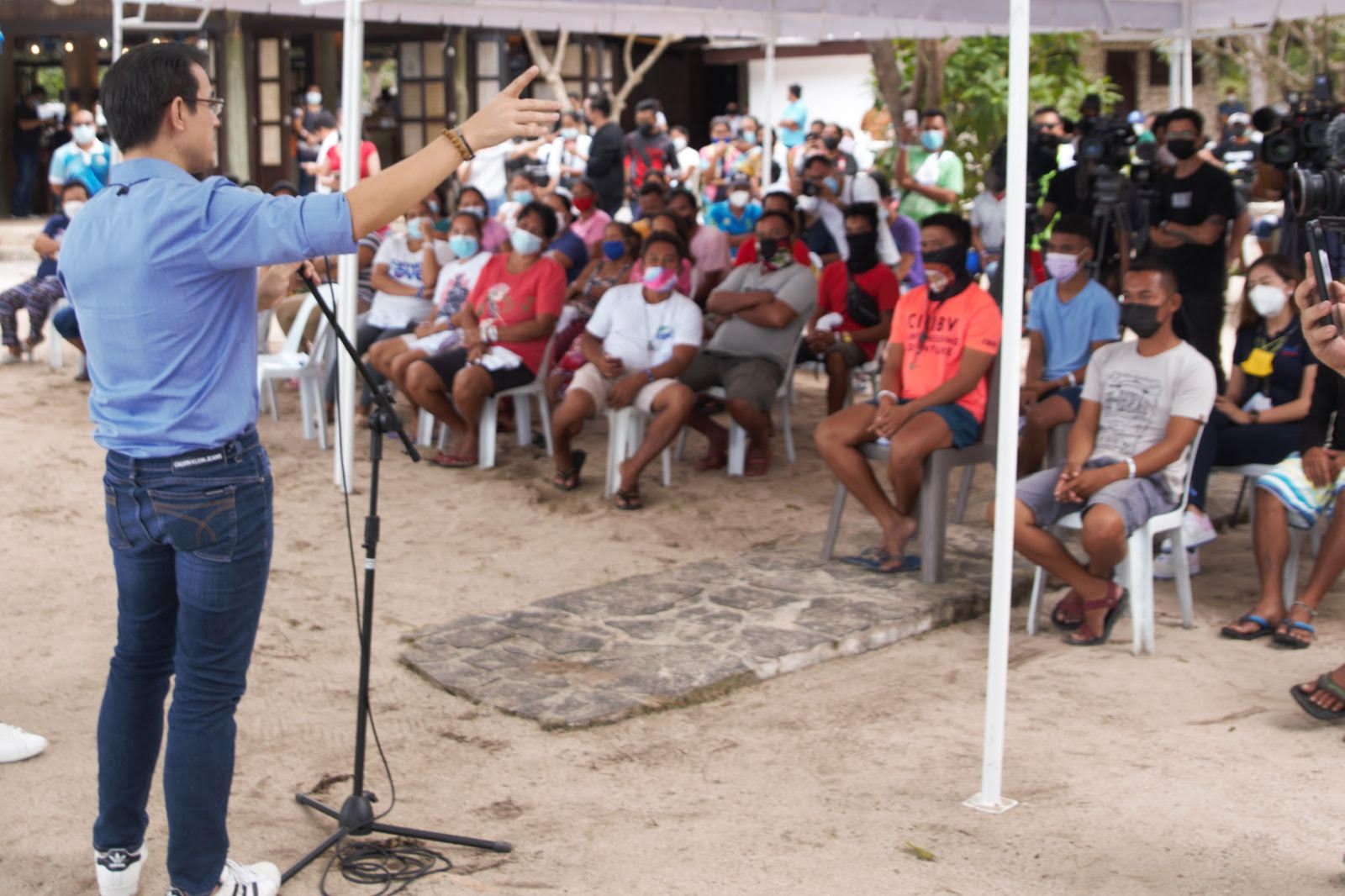 Moreno said he came to speak with the workers to "learn first-hand how the tourism sector here in Moalboal was brought to its knees" and "how it rose up."
"I have come here to observe, listen, look at the Cebu experience and learn from it," Moreno told the tourism workers.
"And this is how it will be should I become president in 2022. All my decisions and plans of action will be determined by a thorough consultation with the people since the welfare of the people will be the heart of my presidency," he added.
Cebu's economy is heavily reliant on tourism.
According to data from the Department of Tourism, 2.86 million of the 8.6 million foreign tourists who visited the Philippines in 2019 – or about 35% – went to Cebu.
The island province's tourism sector was among the hardest hit areas when the coronavirus pandemic prompted lockdowns in the Philippines and all over the world in March 2020.
Moreno told the workers that he would prioritize tourism development if he were elected president to help the sector fast-track its recovery.
"Tourism has contributed 12.7 percent to the country's gross domestic product (GDP) with about 5.4 million Filipinos getting their livelihood from the tourism industry," Moreno said in a separate press statement, citing statistics from the Philippine Statistics Authority.
"Under Moreno's Bilis Kilos 10-Point Agenda for Governance, the building of tourism highways and development of tourism circuits will be prioritized along with the promotion of sustainable tourism and event-based tourism," he added.
Moreno believes that his Bilis Kilos program will increase the number of foreign tourists who come to the Philippines from 8.6 million in 2019 to 24 million by 2028.
"Yorme" will tour other towns in Cebu on Saturday, November 6, before going home. He said he plans to visit other areas like Iloilo, Samar, and northern Mindanao in the coming weeks. – Rappler.com