'Good riddance na lang,' says Ilocos Norte Governor Matthew Marcos Manotoc of Laoag City Mayor Michael Marcos Keon
The Marcos clan has dropped a cousin of Imee and Bongbong Marcos in the race for Laoag City mayor, as they backed incumbent Vice Mayor Vicentito "Tito" Lazo for the post.
On Thursday, October 7, the local "Team Marcos" led by Ilocos Norte Governor Matthew Marcos Manotoc endorsed Lazo for mayor of Laoag City instead of Laoag City Michael Marcos Keon, who is seeking reelection. 
The 67-year-old Keon won the post in 2019 through the backing of the Marcoses, ending the Fariñas family's control of the city. A former sportsman and son of Elizabeth, sister of the late dictator Ferdinand Marcos, Keon has always been seen as an outsider, however, and his ties with his cousins have been tenuous. 
In fact in 2010, he ran against Imee Marcos for the gubernatorial post and was defeated. 
City residents said Keon and Lazo, his vice mayor, often fought over projects and policies.
The disarray at City Hall leaves it open for a Farînas comeback. Former city mayor Chevylle Fariñas filed her certificate of candidacy for mayor on Thursday.
Did the Marcoses drop Keon or did Keon drop them?
The Marcoses said it was Keon who dropped them when he filed his COC on Wednesday, October 6, as an independent candidate. The Marcoses are running under the Nacionalista Party. 
"[It's] unfortunate that things had turned out like this and I wish at the very least he would have paid us the courtesy of informing us first (of his decision to run)," according to Governor Marcos.
When asked if the conflict could still be fixed, he said:  "I think there is no [need] to talk about if he acts like that."
"Good riddance na lang," he added.
Even presidential aspirant Bongbong said on Thursday that he was surprised by the decision of his cousin to run as an independent, saying, "nagsarili siya at umalis sa group namin. I don't know why he did that because maganda na ang usapan namin sa eleksyon."
But Bongbong said, "It's already there so I think we just have to deal with it."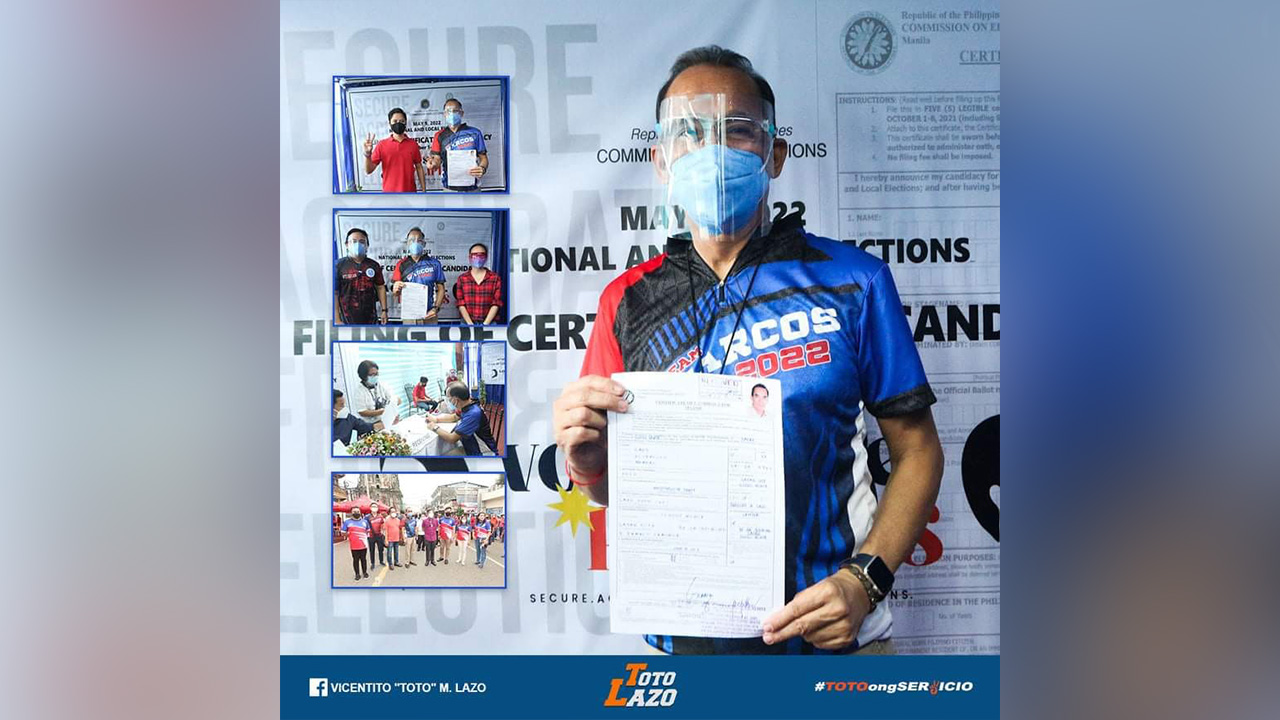 In a statement, Lazo said that he felt "honored and humbled" by the Marcoses' trust in him.
Lazo is a longtime politician in Laoag with previous unsuccessful runs against the Fariñases.
Ilocos Norte's other kingpin, former governor and ex-congressman Rodolfo Fariñas said his family will "win back" Laoag. His daughter Ria is also running against Ferdinand Alexander "Sandro" Marcos, Bongong's son, in the 1st district of Ilocos Norte. – Rappler.com