(1st UPDATE) The groups would go as far as saying the 1997 Court of Appeals verdict that removed imprisonment vs Bongbong Marcos was 'void ab initio'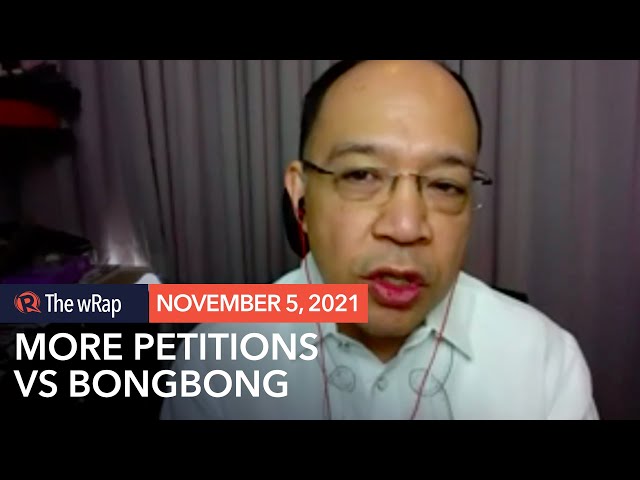 More groups will file petitions before the Commission on Elections (Comelec) to try and stop the candidacy of presidential aspirant Ferdinand "Bongbong" Marcos Jr.
Lawyer Howard Calleja announced this in a news conference on Friday, November 5, alongside prospective petitioners Rommel Bautista and civic leader Carol Araullo. Calleja said he will be assisting the petitioners in his personal legal capacity and not as a convenor of 1Sambayan, the coalition that's supporting the candidacy of Vice President Leni Robredo.
While Marcos has been able to run and win for as high as senator before, and was allowed to run for vice president, Calleja said: "Even if he ran before, that doesn't validate that he can run now. Maybe truly, like me, I did not know of this issue [before]."
But Calleja said the groups have not finalized yet if they would file a petition for disqualification. What is sure, Calleja said, is they would file a motion to intervene in the petition to cancel Marcos' certificate of candidacy (COC) filed earlier this week by a group of civic leaders represented by Ted Te, former Supreme Court spokesperson.
"We'll decide on that over the weekend, and file it on Monday or Tuesday at the latest," said Calleja.
Petition to cancel COC's exclusive ground is misrepresentation in the document, and the deadline to file lapsed on November 2. Petition for Disqualification has many grounds, and its deadline is any day before the proclamation. Lente's Izah Katrina Reyes said a petition for disqualification can be filed now and that there is "no need to wait for final list of candidates."
The pertinent difference between the two is that if Marcos' COC is canceled, no one can substitute him, but if Marcos is disqualified, substitution is still possible.
"Agree, because the ground for cancelation is different – it's material representation, what you put in the COC, what you swore under oath to was wrong," Calleja said in a mix of English and Filipino.
Marcos is 'cool, calm'
Marcos' lawyer Vic Rodriguez said Bongbong "is in his usual cool, calm, collected and cerebral self" as he faces these petitions that their camp calls "gutter politics by yelow wannabe political assassins."
Rodriguez didn't answer when Marcos paid the fines, and how much the interests and surcharges reached.
"We will file our answer and in the answer, all our legal arguments will be there," said Rodriguez.
Rodriguez said "withdrawal is never on the table."
"[Marcos] is running for president and the support of the people every day is becoming more pronounced and in fact, the people answer for Bongbong Marcos and they're the ones saying, leave Bongbong alone," Rodriguez said in a mix of English and Filipino.
'Void ab initio'?
The petition to cancel Marcos' COC, which the Calleja groups will seek to join, framed their case on grounds of disqualification – that the son of the ousted dictator had supposedly been deemed ineligible to run for public office because of a conviction to file income tax returns (ITRs) in 1997, made final in 2001. That Marcos said in his COC that he was eligible was the misrepresentation, said the petition.
Was he really ineligible? That's the legal debate, because Section 12 of the Omnibus election code disqualifies a person who has been "sentenced to a penalty of more than eighteen months or for a crime involving moral turpitude."
However, the Court of Appeals (CA) in 1997 acquitted Marcos of failing to pay tax, but convicted him of failing to file ITRs from 1982-1985. The CA did not impose a penalty of imprisonment, just P36,000 fines, so that removes the disqualification ground of having been sentenced to more than 18 months.
Calleja, as well as the earlier petition, said it was wrong for the CA to remove imprisonment because the tax code says tax convicts of any kind should be penalized by both fines and imprisonments.
Can the CA ruling be changed? The principle of immutability of judgment, or the rule of not altering judgments which had become final, does not apply if the ruling was null and void, or more popularly known now as "void ab initio," said Calleja.
Section 12 also says the disqualifying incompetence would be "removed after the expiration of a period of five years from his service of sentence."
"There is no sentence to be served because it's void ab initio," said Calleja.
But should a case to declare the CA ruling void ab initio be a different process?
"It would be included in our motion to intervene [in the Comelec], it will be part of the issues included in the case," said Calleja, adding that it's also a matter of practicality because there are only seven months to go until the elections.
Is Comelec even the proper body to determine errors in court judgments?
"Of course that will go up to the Supreme Court because for example if we petitioners are not happy with the decision of the Comelec we will go to the Supreme Court, in the same light as if the camp of Marcos is not happy, they will also go to the Supreme Court. Eventually, the Supreme Court will decide that," said Calleja.
Wouldn't a void ab initio route be going by the Duterte playbook? President Rodrigo Duterte made this legal option notorious against critic and senatorial candidate Antonio Trillanes IV. The efforts failed because of the principle of immutability of judgment.
"True, that's also a possible legal option but as I said we are in an election, if we don't include it then it won't be heard. We need to study carefully, so it would be prudent to include it," said Calleja in a mix of English and Filipino.
Has Marcos been actually disqualified?
Another argument of the petition to cancel COC is that the tax code says if the offender is a public official, he is perpetually disqualified from running for public office. This alone disqualifies Marcos, said the groups.
This perpetual disqualification was not mentioned in the 1997 CA ruling, however. The provisions of disqualification were also added only in the 1985 and the 1997 amendments of the tax code. Marcos was charged in 1991 under the 1977 tax code. Do the amendments apply to him, or are penal laws not retroactive?
"[The amendments] were implemented starting January 1986. When do we pay tax? April 15 of the next year, so his 1985 taxes should be paid April 15, 1986. So if he didn't pay April 15, that's a violation of the tax code. He's caught under the 1986 tax code," said Calleja.
At the very least, Calleja said, the amended tax code applies to his non-filing of ITR in 1985.
Araullo said the issue is as simple as demanding the highest integrity and accountability from those seeking to be president.
"Kahit paano natin bali-baliktarin, mahalagang pamantayan o standard sa kahit na sinong manungkulan lalo na sa mataas na posisyon sa pamahalaan 'yung pamantayan na hindi ka sinungaling at hindi ka magnanakaw. At the end of the day, 'yan ang pinag-uusapan natin," said Araullo.
(No matter where we look at it, it's an important standard for anyone who wants to serve especially in high government positions, that you are not a liar and you are not a thief. At the end of the day, that's what we're talking about.)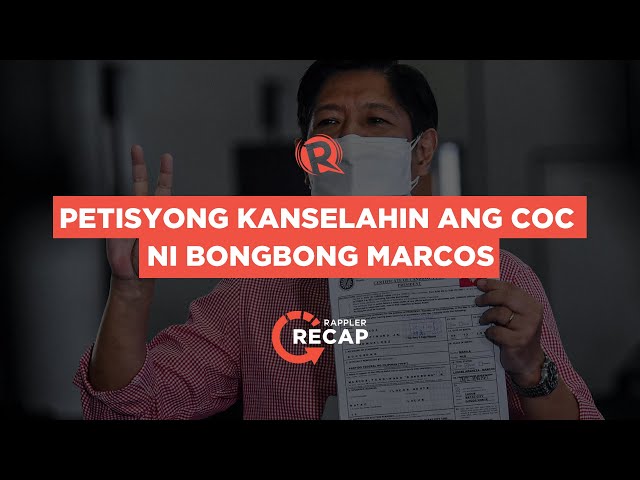 – With a report from Dwight De Leon/Rappler.com