Diokno switches to a new party from LP. Colmenares is still Makabayan's bet to be its first-ever representative in the Senate.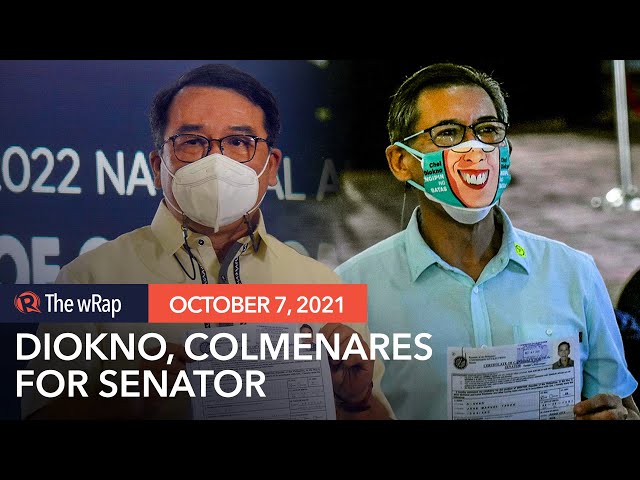 Veteran human rights lawyers Chel Diokno and Neri Colmenares, belonging to different factions of the opposition, filed on Thursday, October 7, their certificates of candidacy (COC) for the 2022 Senate race.
Both will be seeking to redeem their losses in the 2019 midterm elections, where not a single opposition candidate won a seat in the 12 open slots for the Senate.
Diokno, who ran in 2019 under the Liberal Party, will run this time under the one-year-old Katipunan ng Nagkakaisang Pilipino (KANP). Diokno took his oath as member of KANP only on Thursday morning before he made his way to the Sofitel tent in Pasay to file his COC.
Diokno is still being endorsed by the LP
Colmenares, chairman of the progressive Bayan Muna party list and its former representative in the lower house, will still be the Makabayan coalition's bet for the Senate.
This is Colmenares' third Senate bid, as Makabayan tries to send for the first time a representative to the upper chamber since joining mainstream politics.
The career trajectory of both men are very similar – Diokno is chairman of the Free Legal Assistance Group (FLAG) and Colmenares of the National Union of Peoples' Lawyers (NUPL).
They are both counsels to two of the 37 petitions against the anti-terror law. Both argued before the Supreme Court, which has yet to decide on Duterte's contentious law that is feared to target any form of dissent.
Diokno's FLAG is one of the two petitioners in the Supreme Court case against the constitutionality of Duterte's drug war, while NUPL represents the drug war victims who sent communications to the International Criminal Court (ICC).
Diokno ranked 21st in the 2019 midterm elections, while Colmenares ranked 24th.
Diokno is the son of Philippine human rights icon, the late senator Jose W. Diokno who fought the dictatorship of Ferdinand Marcos. Colmenares was among the thousands of political prisoners during Marcos' Martial Law. – Rappler.com