(1ST UPDATE) 'Marcos is not eligible to run for any public office as he is, plainly, a convicted criminal,' say the petitioners. The Marcos camp calls it a 'predictable nuisance petition.'
Civic leaders filed with the Commission on Elections (Comelec) on Tuesday, November 2, a petition to deny due course or to cancel the certificate of candidacy (COC) of presidential aspirant Ferdinand "Bongbong" Marcos Jr, son of the late dictator Ferdinand Marcos.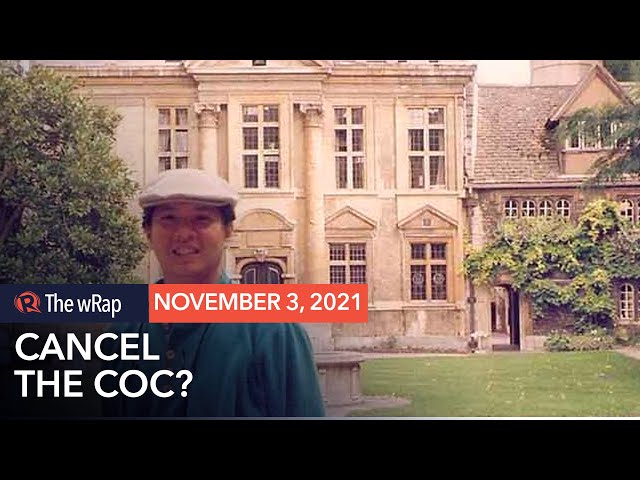 "Marcos falsified his certificate of candidacy when he claimed that he was eligible to be a candidate for president of the Philippines in the 2022 national elections when in fact he is disqualified from doing so. Petitioners claim that Marcos is not eligible to run for any public office as he is, plainly, a convicted criminal," said the petitioners in a statement sent Tuesday night.
They were referring to a 1997 conviction of Marcos for failure to pay income tax returns (ITRs) from 1982 to 1984 – during the time he was vice governor and later governor of Ilocos Norte.
Vic Rodriguez, Marcos' spokesperson, called it a "predictable nuisance petition" which they will "address at the proper time and forum."
"Until then, we will refrain from commenting on their propaganda. Our camp does not engage in gutter politics. Our campaign is about nation building," Rodriguez said in a statement on Wednesday, November 3.
The exclusive ground for a petition to cancel COC, according to Comelec's Rule 23, is "any material representation contained therein as required by law is false." The deadline to file a petition to cancel COC was Tuesday.
Supposed ineligibility to run based on prior conviction is a ground for disqualification, which is another process with different requirements under Rule 25. The petition is framed this way: Marcos committed misrepresentation when he said in his COC he was eligible to run, when supposedly he is not because of his conviction.
The petition said that Marcos also misrepresented when he ticked the box of "no" in the COC section that asked "if he has ever been found liable for any offense which carries the accessory penalty of perpetual disqualification from office."
The 1997 Court of Appeals conviction did not impose any prison time but merely imposed P36,000 fines. But the petitioners cite the 1985 Presidential Decree No. 1994, which amended the 1977 tax code upon which Marcos was convicted.
The amended law said if the offender of the law is a public official, he shall be perpetually disqualified from holding any public office. The petition also made the argument that failure to file ITRs for multiple years is a crime of moral turpitude. The election code disqualifies a person who has been convicted of a crime of moral turpitude.
But Comelec's Rule 23 says "A Petition to Deny Due Course to or Cancel Certificate of Candidacy invoking grounds other than those stated above or grounds for disqualification, or combining grounds for a separate remedy, shall be summarily dismissed."
A petition for disqualification can be filed "any day after the last day for filing of certificates of candidacy, but not later than the date of proclamation."
The petitioners were Father Christian Buenafe of the Task Force Detainees; Fides Lim of prison group Kapatid, whose husband Vicente Ladlad is a martial law victim; Ma Edeliza Hernandez of the Medical Action Group; Celia Lagman Sevilla of the Families of Victims of Involuntary Disappearance; Roland Vibal of the Philippine Alliance of Human Rights; and Josephine Lascano of the Balay Rehabilitation Center.
Their lawyer is Ted Te, a human rights lawyer from the Free Legal Assistance Group and former spokesperson of the Supreme Court.
1997 conviction
In 1995, the Quezon City Regional Trial Court convicted Marcos for failure to pay income taxes and failure to file ITRs from 1982 to 1984, and failure to pay income tax for 1985, or during the time he was vice governor and then governor of Ilocos Norte. The trial court imposed prison times for each of the offenses, the gravest of which was three years for failure to pay income tax in 1985.
The Court of Appeals (CA) Special Third Division, however, modified the ruling in 1997. It acquitted Marcos of all charges of failure to pay income taxes and sustained the guilt for failure to file ITRs. The CA also removed prison time for the conviction and imposed a P30,000 fine with surcharge.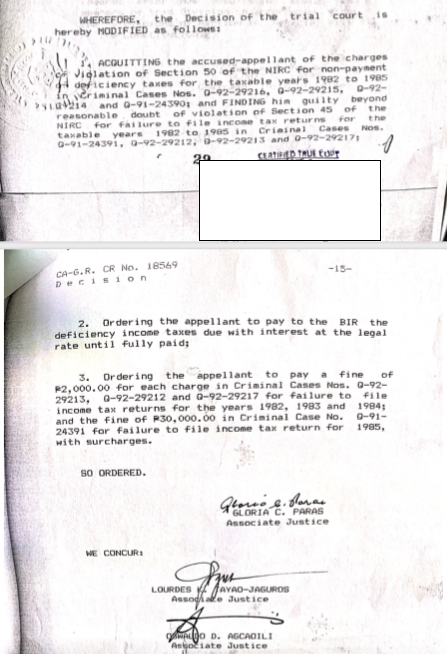 The 57-page petition outlined the history of human rights abuses during Martial Law, the economic slump suffered under the dictatorship, and the rampant corruption that happened under Marcos' father.
The petitioners claimed that aside from Marcos' conviction for failure to pay ITRs – which amount to roughly P5,846 according to court records for his government salaries as governor and vice governor from 1982-1984 –the Marcos family also accumulated P23.293 billion in estate tax.
"To date, there is no showing that the Marcos heirs have paid the estate tax. Furthermore, petitioners have not seen any document that will show Marcos Jr's filing of an estate tax return and proper payment of taxes on the estate of his father, who holds the Guiness World Records title for 'Greatest Robbery of a Government,'" said the petition.
The petition said if you add the interests, surcharges, and other penalties, the estate tax would amount to P203.8 billion.
"This massive P203.8 billion is the Filipino peoples' hard-earned money lost," said the petition.
Petitioners argued further that Marcos' "continuous refusal" to pay this massive estate tax, and his prior conviction, is a "repeated evasion of his positive duty to the society," and that this "equates to moral turpitude. – Rappler.com