Vice President Leni Robredo says she doesn't want Bongbong Marcos to become president just because the opposition could not unite in 2022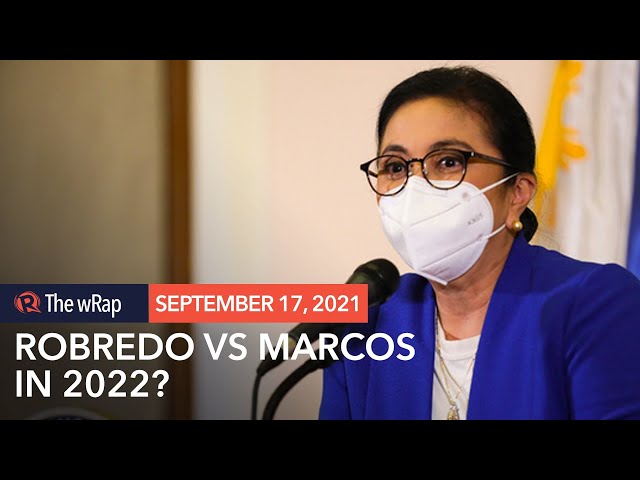 The possibility of seeing the return of the Marcoses to Malacañang is so unacceptable for Philippine Vice President Leni Robredo that it might just be the deciding point for her presidential bid in the high-stakes 2022 elections.
In an interview with reporters in San Fernando, Pampanga, on Friday, September 17, the opposition leader said two things would make her finalize her 2022 run: being chosen as the standard-bearer of a united opposition or the presidential bid of her rival and the late dictator Ferdinand Marcos's son, Bongbong.
Ferdinand "Bongbong" Marcos Jr is the bitter rival of Robredo, who beat him in the 2016 vice presidential race. He once again lost to the Vice President in February 2021 when the Supreme Court unanimously junked his election case against Robredo.
"Kung one-on-one na Bongbong Marcos tsaka ako, laban ako. 'Yung kung kahit sino ang kalaban, basta ako 'yung pipiliin ng anti-admin forces, laban ako," said Robredo.
(If it's down to a one-on-one fight between Bongbong Marcos and I, I would fight. Regardless of the opponent, if I would be the one chosen by the anti-admin forces, I would fight.)
"Oo, laban ako. Alam kong walang-wala akong resources, pero 'pag siya ang kalaban, laban ako. Ang ayoko lang na mananalo siya kasi naghiwa-hiwalay kami [sa oposisyon]," the Vice President.
(Yes, I would fight. I know I really don't have the resources, but if he is going to be my opponent, I will go for it. I don't want him to win just because we in the opposition were fragmented.)
With this statement, Robredo has made it clear that her efforts to build a broad opposition coalition is not just about stopping the authoritarian regime of President Rodrigo Duterte from persisting in 2022.
The Vice President wants a united opposition so they could also prevent the scion of former president Ferdinand Marcos from revising history.
Robredo is still discerning if she would run for president in 2022. Despite her stellar pandemic response programs, she continues to lag behind in pre-election surveys.
The same polls, however, still indicate Robredo to be the most viable candidate for the anti-Duterte forces in 2022.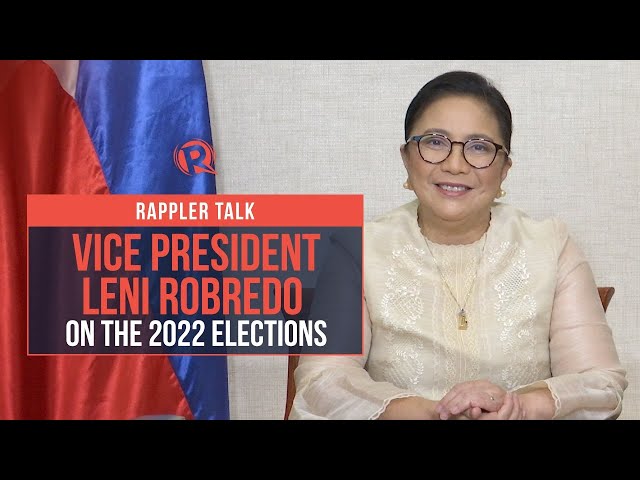 Marcos has already confirmed he is eyeing a possible presidential bid in 2022.
He has spent the past weeks going around cities and towns to give assistance to residents, boosted his social media presence on all platforms, and has been granting media interviews left and right.
Marcos recently grabbed headlines after he once again lied about the atrocities committed under his father's Martial Law in an interview with celebrity Toni Gonzaga. Marcos is Gonzaga's godfather in her wedding.
The 21-year rule of the Marcos patriarch was said to be the darkest chapter in the post-colonial Philippines, with his dictatorship notorious for widespread corruption, killings, torture, disappearances, and oppression of the media.
The late dictator was ousted during the 1986 EDSA People Power Revolution. But years later, members of the Marcos clan have successfully returned to Philippine politics.
Robredo to Moreno, Pacquiao: Decide what's best for PH
Robredo also confirmed on Friday she has plans to meet with both Manila Mayor Isko Moreno and Senator Manny Pacquiao, two other potential contenders for the presidency in 2022.
The Vice President earlier held separate meetings with the two, but the planned gathering with the three of them together has yet to push through.
Robredo hinted about the difficulties they are encountering on the negotiation table. A united opposition in 2022, after all, would mean two of them would have to give way so that the opposition only has one presidential bet.
Robredo's appeal to Moreno and Pacquiao? That they decide what's best for the country, not themselves.
"Naiintindihan ko 'yung gaano kahirap kasi 'yun nga, sinasabi ko nga, hindi kasi kami pare-pareho ng partido. Talagang iyong ideal, hindi mo maa-achieve na madali," Robredo said.
(I know how difficult this must be because, as I've said, we do not come from the same party. It would be hard to achieve the ideal situation here.)
"Pero ang sa akin, 'yung hope ko lang ngayon na sana, lahat kami magde-decide hindi to protect ourselves, hindi to protect our groups, pero kung ano 'yung pinaka-best formula para sa bayan natin," said the Vice President.
(But for me, my only hope for now is that we would all decide not to protect ourselves, not to protect our groups, but to come up with the best formula for the country.)
Robredo has long been saying the opposition must field only one standard-bearer in 2022; otherwise, multiple opposition candidates would split the vote and hand over the victory to either the Duterte or Marcos forces.
The stakes are so high that the Vice President is entertaining the possibility that the opposition's best bet in 2022 may not even be her.
The clock is ticking, however. The filing of candidacies is already set on October 1 to 8. – Rappler.com