Even after one corner of the online and offline world had been painted green – it was a man in a green shirt and red jacket who ultimately showed up
On Thursday night, October 7, a corner of the Internet – where a closed fist is a rallying cry and where there were no trace of pink (or fuchsia) to be found – began to rise from a day-long slumber.
Facebook feeds started to be dominated by swatches of green, with posters urging supporters to "wear a green T-shirt tomorrow…from 8 am to 5 pm" in a bid to "support Mayor Sara Duterte run for President."
Another poster was more certain – the words "molupad na ang agila (the eagle is about to fly)!" over images of Sara, the Philippine flag, and the Philippine map.
And so on Friday, October 8, the last day of the filing of certificates of candidacies (COCs) for national posts in the coming elections, supporters of Sara, President Rodrigo Duterte's choice to run for president in 2022, waited.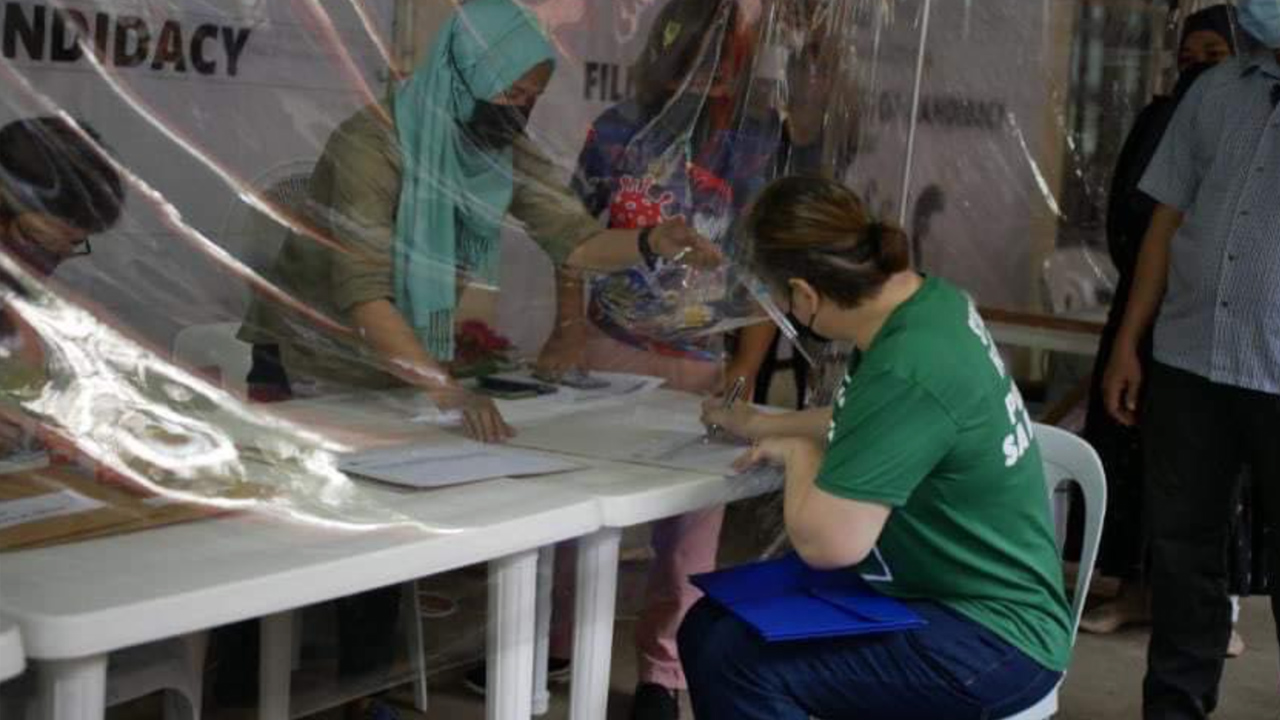 There was talk that the President's daughter was already in Manila. Photos of the Davao mayor – grainy, but good enough – supposedly taken at the nearby Manila Hotel made their rounds online. It's hard to say if these photos were genuine, but when emotions are high and the situation is tense, it's easy to believe that whatever you see on Twitter is true.
A few minutes before 4 pm, with less than an hour to go before COC filing officially ended, PDP-Laban secretary general Melvin Matibag sent to the media a picture of a man in a green shirt holding up a COC for president under the ruling party.
As promised, PDP-Laban did have a standard-bearer by October 8. But it was someone nobody expected: Duterte's trusted soldier, police chief-turned-senator Ronald dela Rosa.
The eagle might have flown but she was nowhere to be found in Manila.
Sara's decision
To casual observers, it would seem odd that supporters would hope – up until the very last hour – for Sara to run for president. She had, in many different ways, turned down invitations to run for president.
On September 9, a month before filing began, Sara said she would not be running for a national post if her father ran too. At that time, her father had been nominated to be the ruling party's vice presidential candidate.
When the older Duterte surprised the public by announcing his "retirement" from politics and fielding long-time aide Senator Bong Go for vice president instead, Sara responded by quietly heading to the Davao City Commission on Elections (Comelec) office and filing her candidacy for mayor.
Suddenly, PDP-Laban was without a presidential candidate. Go had been nominated by the party to be its presidential candidate twice – a nomination he also declined twice.
So it was back to "square one" for the PDP-Laban faction backed by Duterte and led by Energy Secretary Alfonso Cusi. Two days later, on October 4, despite PDP-Laban leadership floating her name as their standard-bearer, Sara made it clear: She wasn't interested.
"Mayor Sara Duterte has already filed her certificate of candidacy for Mayor. Not being a member of PDP-Laban, she is not privy to the party's sudden change of plans. Mayor Sara has no intention of becoming a member of PDP or of being its standard-bearer now or in the near future," she said via Liloan Mayor Christa Frasco, Sara's spokesperson.
On October 8, a little after noon, Sara again said that she was "presenting [herself] to the Dabawenyos as mayor for the third and last time in [her] life as a politician."
"I call on everyone to work together for an honest, orderly, and credible election in May 2022," she added.
So why was everyone still expecting to see her at the Sofitel tent?
Supporters call it the Duterte play. Detractors call it an old, tired game. At best, it's a political drama. For the rest, it's called lying.
In 2015, despite the clamor to run as president, Duterte was in Davao City as the deadline to file his candidacy for president passed. But a little over a month later, Duterte withdrew his candidacy for mayor and took the place of Martin Diño as PDP-Laban standard-bearer.
He would, of course, win the presidential election.
Deja vu all over again
For Rappler columnist and editorial consultant John Nery, it's all drama – and that's not necessarily a good thing.
"It's extraordinary, what's happening to the ruling coalition. It's the first time ever that there's no real candidate for the ruling party. They've been trying to get someone to run for PDP-Laban," he said in the October 8 episode of In The Running, Rappler's daily wrap of the COC filing week.
There's also a question of what's underneath all the political theater. "The problem is, we've seen this before. What's left, just drama? Drama is their only platform…. This is it, that's all they can offer?" he added.
Thus far, Sara seems adamant about her earlier pronouncements: She won't be joining PDP-Laban, she won't be the party's standard-bearer, and she'll be gunning for her third and last consecutive term as Davao mayor.
But even as Dela Rosa insisted that he's not a placeholder candidate, he said "eh 'di maganda (it would be good)" if Sara ultimately decides to run for president and sub for him. Dela Rosa said the party had "long decided" to field him – never mind that five days earlier, Cusi himself said it was "back to square one."
Dela Rosa's outfit choice was also, well, a choice – under his red PDP-Laban jacket, he wore a green Hugpong ng Pagbabago (HNP) shirt. HNP is the regional party Sara founded in 2018.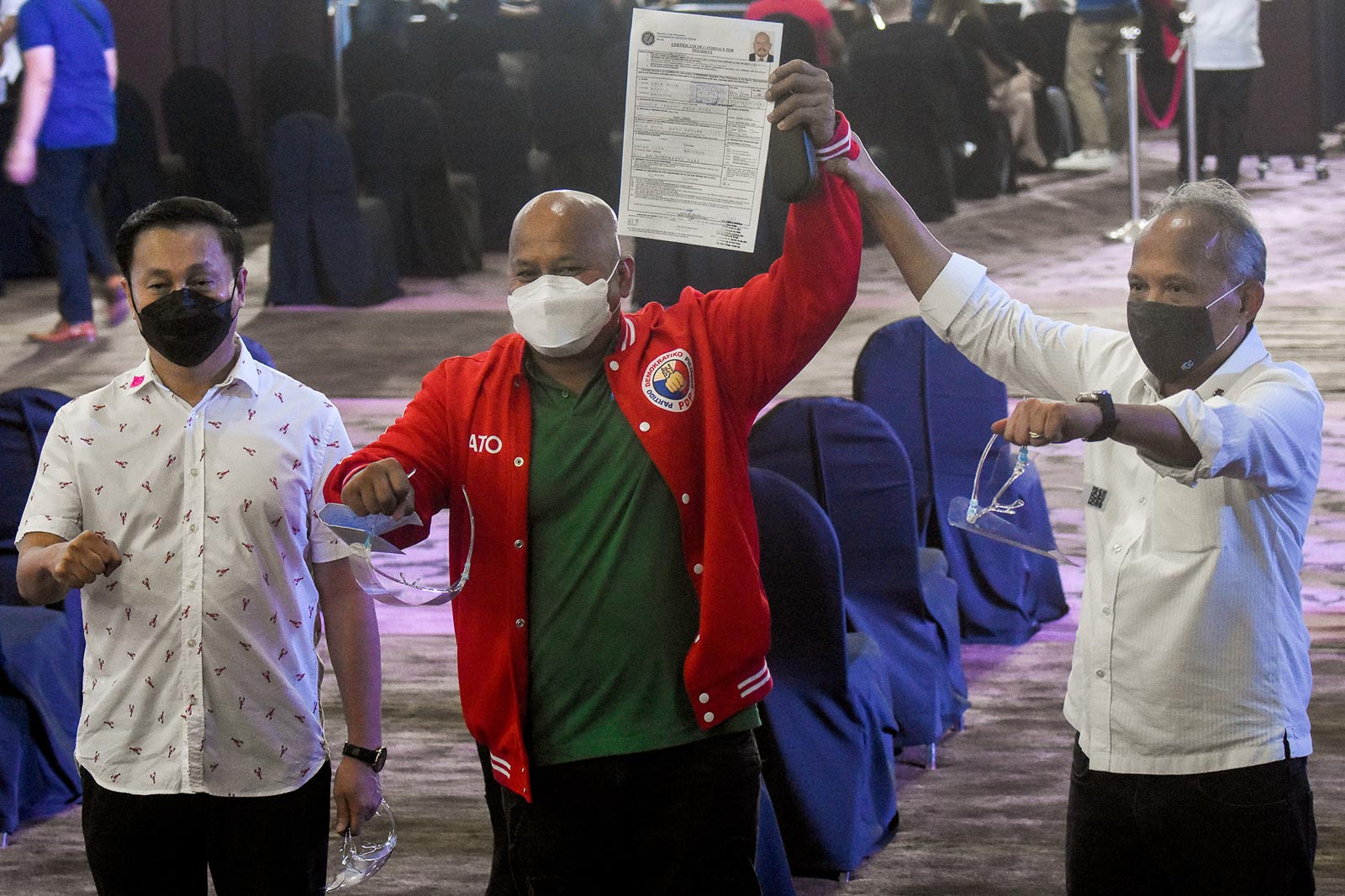 The confusion could be a ploy to throw off rivals or it could be a huge miscalculation.
Rappler regional coordinator Inday Espina-Varona pointed out that allies in the provinces – crucial in winning any national election – "will back whoever they think has chances of winning midway in the elections." While Sara is leading early presidential preference surveys, her reluctance and outright no could lead to a shift in those numbers.
For the other PDP-Laban faction, led by presidential candidate Senator Manny Pacquiao and Senator Koko Pimentel, a substitution was the plan.
They had long suspected that the Cusi faction wasn't actually keen on fielding Go and that they had another presidential candidate in mind.
The Cusi faction itself has not responded to questions about Dela Rosa being a possible substitute. Queries made to the official media group have been left unanswered as of posting. This story will be updated once they respond.
No means?
When Go, then known solely as a Duterte aide, filed for the future president's candidacy for mayor in 2015, he wore a shirt that was as on-the-nose as could be.
"No is no," read the back. "Sinabi ko na ayaw ko, ang titigas ng ulo 'nyo – Rody Duterte (I told you I don't want to, you're all so stubborn – Rody Duterte)." Of course, we'd found out later that "no" actually meant "yes, but you'll have to wait."
Even on the night of Friday, October 8, speculation over negotiations – both ongoing and forthcoming – continued. As far as many deal-makers and supporters are concerned, there is still no reason to waive the white flag.
The electorate – Sara's supporters, doubters, and detractors – will have to wait until November 15, 2021 to find out if "no" to Sara means the same as it does to everyone else or if the entire saga in the first week of October is just another chapter in the Duterte playbook. – Rappler.com