On All Saints' Day, senatorial bet Samira Gutoc says the government should take better care of people who remain missing due to conflicts or disasters, and those who can't afford a proper burial for their loved ones
As the country commemorated All Saints' Day on Monday, November 1, senatorial aspirant Samira Gutoc reminded the public of the unspeakable grief of families with loved ones who are still missing from conflicts and disasters, including the COVID-19 crisis.
Gutoc, who hails from war-torn Marawi City, said that if elected senator, she would push for a law that would institutionalize and systematize how authorities would keep tabs on missing persons and ensure the proper treatment of remains of victims of conflicts and disasters.
"It's hard to describe the grief of our countrymen who lost loved ones during a period of crisis and pandemic. I have been witness to the sorrow of Filipinos orphaned by the Marawi and Zamboanga siege, and now, COVID-19," Gutoc told Rappler on Monday.
"It's okay maybe for people who can afford the casket, but for many people who can't find their loved ones or who have no money, this day is the worst day of their life," added Gutoc, who is running for senator under Aksyon Demokratiko.
She said the government lacks programs on how to help find and keep records of missing persons, or assist families who have experienced the death of loved ones during crisis situations.
To address this gap, Gutoc said she would craft a bill for the "proper management of the missing and dead" during conflicts, disasters, and crises.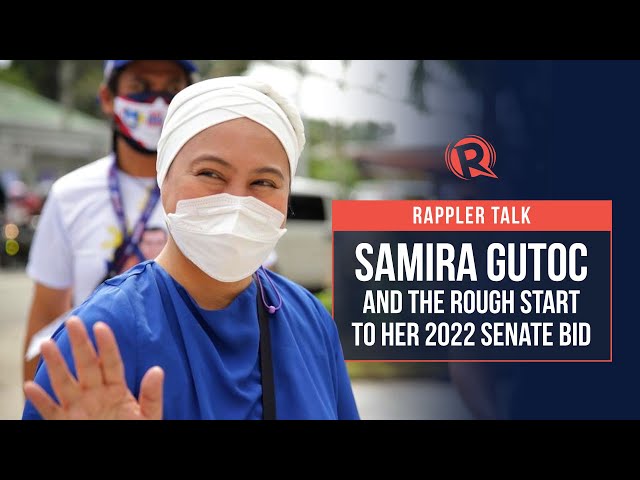 Dignity of the dead
The legislation could create a division or bureau within an entity like a disaster resilience department that would focus on the handling of the missing and the dead.
Ensuring proper burial of victims and being responsive to cultural aspects of death, like the Islamic custom of burying a Muslim within 24 hours of death, would be the mandate of this entity.
"This is a very crucial component of transitional justice. Transitional justice is to heal. The state cares for you even if you're dead," said Gutoc.
The Muslim senatorial bet also said she would make sure the National Commission on Muslim Filipinos would be active in giving Muslims, especially those outside of Muslim Mindanao, access to burial respecting their traditions.
Gutoc lamented the lack of Muslim burial grounds in Luzon. She has long been engaged in working with Muslim communities in Metro Manila to address such a lack of Muslim cemeteries.
"The Muslims are always at the last afterthought. There's no Muslim management of the dead for Muslim people," said Gutoc.
In a past Rappler Talk interview, Gutoc said another law she would champion with a Senate seat is a law protecting persons internally displaced by conflict and natural disasters. – Rappler.com