The European delegation also discusses Leila de Lima's case during their meeting with DOJ Secretary Jesus Crispin Remulla
MANILA, Philippines – A delegation of European lawmakers visited detained former senator Leila de Lima on Thursday, February 23 – a day short of the former lawmaker's 6th year in detention.
The delegation from the European Parliament's subcommittee on human rights visited De Lima around 1 pm on Thursday inside the Philippine National Police's custodial facility. According to De Lima's camp, the visit's intention was to check on the condition of the former senator, who has been in detention since 2017.
Before De Lima, the European lawmakers also paid a visit on their Filipino counterparts in the Philippines' lower chamber. They also discussed human rights.
De Lima was arrested and detained under former president Rodrigo Duterte after she was accused of enabling the drug trade in the New Bilibid Prison to fund her 2016 senatorial campaign. While under detention, De Lima had witnessed major developments in her case, including an acquittal in one of the three drug charges against her and a retraction of witnesses' statements against her.
Since then, European lawmakers have been standing in solidarity behind De Lima. In June 15 last year, the parliament's human rights subcommittee expressed concern De Lima's prolonged detention. In 2017, 2018, 2021, and 2022, the parliament issued and adopted resolutions condemning and highlighting the persecution agains De Lima.
Recently, the Inter-Parliamentary Union (IPU), one of the largest organization of parliaments in the world, also called for De Lima's release.
Meeting Remulla
On Thursday, the European lawmakers likewise met with Department of Justice (DOJ) Secretary Jesus Crispin Remulla. According to the justice department, the complete delegation were as follows:
Hannah Neumann of the Greens and the European Free Alliance
Isabel Wiseler-Lima of the Group of the European People's Party (Christian Democrats)
Karsten Lucke of the Group of the Progressive Alliance of Socialists & Democrats
Ryszard Czarnecki of the European Conservatives and Reformists Group
Miguel Urban Crespo of the Left
Representatives of political groups of the European Parliament: Anna Ksiazczakova of the Group of the Progressive Alliance of Socialists & Democrats, Raphael Fisera of The Greens and the European Free Alliance, Federico Martegani of the Identity and Democracy, Jo Anna Rejdych of the European Conservatives and Reformists Group, and Ana Vicente Moreno of The Left
Afterwards, the delegation also met with other government officials like the Department of the Interior and Local Government and the Philippine National Police, among others, to discuss human rights, the DOJ added.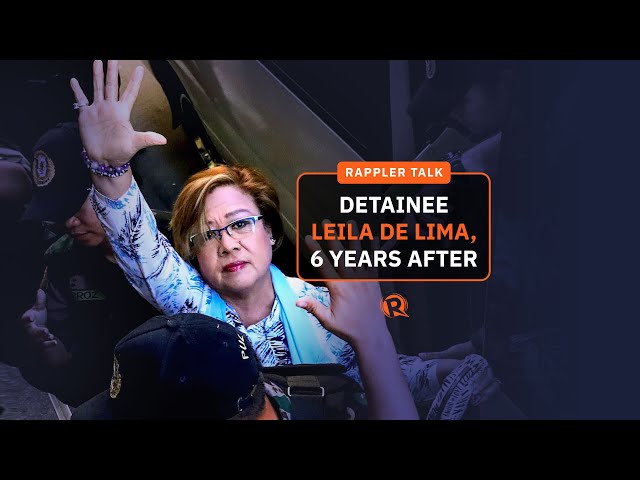 In a chance interview with reporters, Remulla said the De Lima's case was brought up during his conversation with the European officials. The justice secretary reiterated his previous statement that he will not oppose if the lawmakers' camp will file petition for bail or writ of habeas corpus for De Lima's temporary release.
Remulla added that the International Criminal Court's probe (ICC) was also brought up. According to him, he told the European delegation that the current administration is fixing the system. The ICC, in multiple occasions, noted that it was not satisfied with the Philippine government's intervention in the killings. – Rappler.com