(3RD UPDATE) The Trends in International Mathematics and Science Study 2019 shows the Philippines scored 'significantly lower' than any other country that participated in grade 4 math and science assessments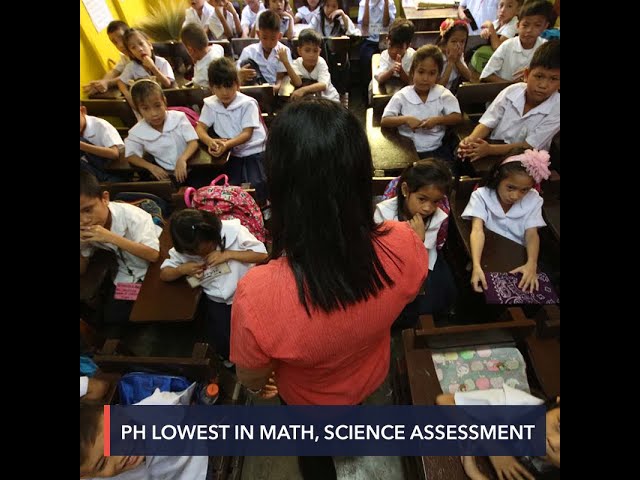 Filipino students lagged behind other countries in the international assessment for mathematics and science for grade 4, the Trends in International Mathematics and Science Study 2019 (TIMSS) revealed on Tuesday, December 8.
The Philippines only scored 297 in mathematics and 249 in science, which are "significantly lower" than any other participating country.
The country also scored the lowest among all 58 participating countries for both tests.
Meanwhile, Singapore topped both assessments in grade 4 mathematics and science, 625 and 595, respectively. It also has the highest scores for grade 8 in the same subjects, 616 (mathematics) and 608 (science).
The Philippines only participated in the grade 4 assessment for this cycle. TIMSS is an assessment given to grades 4 and 8 students.
TIMSS set 4 International Benchmarks along a scale to determine students' competence: Advanced International Benchmark (625), High International Benchmark (550), Intermediate International Benchmark (475), and Low International Benchmark (400).
In mathematics, only 19% of Filipino students were on the Low benchmark, which means that they had "some basic mathematical knowledge," while 81% did not even reach this level.
"They can add, subtract, multiply, and divide one- and two-digit whole numbers. They can solve simple word problems. They have some knowledge of simple fractions and common geometric shapes. Students can read and complete simple bar graphs and tables," the study said.
As for science, 13% of Filipino students were also on the Low benchmark, which means they had "limited understanding of scientific concepts and limited knowledge of foundational science facts," while 87% did not even reach this level.
Based in Boston College's Lynch School of Education and Human Development, the International Association for the Evaluation of Educational Achievement's (IEA) TIMSS conducts regular international comparative assessments of student achievements in mathematics and science in more than 60 countries.
IEA has been conducting these studies since 1959.
Recover and bounce back
In a statement on Thursday, December 10, the DepEd said that it welcomes the 2019 TIMSS results, saying that it "values the immense data it can offer" on literacy of students on math and science.
It also said that its participation in international assessments is a "step forward towards addressing curriculum and learning gaps in the country's basic education."
"Our standing policy is to translate these international assessments into concrete and implementable actions that can have a direct impact on our learners' achievements and teachers' improvements," it said.
The DepEd also said that it will continue to reform and upgrade its education curriculum.
"Indeed, these are challenging times as we still confront the ongoing pandemic amid our efforts to attain quality education. But we can definitely recover and bounce back if we get our act together as one," it said.
Prior to this assessment, the Philippines ranked in the low 70s in the 2018 Program for International Student Assessment (PISA), placing 79th in reading, with an average of 340 against the 487 average. (READ: Philippines ranks among lowest in reading, math, and science in 2018 study)
Filipino students also ranked low in PISA for mathematics and science, with 353 points and 357 points, respectively, against the 489 OECD average for both categories.
PISA is a student assessment of 15-year-old learners across 79 countries done by the Organization for Economic Co-operation and Development.
'Better ranking'
In a press briefing on November 26, the Department of Education (DepEd) announced that the Philippines will join the 2022 (PISA), where it aims to improve on its dismal past performance. (READ: Philippines eyes better ranking in 2022 international student assessment program)
Education Secretary Leonor Briones hopes that the country will improve its performance in the 2022 PISA, the second time that the Philippines will join the international student assessment. (READ: [ANALYSIS] Dismal PISA rankings: A wake-up call for Filipinos)
Senator Win Gatchalian, however, said in a statement on Saturday, December 12, that the results of the TIMMS study pointed to a major crisis in the country's basic education system that will not be resolved by "business as usual."
"This is a major crisis. The country has been participating in global assessments as an additional tool to measure the effectiveness of the basic education curriculum. The dismal result for the third time is so depressing and should serve as a wake-up call," said Gatchalian, chairman of the Senate committee on basic education, arts and culture.
Why this matters
Due to the continuing coronavirus pandemic, schools in the country shifted to distance learning – a mix of online classes and printed learning module – following President Rodrigo Duterte's directive to suspend face-to-face classes until a COVID-19 vaccine becomes available.
Under the distance learning system, parents have an active role in guiding their children through modular lessons – which posed a problem for students who do not have anyone to facilitate learning at home, or whose parents are not capable of guiding them due to lack of knowledge. (READ: Parents bear the brunt of distance learning as classes shift online)
The pandemic has exposed the gaps in the Philippine education system evident in erroneous learning modules for distance learning. (LISTEN: [PODCAST] Ang mga maling impormasyon sa DepEd distance learning materials)
Mishaps such as "painful" grammar errors, wrong math equation, and modules depicting gender stereotypes alarmed the public as they expressed concerns over the quality of education of over 24 million students during the pandemic. – Rappler.com