Those who consider themselves 'not poor' are the most hopeful for 2021
Needless to say, 2020 was a difficult year. However, a new Social Weather Stations (SWS) survey revealed that 91% of adult Filipinos were entering 2021 with "hope rather than fear."
Although appearing high, it's the lowest rate of hopefulness since 2009, when 89% of Filipinos were hopeful. The 2020 rate dropped 5 points from 2019, when 96% of Filipinos were hopeful for 2020.
Meanwhile, 7% of Filipinos in 2020 said they would enter the new year with fear.
The survey, conducted in November, was the SWS' first in 2020 due to the coronavirus pandemic.
Unmerry Christmas, but happy new year
Just half of Filipinos were expecting to have a happy Christmas this year, while 15% expected it to be sad. A third of the respondents said they expected Christmas would neither be happy nor sad.
More among those who expected a happy Christmas are expecting a happy new year, than those who expected a sad Christmas.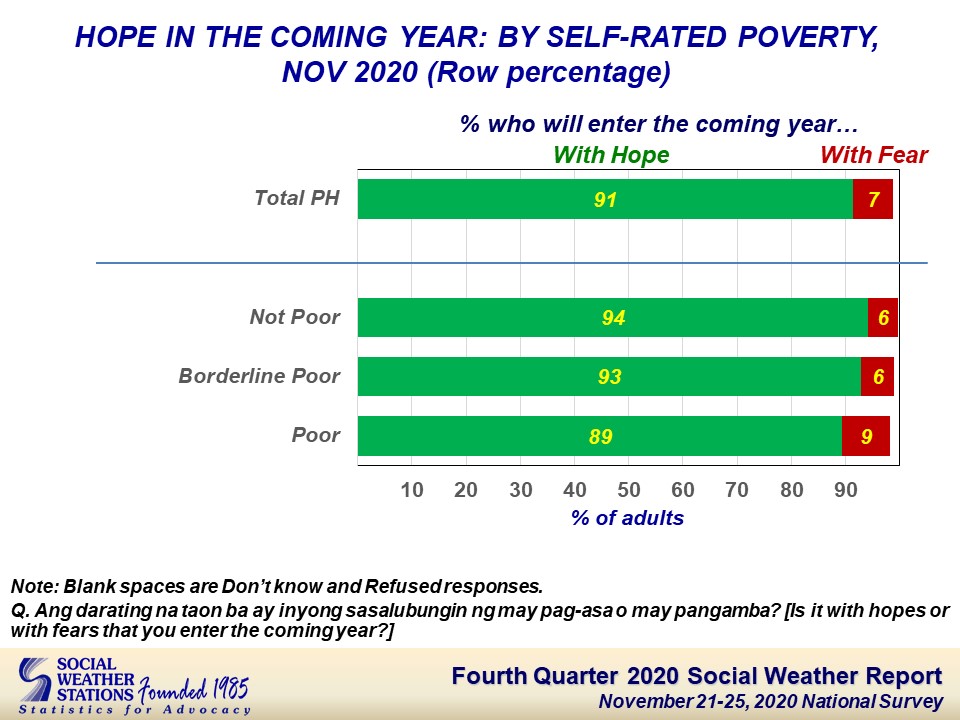 Poor most fearful, rise of hope in Mindanao
Majority of those who considered themselves poor were also entering 2021 with hope at 89%. Meanwhile, 93% of those who were "borderline poor" were optimistic for the next year.
Those who considered themselves "not poor" were the most hopeful for 2021 at 94%.
The poor were also the most fearful for the next year, with 9% of respondents entering the new year with more fear than hope.
Optimism among Filipinos also varied among the island groups. Mindanao emerged with the highest optimism rate at 93%, even higher than 2019's 90%.
However, Balance Luzon and Visayas' optimism fell, with 7-point and 9-point drops from 2019, respectively.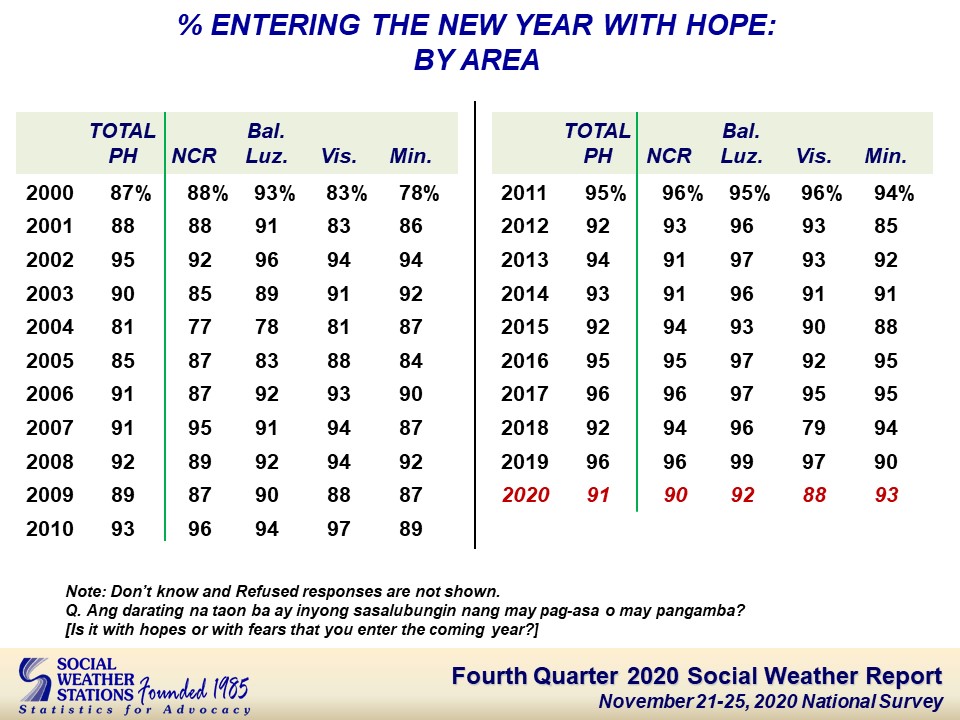 2020 will go down in history as the year of the coronavirus pandemic. The pandemic, beginning in March, left millions of Filipinos under lockdown, more than 470,000 infected, and the Philippine economy under recession.
As approved vaccines are beginning to roll out around the world, mass vaccination for Filipinos could still take months. – Rappler.com