(UPDATED) Calling a justice reporter's story 'fake,' army general Antonio Parlade suggests that a journalist can be liable for 'aiding terrorists by spreading lies'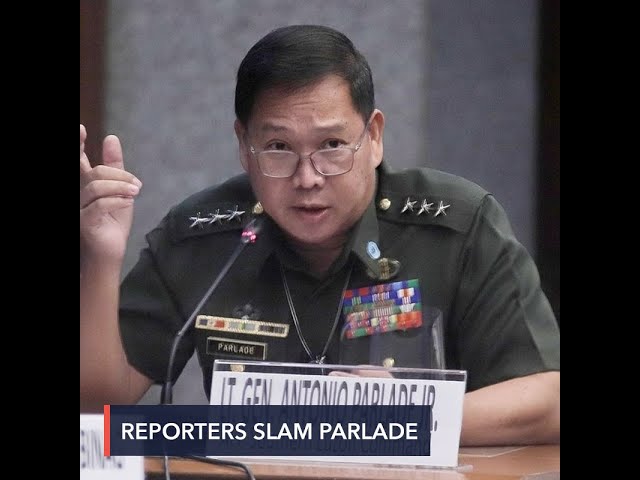 Reporters covering the Philippine justice beat said on Thursday, February 4, that the Facebook posts of army general Antonio Parlade Jr against their colleague posed a credible threat of prosecution under the contentious anti-terror law.
"We strongly condemn the threat of Lt. Gen. Antonio Parlade Jr to sue one of our members, Inquirer.net's Tetch Torres-Tupas, for allegedly providing support to terrorists. This is utterly unacceptable," the Justice and Court Reporters Association (JUCRA), of which Tupas is a member, said in a statement on Thursday.
Parlade posted on his Facebook account Wednesday, February 3, that Tupas' report on Inquirer.net on the petition of jailed Aetas to intervene in the ongoing anti-terror law case in the Supreme Court case is "fake" and "propaganda."
Tupas reported the content of the petition filed before the Supreme Court on Tuesday, February 2, including the allegations of Aetas that members of the military tortured them for 6 days.
In the comment thread of his post, Parlade said: "Aiding the terrorists by spreading lies? PUEDE (It can be)."
"As Parlade surely knows, providing material support to terrorists is a crime under Section 12 of the Anti-Terror Law, people accused of which are liable as 'principals' and punishable by at least 12 years up to life imprisonment," said JUCRA.
"Parlade did not only red-tag Tupas, he also threatened her with prosecution just because she did her job, which all of us in JUCRA do every day," JUCRA added.
The reporters said that like Tupas, they wrote the same article based on the same Supreme Court pleading.
"Should we all wait for a threat from Parlade, too? Is the general suggesting that justice reporters are supporters of terrorists? By goading his followers, even saying, 'hindi kita titigilan hanggang hindi mo sinasagot tanong ko (I will not let you off the hook until you answer my question),' Parlade has put us all in actual harm," JUCRA said.
JUCRA demanded that Parlade apologize to Tupas, whose social media accounts are being spread on the same comment thread with threats of "making an example out of her." The commenter called Tupas a "whorenalist," a variation of "presstitute" that was used against the media by staunch Duterte supporter, Mocha Uson.
Credible threat
JUCRA, whose members cover the Supreme Court, noted that Parlade's threats against Tupas "are what petitioners claim as evidence of a credible threat of prosecution – threat that can warrant a judicial review of the law he seeks to protect and promote."
During the oral arguments on the anti-terror law on Tuesday, petitioners were grilled on their legal standing and were asked to provide facts of a credible threat.
"If (Parlade does not apologize), may the people in power take notice of this threat and realize there is a deliberate attempt to use the law to chill our freedom and right to report," said JUCRA.
The National Union of Journalists of the Philippines (NUJP) said in a separate statement that Parlade's posts, not just against Tupas, are proof that threats are not only directed "at those questioning the Anti-Terror Act but also at those covering those questioning the controversial law."
The NUJP is one of the 37 petitioners.
"The government has repeatedly issued reassurances that the law will not be used to stifle dissent or to clamp down on the press. But actions and statements by people like Parlade, who will be tasked with implementing the Anti-Terrorism Law, speak louder than those press statements," said NUJP.
National Union of Peoples' Lawyers (NUPL) president Edre Olalia said on Thursday that "in a grotesque way," Parlade has actually helped the petitioners with their claims of harm under the anti-terror law.
"This is a big favor he is giving us which is awfully unwelcome and outrageously unacceptable. Thanks but no thanks," said Olalia. The NUPL, and its different chapters, are counsels to several petitioner groups.
In an earlier manifestation, retired supreme court justices Antonio Carpio and Conchita Carpio Morales – also petitioners – asked the Supreme Court to compel the government to explain Parlade's posts red-tagging them.
Parlade had posted on Facebook to "be watchful" of "those opposing the law," saying that they are part of the CPP-NPA-NDF.
"Very soon, blood debts will be settled. The long arm of the law will catch up on you, and your supporters," Parlade said.
It is unclear if the Supreme Court had acted on this request. Oral arguments will resume on February 9, and Solicitor General Jose Calida may be interpellated.
If they want to, the Supreme Court can summon officials to the oral arguments, just like how ousted chief justice Maria Lourdes Sereno summoned former police chief Ronald "Bato" dela Rosa to the drug war hearings in 2017. – Rappler.com