The visit is seen to potentially upset Beijing, who came out in full swing at the APEC in defending its position on the South China Sea
BANGKOK, Thailand – President Ferdinand "Bongbong" Marcos Jr. – fresh off a meeting with his Chinese counterpart in Thailand – downplayed on Saturday, November 19, the possible tension an upcoming visit by United States Vice President Kamala Harris would add to relations between Manila and Beijing.
"No. I don't see why they should. She is in the Philippines and she is visiting another part of the Philippines. And of course, it is the closest area to the South China Sea, but it's very clearly on Philippine territory. So, I don't think there should be…I don't think it will cause problems," said Marcos in a short interview with the media after a four-day working visit to Bangkok for the Asia-Pacific Economic Cooperation (APEC) Summit.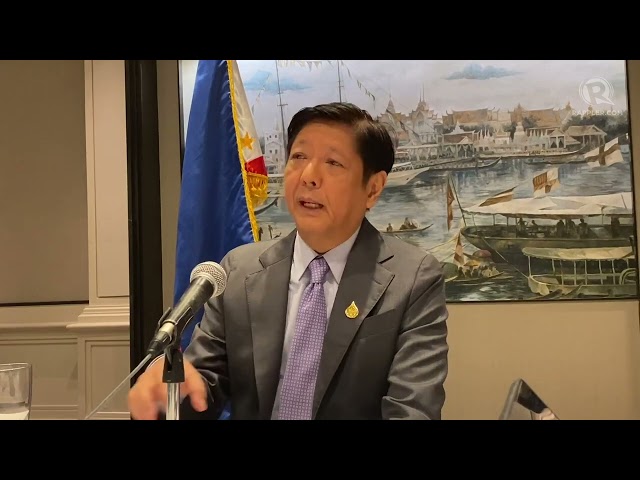 Harris is set to fly to Manila from Bangkok. In the Philippines, Harris will meet with Marcos and her Filipino counterpart Vice President Sara Duterte. She's then set to fly to Palawan on the 22nd.
The visit would make her the highest-ranking American official to visit the island province close to disputed parts of the West Philippine Sea or the South China Sea.
The visit is seen to potentially upset Beijing, who came out in full swing at the APEC in defending its position on the contested waters. China President Xi Jinping, in a prepared speech, said the region should not be the arena for "big power contest."
Following the bilateral meeting with Marcos, China said the two countries should "stick to friendly consultation and handle differences and disputes properly."
"They should work together to reject unilateralism and acts of bullying, defend fairness and justice, and safeguard peace and stability in the region," China's foreign ministry said in a statement released shortly after the November 17 bilateral meeting in Bangkok.
Ambassador Jose Manuel Romualdez, Manila's envoy to Washington and uncle to the President, had told Reuters tensions over Taiwan are expected to be on the table when Marcos meets Harris.
Marcos himself told media he wants to hear from Harris the US' expectations of its allies in the region.
"I think when it comes to the security and defense in the Asia Pacific, it really has to be a joint response. I don't think any single country should do it alone. I think we will do much better if we respond as a group, and I think the other countries agree," added Marcos.
The Philippine President was in Bangkok from November 16-19 for the APEC Summit. While here, he also met with several world leaders including Xi, France's Emmanuel Macron, Saudi Arabian Crown Prince Mohammed Bin Salman, New Zealand's Jacinda Ardern, and Australia's Anthony Albanese. – Rappler.com