This is AI generated summarization, which may have errors. For context, always refer to the full article.
(UPDATED) A FLAG study also finds that of the 61, there are 4 cases that involve policemen as perpetrators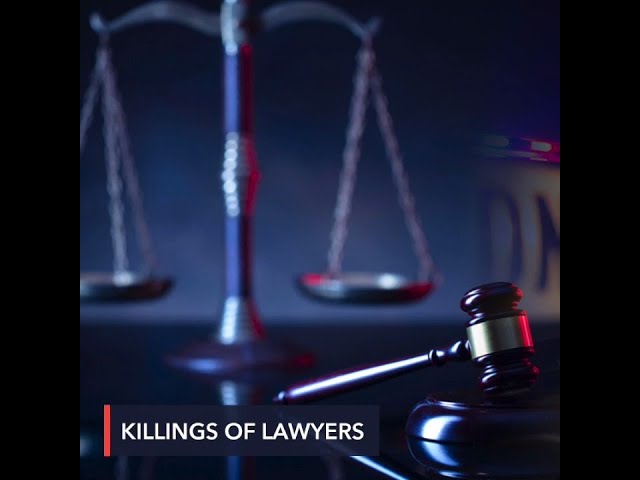 61 lawyers* have been killed during President Rodrigo Duterte's 5 years in power, compared to the 49 lawyers killed in the span of 44 years, from Ferdinand Marcos to Benigno "Noynoy" Aquino III.
Data collated by Rappler, both from government and other groups, shows that there have been at least 110 lawyers, judges, and prosecutors killed in the Philippines from 1977 to 2021, with more than half of the killings occurring during the Duterte administration.
Lawyers in the Philippines have been restless, risking contempt, some calling for a strike, to demand stronger actions from the government to address the unprecedented spike in killings of persons in the legal profession.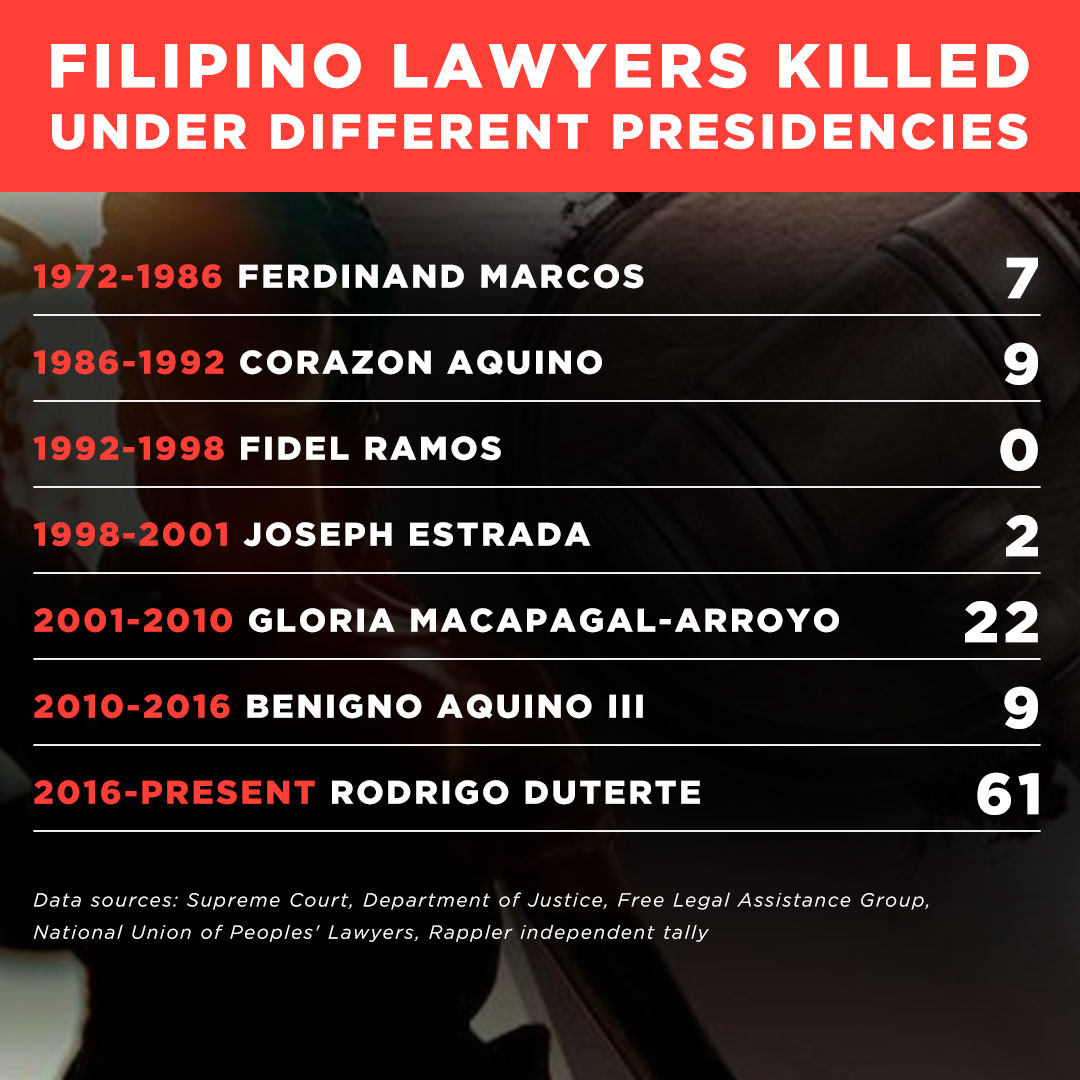 Counting killings
The data was compiled by Rappler using its own count, those of legal groups Free Legal Assistance Group (FLAG) and National Union of Peoples' Lawyers (NUPL), and separate lists obtained from the Department of Justice (DOJ) and the Supreme Court (SC).
The consolidated data shows there were 22 lawyers killed in the 9 years Gloria Macapagal Arroyo was president; 9 killed during Corazon Aquino's term, and another 9 under her son Benigno Aquino III; 7 during Martial Law under late dictator Ferdinand Marcos; two under Joseph Estrada; and none under Fidel V. Ramos.
Asked if it was possible there were other killings during Marcos' time that were not recorded, former Supreme Court spokesperson Ted Te said: "I'm sure there are (more we weren't able to track.) The list is not intended to be comprehensive, it is as far as we know. There are more names that are certainly not there. Killings over private disputes by private persons are not included as they wouldn't directly cover a violation of human rights."
The DOJ list for prosecutors killed goes as far back as 2004 only, while the SC list for judges killed goes back to 1999 only.
The DOJ data and the latest media updates show that from 2004 to 2021, only 7 cases of killings have resulted in charges filed in court. The last case to reach court was that of Cebu lawyer Joey Luis Wee, who was killed on his way to his office on November 23, 2020.
The DOJ has yet to publicize an official inventory of lawyers killed.
In a study done by FLAG, half of the lawyers killed under Duterte's term were attacked because of their work.
Meanwhile, a quarter, or 15, of the killings were drug-related. In this subset, either the lawyer was handling a drug case, or the lawyer was linked to drugs, such as the latest casualty, Bukidnon lawyer Winston Intong, who was on Duterte's notorious drug list. That drug list has proven to be inaccurate, however.
In a speech in 2016, Duterte gave lawyers representing drug suspects a warning, saying, "Even them, I will include them."
FLAG also found that of the 61, four cases involve policemen as perpetrators.
Actions done
Dialogues were held with the SC and the DOJ only in January 2021 despite an alarming succession of killings in November 2020.
In the second week of March, the intelligence chief of Calbayog city police in Northern Samar asked their local court for a list of lawyers representing alleged armed communist rebels. This act was denounced by all sectors, and the local police chief was relieved by the leadership in Camp Crame.
Lawyers have also called on the Supreme Court to publicly denounce this move, and for it to initiate more concrete actions to address the killings.
Chief Justice Diosdado Peralta met with the Justice Sector Coordinating Council (JSCC) on March 11 but the issue of lawyer killings was not discussed, according to Justice Secretary Menardo Guevarra. The JSCC is composed of the SC, the DOJ, and the Department of the Interior and Local Government (DILG). The PNP is under the DILG.
So far, the SC has ordered an inventory of their own only.
The last time that the Supreme Court publicly stood for its own officers was in August 2016, when former chief justice Maria Lourdes Sereno wrote Duterte to express concern that judges named in his drug list may have been put in harm's way.
Sereno was ousted less than two years later. – Rappler.com
*FLAG's tally is at 61, Rappler's is at 56, and NUPL's is at 54. The main difference in numbers is due to classification, as some of the lawyers killed were more actively practicing another profession at the time of their death and were not included in some counts.