This is AI generated summarization, which may have errors. For context, always refer to the full article.
(1st UPDATE) Cagayan Governor Manuel Mamba surrenders to the House before noon Thursday, August 24, and is released past 9 pm the same day
MANILA, Philippines – The House of Representatives released Cagayan Governor Manuel Mamba from detention on Thursday night, August 24, hours after the Supreme Court (SC) stopped the chamber from enforcing its arrest order against him.
The development came after Mamba, who surrendered to Congress on Thursday morning, spent several hours under House custody.
Mamba secured a temporary restraining order from the SC within the day.
House public accounts committee chairman Caraps Paduano, however, said it was not the reason the governor was allowed to walk free.
He insisted it was because Mamba apologized to the House committees on public accounts and suffrage, committed to attend their next hearing, promised not to talk about the inquiry outside of Congress, and committed to withdraw the petition he filed with the SC by Monday, August 28.
"The lifting of contempt will be done upon the withdrawal of the [SC] petition," Paduano added.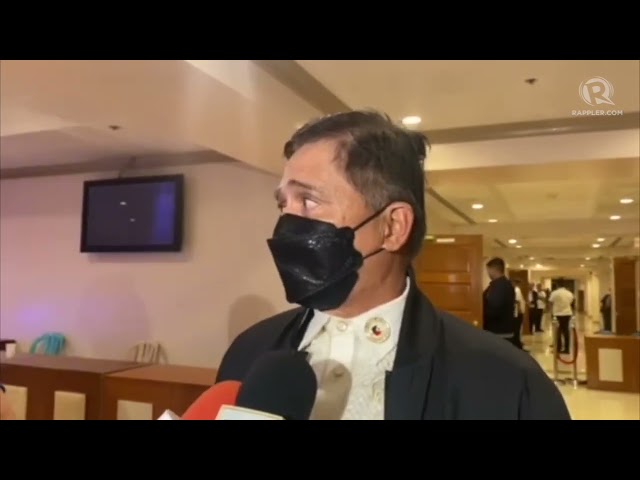 Mamba's contempt citation – which resulted in the detention order – was issued by the committees last week over his employees' failure to show up at a hearing on August 7.
The committees believe the governor's comments in a radio program were implicit admission that his non-issuance of travel orders was the reason why witnesses were unable to attend that hearing.
Mamba told lawmakers the non-issuance of travel orders "was never a hindrance to their participation in the proceedings of the committees," and that the employees just felt it was more important that they stay in Cagayan to address the needs of typhoon victims.
He said relief operations are still underway in Cagayan, which declared a state of calamity in end-July.
The House inquiry into the Cagayan provincial government's 2022 election activities was sparked by resolutions filed by Cagayan 3rd District Representative Joseph Lara, whose wife Zarah lost to then-reelectionist Mamba last year.
The congressman alleged that the provincial government used government funds for various programs in violation of the campaign spending ban.
A Commission on Elections division initially moved to disqualify Mamba in December 2022 from the race he had won in May that year, but the Comelec en banc later overturned the previous ruling. – Rappler.com