Bai Bibyaon alleges that military and officials in Davao del Norte coerced her relatives into signing documents and urging officials to bring her back to her hometown
Indigenous peoples' rights advocate Save Our Schools (SOS) Network and a lawyer on Monday, September 27, cautioned groups seeking to bring a crusading lumad leader back to Davao del Norte from the University of the Philippines-Diliman where she has sought refuge.
The 80-year-old Manobo leader, Bai Bibyaon Ligkayan Bigkay, also rejected moves to make her return to Talaingod in Davao del Norte, alleging that her relatives have been coerced into calling for her "rescue."
Bai Bibyaon, an environmentalist, has been at the Bakwit Lumad School on sanctuary at UP Diliman, and stood firm that she would continue her crusade to protect her tribe's ancestral domain and culture.
During an online news conference on Monday, Bai Bibyaon alleged that military and officials in Davao del Norte coerced her relatives into signing documents and urging officials to bring her back to her hometown.
"They (military and local officials) don't respect me and my tribe because they undermine my capability to decide. I have become my tribe's leader because they know that I can lead in defending our ancestral domain, our land. My tribe believes that I can resolve problems. I know that those who would fetch me together with my relatives aren't trustworthy because they are the ones who pushed us to seek refuge," said Bai Bibyaon, who spoke with a translator.
She accused those who have been pressuring her relatives of being protectors of companies "ravaging our ancestral land."
Bai Bibyaon has been vocal about her call for the military to leave her community, stop recruiting her relatives to join a paramilitary group, and end its "divisive ploy" in lumad communities.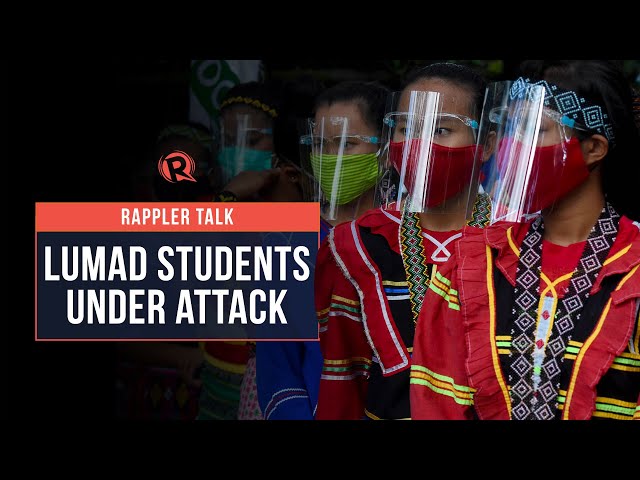 Rius Valle, the spokesperson of the SOS Network, said Bai Bibyaon's relatives were made to believe that the chieftain was ailing, untended, and being held captive at the Bakwit sanctuary in Quezon City, things Bai Bibyaon herself denied.
She even showed a COVID-19 vaccine band she got when she was inoculated.
The group's lawyer, Antonio La Viña, said Bai Bibyaon was looking even better the last time they met in person at UP Diliman.
"She is fit. We heard her. She is of sound mind. She commands her translator. That's how Bai Bibyaon is. She is a leader of the community and acts that way," said La Viña.
He said Bai Bibyaon was entitled to do whatever she wanted to do.
"Her coming to Manila and living with the Bakwit school to bring her advocacy here is her right," La Viña said.
La Viña said the activities at the lumad sanctuary are legal, pointing out that the Commission on Human Rights (CHR) was aware of how UP officials have checked on the Bakwit school's compliance with the legal requirements.
"The NCIP and other government agencies or officials should respect that. It's enough. Don't coerce the relatives to fetch Bai Bibyaon. Let her do that on her terms and timing. We do support her on that, too, whenever she's ready to go home," he said.
La Viña criticized the National Commission on Indigenous Peoples for using the Free Prior and Informed Consent doctrine to support moves to bring the tribal leader back to her hometown, saying that it can apply only to natural resources and projects in indigenous peoples communities.
"Let me be very clear that Bai Bibyaon is here at the Bakwit school with her free, prior, and very informed consent. Legally speaking, lay off as you don't have any legal basis at all," he said.
Bai Bibyaon assured her relatives, "I am okay here. I am here for what I am fighting for. I am not being held captive. I am not dead. I am saying this again: don't decide for me. I know what is right and what is wrong. And for as long as I breathe, I will stand for my people, for our ancestral land, and the next generation of Pantaron," she said.
Pantaron Range has a land area of 12,600 square kilometers, spanning 200 kilometers and straddled by six provinces: Misamis Oriental, Bukidnon, Agusan del Norte, Agusan del Sur, Davao del Norte, and Davao del Sur.
It has the headwaters of the major rivers in the island: Mindanao, Pulangui, Davao, and Tagoloan, while it also has the major tributaries of Agusan River.
It is one of the country's few remaining rich biodiverse areas, with old growth forests and home to rare fauna and flora. – Rappler.com
Grace Cantal-Albasin is a Mindanao-based journalist and awardee of Aries Rufo Journalism Fellowship