(4TH UPDATE) Maguindanao del Norte and many other areas in the Bangsamoro region experience continuous heavy rain since Thursday night, October 27
MAGUINDANAO DEL NORTE, Philippines – More than 40 people died as continuous heavy rain spawned flooding and landslides in Maguindanao del Norte, a Bangsamoro Autonomous Region in Muslim Mindanao (BARMM) minister said.
On Friday night, October 28, the regional government said 67 died, but BARMM Minister of the Interior and Local Government Naguib Sinarimbo corrected the figure the following day, saying they counted more than 40 deaths in the towns of Datu Blah Sinsuat, Upi, and Datu Odin Sinsuat, the capital of Maguindanao del Norte.
At least 15 people were also declared missing in the floods, and 31 others suffered injuries, based on BARMM's data as of Saturday night, October 29.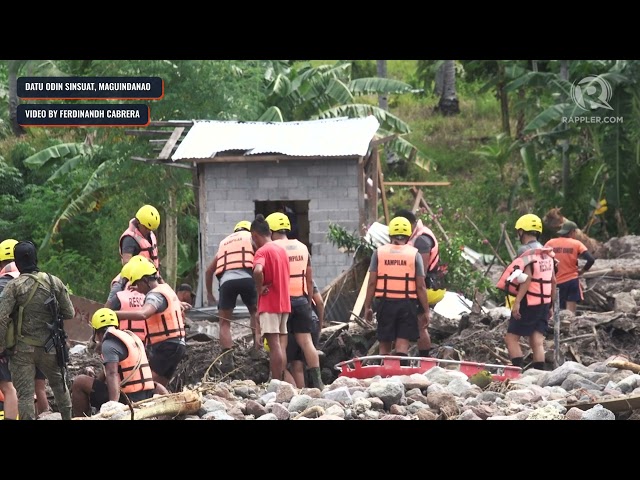 Sinarimbo, who also serves as BARMM's spokesman and head of the regional government's Rapid Emergency Action on Disaster Incidence (READi), said Maguindanao del Norte and many other areas in the Bangsamoro region were pounded by continuous heavy rain since Thursday night, October 27.
Rampaging floodwaters damaged and made a bridge impassable in the village of Kusiong, Datu Odin Sinsuat.
The bridge serves as a link between the towns of Datu Blah Sinsuat town and Datu Odin Sinsuat.
The flooding also resulted in evacuations.
In the town of Upi, rampaging floodwaters damaged a water distribution facility and reached even an evacuation center. The town's gym was inundated by chest-deep floodwaters.
Officials also said the flooding destroyed farms and resulted in farm animals being swept away.
Assistance
Sinarimbo has asked the Army's 6th Infantry Division to bring in choppers from Zamboanga City so these could be used in ongoing rescue and relief operations of the BARMM.
"Our priority now is the rescue missions, and second is to bring food to soaked residents who evacuated," Sinarimbo said.
The BARMM activated its emergency crisis committee even as it raised the alert level in the region amid calls for rescue operations.
Officials said BARMM rescue teams with rubber boats were deployed to villages in Sultan Kudarat, Maguindanao del Norte, and Cotabato City where serious flooding was reported.
BARMM'S Ministry of Public Works and Highways also fielded teams to help in the ongoing rescue operations.
Sinarimbo said the military, police, fire bureau, and disaster management teams were coordinating their efforts at BARMM's READi operations center.
"We are still monitoring the situation. The heavy rains have continued," he said.
The effects of Tropical Storm Paeng (Nalgae) are being felt across Mindanao, prompting local governments to suspend classes because of the dangers it posed.
Other areas affected
In Zamboanga City, entire families evacuated to safer grounds as continuous rain resulted in flooding in more than a dozen villages on Friday.
Zamboanga's City Disaster Risk Reduction and Management Office (CDRRMO) said some 300 families were affected in the village of Manicahan alone on Friday night.
The CDRRMO listed the villages in Zamboanga where flooding was reported as the following:
Tumaga
San Jose Gusu
Luyahan
Mampang
Baliwasan
Putik
Pasonanca
Santa Maria
Guiwan
Ayala
Cabatangan
Recodo
Cabaluay
Tetuan
Tugbungan
San Roque
Talon-Talon
In Barangay Ayala alone, evacuation centers were set up in a gymnasium, a school, and a church for more than 1,300 people.
Zamboanga's rescue teams used rubber boats in some areas to bring stranded families to safer grounds as rampaging floodwaters rose, toppled trees, and destroyed properties such as in the hard-hit village of San Jose Gusu.
In Camiguin Island in Northern Mindanao, continuous heavy rain prompted the provincial government to suspend classes.
In Soccsksargen, the disaster risk reduction and management council raised a red alert due to bad weather.
Kidapawan Mayor Jose Paolo Evangelista suspended classes in all schools in his city in response to the regional council's declaration.
Many Mindanao areas, however, have been seeing heavy downpours and flooding for days, even before the onslaught of the tropical storm.
Cagayan de Oro, the capital of Northern Mindanao, saw days of flooding and evacuations due to heavy rains spawned by localized thunderstorms.
In Southern Mindanao, flooding caused a bridge to collapse, trapping several dozen school children and their teachers in Buso, Davao Oriental on Tuesday afternoon, October 25.
The bridge linked the mining villages of Tagbinonga and Buso.
Jude Corpuz, an emergency dispatcher at the Mati City Disaster Risk Reduction and Management Office, said 57 students and 10 teachers from Tagbinoga were forced to spend the night at the Buso National High School as a result of the bridge's collapse.
The city government sent rescuers and used heavy equipment to help the stranded cross the rampaging waters of the river on Wednesday morning, October 26, said Alfredo Madugipa, a responder from the Davao Oriental Provincial Disaster Risk Reduction and Management Office. – with reports from Merlyn Manos and Ferdinand Zuasola/Rappler