(2nd UPDATE) Senators probing the oil spill in Mindoro blast the Philippine Coast Guard for allowing MT Princess Empress to sail even without complete documents
MANILA, Philippines – Oil tanker MT Princess Empress, which sank off the coast of Oriental Mindoro with 800,000 liters of industrial fuel oil on February 28, had no updated permit to operate, a Senate inquiry into the disaster unearthed on Tuesday, March 14.
"The ship has no authority to operate in the form of an amendment to its Certificate of Public Convenience (CPC) issued to RDC Reield Marine Services (RDC)," said senators Cynthia Villar and Risa Hontiveros, reading a Maritime Industry Authority (MARINA) report submitted to the Senate committee on environment, natural resources, and climate change.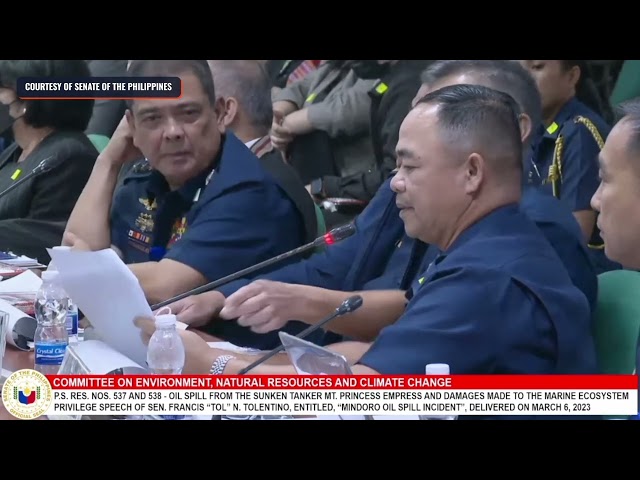 RDC is the owner of MT Princess Empress. A CPC is a license issued by MARINA to domestic ship operators to engage in domestic shipping activities. When a company has a new ship, it needs to file an amendment to its CPC. MARINA regulates the Philippines' maritime industry. Its mandate is to "lead a progressive maritime administration for safer people, safer ships, and cleaner environment."
During the hearing, RDC vice president Fritzie Tee said the RDC complied with requirements to amend its CPC as early as November 2022, and completed its application the following month.
But MARINA Administrator Hernani Fabia said the application is still pending, as RDC has yet to submit additional documents it had asked from the shipowner.
"From what I understand, the missing documents are financial statements," Fabia told senators. "Once these are complied with, we can automatically issue a CPC."
Hontiveros said the Philippine Coast Guard (PCG) also did not tick seven boxes in the pre-departure checklist of MT Princess when it sailed on February 28, which means it should not have allowed the oil tanker to leave SL Harbor Terminal in Limay, Bataan.
"If RDC has no amended CPC to include MT Princess Empress, it should not have been allowed to sail," she said.
"[PCG] Officers who checked the ship should be jailed for dereliction of duty," Senator Raffy Tulfo told PCG officials who were in the hearing.
RDC's Tee said MT Princess Empress, a new vessel, first sailed in December 2022, and even without an amended CPC, it was able to sail nine times prior to the sinking.
Senator Chiz Escudero said the lax process in granting permits may have emboldened ship owners.
"If ship owners believe the permit request will be granted once requirements have been completed, I think that's the reason and basis why they assume they could just sail because MARINA always grants requests," he said.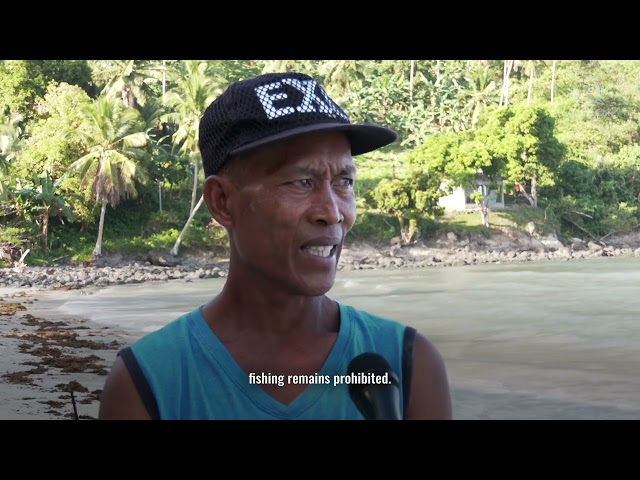 No insurance claims?
Villar said RDC's failure to complete the documents needed for it to travel makes it less likely to claim insurance.
After MT Princess Empress sank, RDC officials told investigators that the sunken ship was insured for $1 billion or around P55 billion under a Protection and Indemnity (P&I) coverage, and that it had a valid CPC.
"I don't want the people to rely on the $1 billion insurance if we cannot get that, and we should plan accordingly that we would not get that," said committee chair Villar. "The company says they can claim insurance, but the insurance company will find a basis to not pay them."
Tulfo agreed with Villar.
Later on Tuesday, the PCG sent the media a copy of documents purportedly showing that MARINA granted RDC a Certificate of Public Convenience in November 2022.
Plea for help
Local officials of Oriental Mindoro, meanwhile, lamented the lack of adequate support from RDC for the fisherfolk and other families affected by the loss of livelihood due to the oil spill.
"We have been waiting for so long. Many have fallen ill, many people have been affected," Pola Mayor Jennifer "Ina Alegre" Cruz said.
"Compensation for damages is one thing. But as human beings, we must be compassionate enough to give whatever is not asked," Oriental Mindoro Governor Bonz Dolor said. "We who caused the problem, it is incumbent upon us to extend whatever assistance we can."
Tee said RDC is a "small corporation" but has its "own initiatives to help our kababayans (fellow citizens)."
Since the oil spill two weeks ago, the embattled company has committed to help in the cleanup, hiring experienced contractors in the Philippines' worst oil spill, in Guimaras Island in 2006.
The oil spill in Oriental Mindoro has affected nine towns in the province and 108,000 individuals. A total of 122 people have also fallen ill.
The ship was carrying "black oil" which is considered toxic, and authorities are racing to contain the spill.
Meantime, in a statement on Tuesday, the group Protect VIP called on the government to hold RDC accountable for putting at risk the Verde Island Passage (VIP), a strait separating the islands of Luzon and Mindoro which is home to coastal fishes, corals, crustaceans, molluscs, seagrasses, mangroves, and other critically endangered species.
"In transporting a highly polluting substance across the Verde Island Passage and its surrounding waters, these companies deliberately cruise through and place at risk fragile marine ecosystems and the livelihood of all who depend on them," the environmental group said. – Rappler.com